France prepares for presidential ballot
updated 11:44 AM EDT, Sat April 21, 2012
STORY HIGHLIGHTS
Voters in overseas territories go to the polls in France' presidential election
Voting across mainland France takes place on Sunday
No campaigning is allowed on the day before the election and no polls can be published
Nicolas Sarkozy faces challengers including Francois Hollande and Jean-Luc Melenchon
Paris (CNN) -- France prepared Saturday to vote in presidential elections that see incumbent Nicolas Sarkozy pitted against challengers including Socialist candidate Francois Hollande.
Voting started Saturday in France's overseas territories, including Guadeloupe, French Guyana, Martinique and French Polynesia.
Voters in mainland France will go to the polls Sunday.
Under French law, no political campaigning of any kind is allowed on the day before the election and no opinion polls can be published.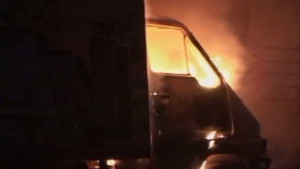 Economic misery in France continues
Ten candidates are on the ballot in the first round of voting.
As well as Sarkozy and Hollande, they include Jean-Luc Melenchon on the extreme left, Marine Le Pen on the extreme right, Francois Bayrou, a centrist, and Eva Joly, for the Greens.
If no candidate wins an absolute majority, a runoff election between the two with the most votes will take place on May 6.
The economy and jobs have been key election issues, as France struggles to overcome low growth and a 10% unemployment rate.

Part of complete coverage on
updated 9:56 AM EDT, Thu May 17, 2012

The relationship between France and Germany is the barometer of the political health of Europe.
updated 1:53 PM EDT, Thu May 17, 2012

New French Finance Minister Pierre Moscovici said Thursday his country would not ratify a European pact on budget discipline if it does not include measures to boost growth.
updated 8:04 AM EDT, Tue May 15, 2012

François Hollande, the president-elect of France, may be as notable for what he has not done as for what he has.
updated 10:23 AM EDT, Tue May 15, 2012

French president-elect François Hollande must be careful to stimulate the economy without deepening the deficit says Justin Vaïsse.
updated 5:19 AM EDT, Mon May 7, 2012

CNN's Jim Bittermann reports on the challenges Francois Hollande will face now that he has won the French presidency.
updated 5:31 AM EDT, Tue May 8, 2012

France ousted Nicolas Sarkozy not for his policies, but his personality, writes commentator Agnes Poirier.
updated 8:03 PM EDT, Mon May 7, 2012

Will the U.S. economy hit turbulence after voters in France and Greece delivered a resounding anti-austerity message?
updated 5:52 PM EDT, Sun May 6, 2012

Nearly three-fourths of the country turns out to vote, and socialist Francois Hollande wins France's runoff election.
updated 5:41 PM EDT, Sun May 6, 2012

Nicolas Sarkozy conceded defeat in his bid for re-election as French president, accepting the blame for the result.
updated 7:42 AM EDT, Mon May 7, 2012

Germany's Angela Merkel has made it clear Francois Hollande cannot scrap the fiscal pact. How will Europe's two dominant nations get on?
updated 5:08 AM EDT, Mon May 7, 2012

CNN's Ali Velshi takes a look at the elections in Greece and France and their lessons for the United States.
updated 9:13 AM EDT, Mon April 30, 2012

Jay-Z and Kanye West's recent hit "N---as in Paris" may seem like an odd choice for a campaign song for a politician trying to appeal to minorities.
updated 10:07 PM EDT, Tue May 8, 2012

Residents of Paris relay their messages to the French presidential candidates.