Confirmed tornado tally nears 60 from weekend storms
updated 5:20 AM EDT, Wed April 18, 2012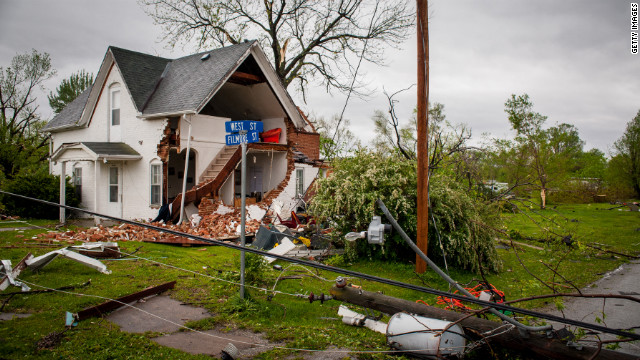 A house is left damaged after an aparent tornado hit on Saturday, April 14, in Thurman, Iowa. The National Weather Service received more than 88 reports by late Saturday of possible tornado touchdowns in Oklahoma, Kansas, Nebraska and Iowa, said Pat Slattery, a spokesman for the service's Central Region in Kansas City, Missouri.
The streets are littered with trees and debris after the aparent tornado struck Thurman. Officials evacuated the entire population of the town -- roughly 300 people. The storm destroyed three out of every four homes in Thurman.
By early Sunday morning, many Thurman residents who took up temporary shelter at a high school in nearby Tabor were again in the path of a storm that spawned suspected tornadoes in neighboring Kansas.
Residents clean up in the aftermath of the storm on Saturday, in Thurman.
Emergency personel go house to house checking on residents after the tornado on Saturday in Thurman.
A tactor-trailer overturned on Interstate 29 Saturday in Thurman.
Deadly twisters tear through Midwest
Deadly twisters tear through Midwest
Deadly twisters tear through Midwest
Deadly twisters tear through Midwest
Deadly twisters tear through Midwest
Deadly twisters tear through Midwest
STORY HIGHLIGHTS
Confirmed tornadoes are expected to be around 75
All of the storm deaths were in Oklahoma
Advance warnings are credited with preventing more fatalities
(CNN) -- The National Weather Service has confirmed 59 tornadoes from a weekend outbreak of storms that killed six people.
"The Storm Prediction Center estimates the total will be around 75 when all surveys are complete," the weather service website said.
There were initial reports of 135 tornadoes -- spread across Nebraska, Iowa, Kansas and Oklahoma -- from the sprawling storm system that ripped across the Plains and Midwest on Saturday. A much smaller outbreak was reported Sunday.
At the time, the weather service said a final confirmed count would only come after officials had a chance to fan out across the states and determine how many of the reports were indeed tornadoes.
All of the fatalities were in Woodward, Oklahoma, a community of about 12,000 people, about 85 miles west of Enid. At least 29 people were injured, officials said.
The weather service said the town was hit by an EF-3 tornado, packing winds of up to 165 mph. It destroyed 89 homes and 12 businesses, according to City Manager Alan Riffel.
Officials credited early warning systems elsewhere in the region with preventing more fatalities.
Advisories from the system were issued two days in advance, rather than just hours, and were "remarkably accurate," said Kansas Gov. Sam Brownback. "People took it very seriously."
CNN's Rob Marciano reported from Oklahoma and Maria P. White from Atlanta.