STORY HIGHLIGHTS
NEW: An opposition group reports at least 55 killed Monday, 26 of them in Idlib
Other activists say that figure may spike, amid a fierce military offensive in Idlib
"It appears that the fragile cease-fire is eroding," says a U.S. State Department official
Six United Nations monitors have arrived in Syria, with more expected soon
(CNN) -- After a relative dropoff in deaths in recent days, violence in Syria ratcheted up again Monday -- including a fierce military offensive in Idlib reported by opposition activists -- just as U.N. observers began monitoring a tenuous cease-fire.
The Local Coordination Committees of Syria, an opposition network, reported 55 deaths across the embattled Middle Eastern nation on Monday, a notable uptick from the at least 13, 30 and 28 deaths it counted on Friday, Saturday and Sunday respectively.
"The news has not been good," U.S. State Department spokesman Mark Toner told reporters Monday. "It appears that the fragile cease-fire is eroding."
Until Monday, the recent numbers were below the norm that had been reported earlier this month, when opposition groups regularly claimed regime forces were killing 50 or more people a day. On four days, more than 100 people were purported to have died.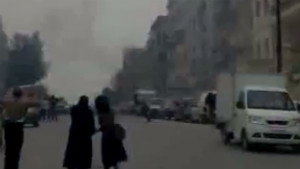 Homs, Syria, under a shaky cease-fire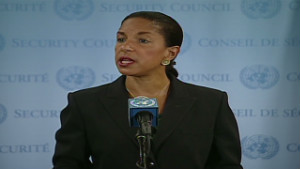 U.N. approves observer mission in Syria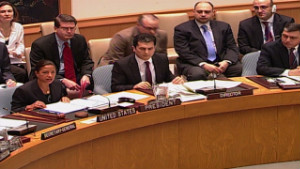 Cease-fire in Syria to be monitored
CNN cannot independently verify reports of violence and deaths, as the government has severely restricted access by international media.
The death toll for Monday threatened to spike further, as opposition activists reported Syrian forces had launched a fierce military offensive in the city of Idlib.
Fighters with the rebel Free Syrian Army told activists in neighboring Binnish that Idlib residents were trapped in their homes as the sound of sniper fire and explosions rang out in the streets. The activists said helicopter gunfire and mortar shells were pounding the city
Opposition fighters said bodies littered the streets, though it was difficult to confirm the number of dead amid the ongoing violence, the activists said. While the LCC reported at least 26 deaths Monday in that northern Syrian city, one activist estimated at least 100 people had been killed.
The state-run Syrian Arab News Agency quoted an unnamed military source Monday as saying that "armed terrorists" were behind the violence, a claim made repeatedly over the past year by the Syrian regime.
The news agency reported that aggression by the groups had "hysterically escalated" since the start of the cease-fire, which was to begin by Thursday morning.
That agreement was brokered by Kofi Annan, a former U.N. secretary-general who is serving as an envoy from the United Nations and the Arab League trying to curb the bloodshed.
Annan will be in Qatar on Tuesday to participate in an Arab League meeting and hold talks with top officials from the league, said his spokesman, Ahmad Fawzi.
Six U.N. observers who are part of the international effort arrived in Syria on Sunday, a day after the U.N. Security Council voted unanimously to authorize such a monitoring mission.
They will be "liaising with the Syrian government, security forces and the opposition members to establish the monitoring process across the country," said Kieran Dwyer, a spokesman for peacekeeping missions at the United Nations.
As many as 250 more observers, who will be unarmed, could join them later. Such a larger deployment, though, is contingent on how the cease-fire holds and if discussions between Syria and Annan make progress.
"It is the Syrian government's responsibility to guarantee freedom of access, freedom of movement within the country," U.N. Secretary-General Ban Ki-moon said Monday. "They should be allowed to freely move to any places where they will be able to observe this cessation of violence."
Meanwhile, a U.N. human rights panel tasked with investigating the situation in Syria said Monday it is "seriously concerned" about accounts of government forces shelling neighborhoods and using heavy weaponry since Thursday.
The Commission of Inquiry on Syria also said it had received "reports of human rights abuses committed by anti-government armed groups engaged in fighting against the Syrian army during and after the cease-fire, including extra-judicial killings of soldiers captured during armed confrontations."
Armed opposition fighters said Monday that they aren't waiting to see how the cease-fire holds. They are gathering more weapons to fight the regime just in case the agreement falls apart.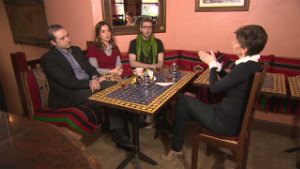 Syrian expats debate cease-fire deal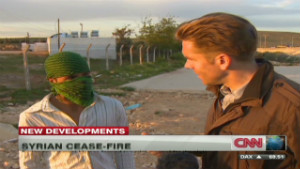 Syrian refugees too scared to return
"We are preparing ourselves for the next stage if the Annan mission fails," Capt. Amar Wawi, leader of the Ababil Battalion of opposition fighters based in Aleppo, said from the Syria-Turkey border. "We will then use this equipment against the Assad thugs."
He is part of the Free Syrian Army, which consists mostly of Syrian military defectors with members fighting in separate groups or battalions operating in different towns.
Lt. Abdullah Oda, an opposition fighter in Istanbul, said he was in Iraq last week brokering a deal to send weapons, including anti-tank missiles, to the Free Syrian Army.
"They got this equipment from rebel supporters in the Iraqi-Syrian border," Oda said. "Now the Free Syrian Army are going to get more weapons, more new things which we need strategically on the ground against tanks and against armor. We accept the cease-fire, but that doesn't mean we are not preparing ourselves. Because we don't trust the regime. The regime is going to kill people."
If the cease-fire fails, he said, "We will answer back with huge operations all over the place."
Many world leaders have said the Syrian government is targeting dissidents seeking democracy and the ouster of al-Assad, whose family has ruled Syria for 42 years.
The United States is "gravely concerned" about continuing violence, Susan Rice, the U.S. ambassador to the United Nations, said Monday. If the cease-fire does not hold, she said, that "will call into question the wisdom and viability of sending in the full monitoring presence."
The United Nations estimates at least 9,000 people have died since the protests began, while others put the death toll at more than 11,000.
CNN's Saad Abedine, Yousuf Basil, Salma Abdelaziz, Ivan Watson, Kareem Khadder and Richard Roth contributed to this report.