STORY HIGHLIGHTS
NEW: Amnesty International report calls Bahrain reforms flawed and piecemeal
NEW: "We continue to receive reports of torture," the human rights group says
NEW: Critics see "the glass half empty and not half full," Bahrain's spokesman says
Grand Prix race was canceled in 2011 due to unrest in the Gulf Kingdom
(CNN) -- An opposition group called for a week of demonstrations ahead of Sunday's Formula 1 Grand Prix race in Bahrain.
The Bahrain Youth Coalition, which has organized a number of anti-government protests, wants "popular days of overwhelming rage" after motorsport's governing body elected last week to hold the Gulf Air Bahrain Grand Prix.
The decision came after weeks of speculation amid continuing protests and civil unrest in the Gulf kingdom.
Amnesty International weighed into the controversy by releasing a 58-page report on its investigation of human rights violations, concluding recent reforms have been flawed and piecemeal.
"With the world's eyes on Bahrain as it prepares to host the Grand Prix, no-one should be under any illusions that the country's human rights crisis is over," said Hassiba Hadj Sahraoui, the group's Middle East and North Africa deputy director.
The report said Bahrain's security forces are still not held accountable for mistreatment of protesters.
"The authorities are trying to portray the country as being on the road to reform, but we continue to receive reports of torture and use of unnecessary and excessive force against protests. Their reforms have only scratched the surface," Sahraoui said.
A Bahrain government spokesman accused Amnesty International of seeing "the glass half empty and not half full."
"There are a lot of judicial, security, social economic measures that have been taken that have been put into place that will make Bahrain a better place," Abdulaziz bin Mubarak al Khalifa said Monday.
In a news release issued Friday, the race's governing body said its president traveled to Bahrain in November and met with "a large number of decision-makers and opinion formers, including elected Shia members of parliament, the president of the Bahrain Independent Commission of Inquiry, ambassadors from the European Union countries, the Crown Prince, the Interior Minister and many members of the business community.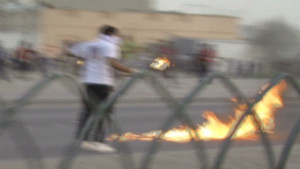 Violent clashes ahead of Grand Prix F1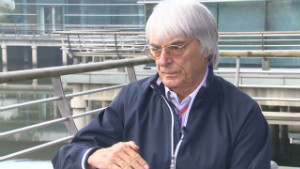 F1 chief: Sport, politics should not mix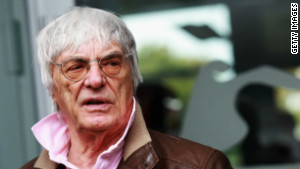 Economic importance of Bahrain F1 race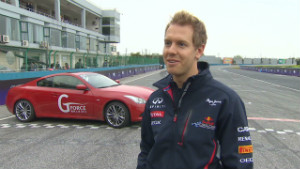 Vettel on Bahrain F1 uncertainty
"All expressed their wish for the Grand Prix to go ahead in 2012," it said.
The race, which was canceled twice last year because of concerns about safety, is due to run Sunday.
The owner of the host track, Bahrain International Circuit, said that the race should be trouble-free.
"The BIC has been clear throughout recent weeks and months that the security situation in Bahrain is suitable for the staging of a major sporting event," it said in a statement.
The decision also was welcome news to the embattled government which has been dealing with widespread demands for political reform and greater freedoms in the Sunni-ruled, Shiite-majority nation.
"The Cabinet welcomed a resolution from the International Motorsport Association in favor of conducting the Bahrain Formula 1 Grand Prix Championship in the Kingdom," a statement from the Cabinet said Sunday. "The Cabinet welcomes the organizers, participants and fans and all guests to the Kingdom of Bahrain."
In a statement, Human Rights Watch said the decision to go ahead with the race "gives Bahrain's rulers the opportunity they are seeking to obscure the seriousness of the country's human rights situation."
"Formula 1 promoters say their decision to race in Bahrain should not be derailed by political considerations, but the ruling family will attempt to portray (the) decision as a political statement of support for its repressive policies," said Tom Porteious, deputy program director at Human Rights Watch.
A number of media outlets said Monday that they would not be sending teams to Bahrain to cover the race over concerns about safety. Other organizations were weighing their options.
Further inflaming a number of the protesters was the precarious health of a jailed activist who has been on a hunger strike for more than two months.
Monday marked the 68th day without food for Abdulhadi al-Khawaja, 52.
Bahrain Information Authority International Counselor Abdul-Aziz bin Mubarak said Friday that he was in stable condition and being administered fluids intravenously with his consent.
Al-Khawaja was arrested in April 2011 for his role in anti-government protests that began a month earlier.
In June, Bahrain found him and seven other Shiite opposition activists guilty of plotting to overthrow the country's Sunni royal family. He can appeal his life sentence during a hearing April 23, the government said.
The United Nations has urged Bahrain to consider transferring the detainee, who holds Danish citizenship, to Denmark on humanitarian grounds.
But Abdul-Aziz bin Mubarak Al Khalifa of the Bahrain Information Affairs Authority said that the prisoner was being well cared for and that government officials had no plans to send him to Denmark.