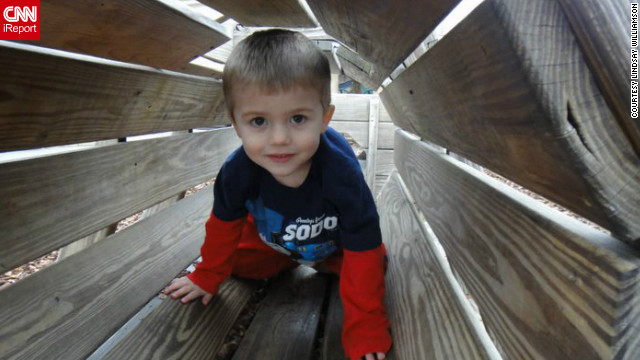 Reed Williamson was 3 years old when he called his father "Daddy" instead of "juice box." His mom, Lindsay, said, "At 2, when he was first truly diagnosed, we had no idea of where he would go or what he would do."
"I am so honored to say that my 10-year-old son is in fourth grade and he is autistic," said Lindsay Mansfield, mother of Travis. "But he's not just autistic. He is a fully functioning student on honor roll. He has friends (and some girlfriends) that he hangs out with regularly ... He is a writer of the most creative stories. And he builds ships with Legos. ... Everything about him is perfect, autism and all."
Lin Wessels remembers when she first saw her son, Sam, swinging in the backyard by himself. It took years of therapy for him to get the coordination to pump his legs while pushing and pulling the ropes with his arms and balancing on the seat.
"At 2 years old, Charlie was diagnosed with autism," said Matthew McGhie, his father. "The diagnosis hit us hard. In that moment, we realized things were going to be different. There wouldn't be Little League baseball; there wouldn't be any of the normal things for our family. Rather than hugs, we'd get scratches. Rather than giggles, we'd get screams."
Michael Buckholtz is a multiplatinum record producer but says his adult autism leaves him feeling "invisible" to the wider world. "It can get exhausting feeling like you're the only person that feels the way you do," he said. "We need for the general public to truly understand that."
Gretchen Leary was diagnosed with Asperger's Syndrome at age 23, three years ago. "I have found my passion in life, and that is to spread autism awareness," she said. "I am hoping that one day I will be able to somehow make a career out of it, but for now, I am trying to find different ways to spread awareness."
Sarah Jane Rahme says her son (Devin, right) "paces, flaps, quacks, claps his hands and finds it hard to hold still when not engaged in an activity. The beauty of it all is that he doesn't notice when people look, nor does he care."
"My sister (Elizabeth, pictured with her husband) has made enormous progress from being an almost non-verbal child and a super shy teen," said Tina Hilson. "She has two college degrees and ... travels to schools to enlighten people about the existence of, and strengths of, autistic people."
"I have learned so much from Bobby, with the greatest lesson being that material possessions do not make a person happy," said Cheri Smith, his mother. "Bobby is perfectly happy playing with dirt and water while most of his toys sit in their orginial condition untouched on the shelves in his bedroom. Bobby loves nature unlike any other person that I know."
Karen Willis of Millbrook, Alabama, said her Asperger's diagnosis motivated her to work to spread awareness about autism. "Don't give up, because it will get easier with time and patience," she said. "I've overcome a lot of challenges in my life, and I know that my future is bright even though I'll still have challenges to face. It's not going to stop me from living my life."
Hearing the first 'Daddy'
From autism diagnosis to honor roll
Taking nothing for granted
'Watching the lights go out'
Autistic adults are 'the invisibles'
Asperger's inspires me to 'make a difference'
Autistic son 'a blessing'
'I am proud of my Aspie sister!'
'In-between' verbal and non-verbal autism
Autism motivates Special Olympics swimmer
STORY HIGHLIGHTS
Parents of children with autism say they celebrate every milestone
500,000 children with autism will come of age in the next decade
Advocates say services for adults are critical
(CNN) -- Watching a child take his first steps is one of the biggest milestones for a parent.
Lindsay Williamson says the moment she heard her son, Reed, call his father "Daddy" instead of "juice box" was just as amazing.
He was a month shy of his third birthday, and the family had spent months in autism evaluations that Reed wouldn't participate in.
"We were not sure we would ever hear 'Daddy,'" said Williamson, whose family lives in Lewes, Delaware. "It meant so much to us."
On World Autism Awareness Day, CNN iReport asked families affected by the developmental disorder to tell the world what their lives are like. Parents of children along the autism spectrum described incredible highs and lows: Desperation for answers about why autism rates are rising, fears about their children's prospects in adulthood, but also great pride in watching them develop and overcome obstacles.
'Never give up'
Early diagnosis and better access to treatments have helped families reach goals they weren't sure were possible.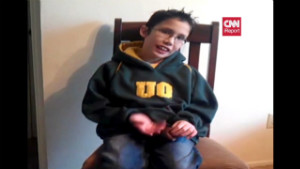 Life with autism: In their own words
Lindsay Mansfield's son, Travis, made little to no eye contact when he was diagnosed with autism in the first grade. Loud sounds frightened him. He would clap his hands and rock or jump up and down in crowded places.
It was draining for the family until they learned how his brain worked.
"We all began to learn the skills. It wasn't just about him; it was also about us, the people who interacted with him," Mansfield, of Queen Creek, Arizona, wrote in her iReport. "We all began to learn how to communicate through these situations. If something is loud, cover your ears. Too many people? Maybe there's another way we can get through this store."
To get through stressful homework sessions, she used blocks for addition and subtraction "so he could touch every one."
Today, Travis is thriving in fourth grade. Mansfield said he has friends and sits at the dinner table and talks with his family.
"Never give up," she said.
Waiting for 'Mama'
Parents of children with autism say they learn to measure milestones differently. They appreciate the successes, however late they come.
Mothers of children with autism can wait years to hear their child say the words, "I love you, Mommy" -- or even call them "Mommy," said Lin Wessels, whose son, Sam, is 10.
"I remember distinctly the first time Sam said 'Mama' and he was actually meaning me. I started bawling," she said.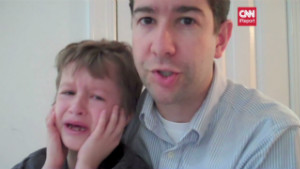 Loved ones discuss autism in the family
Sam was about 3 years old at the time and had stopped speaking. He was learning to express himself using sign language and cards with pictures on them.
"That all helped Sam to realize that words have use -- that by using them, something happens. It was just kind of a progression that 'Oh, that's Mom, and I can call her Mama and she will come.'"
Wessels, who lives in Rock Rapids, Iowa, felt another wave of pride last year when she saw Sam swinging in the backyard all by himself. Other children are able to learn how to swing just by watching others. Sam, who struggles with coordination, required years of therapy to be able to pump his legs while pushing and pulling the ropes, all while balancing his body on the seat.
"He was 9, and I started crying, because you don't know if you'll ever see your child do those things -- things other children do when they're 4," she said. "Those kinds of things give you a lot of hope that there's more to come."
Milestones missed, dreams revised
Still, as hard as families try, some rites of passage are missed. Wessels says Sam still doesn't have the coordination to ride a bicycle or play other sports, aside from Special Olympics once a year.
"It is not for lack of trying. We have tried the entire gamut of sports activities, but Sam just does not have the executive functioning skills, coordination or motor planning they require," she said.
Raising three boys with autism: A father's story
Crystal McCoy of Conway, Arkansas, said she had to accept the truth that her daughter "just doesn't think like us." Seven-year-old A'jaylin started hurting herself last year -- picking scabs, then knocking her own teeth out -- and was briefly placed in a mental hospital.
"We thought that if we did the right things she would be able to live a normal life," McCoy wrote. "I used to dream of all the things she would be. Now my every hope or thought goes to whether she will hurt herself too bad, or if she will even live to that point and if she does if it will be in a hospital."
Similarly, Luke Ferguson of Lebanon, Pennsylvania, said it was painful to revise the dreams he had for his little boy. His son, Sammy, is 6 and suffers from severe autism. He doesn't speak, and still wears diapers.
"When he was one, I wanted to teach him how to play soccer and chess," Ferguson said. "By the time he was three, I just wanted to be able to understand him when he is sad. The turning point ... was for me to understand that my role is not to fix him but to love him."
Future unknown
Even as she celebrates her son's milestones -- like calling his father "Daddy" -- Lindsay Williamson often worries what will happen when Reed reaches adulthood. He is only 4, but group homes and other services for adults with autism are frequent topics of discussion in the parents group Williamson belongs to.
"Who will care for our kids when we are gone is a huge concern," she said. "Who will be there to help them? Where will they live? What will they do?"
An estimated 500,000 children with autism will become adults in the next decade, and parents "have every right to be concerned," said Peter Bell, executive vice president at Autism Speaks and father of a 19-year-old with autism.
Even adults with mild forms of autism face high unemployment rates because of social, communication and behavior problems, advocates say. A small study published in 2010, tracking 66 young adults after high school, found only 18 percent of them had jobs, and none were full-time. In some states, families have been waiting years for spots in group homes, vocational programs and other services.
"We know a lot more about autism today than we did 10 years ago, we continue to do much more research, and I think where we fail is in really providing appropriate services lifelong for individuals," said Jim Ball, chairman of the Autism Society national board of directors.
The early diagnosis and therapies more prevalent than a couple decades ago appear to be improving that prognosis, but it's not clear what percentage of the population will be able to live on their own, need 24-hour care or something in between.
Lin Wessels hopes that her son, Sam, will one day live on his own, find a meaningful career, maybe get married. She will never sell him short. She says she and her husband will continue to work with Sam as long as they live, advocate for more autism research and resources, and they give thanks to the parents who raised children with autism before her.
"The parents that went before us 20 and 30 years ago ... a lot of times they were told, 'Don't have expectations, just plan on finding a permanent placement for your child.' Now that kind of thinking is very backwards," Wessels said. "Hopefully we're blazing that trail even wider and bigger for the parents that follow, so there's even more for their kids."
Supraja Seshadri contributed to this story.