Zimmerman housed apart at jail, makes purchases
updated 5:37 AM EDT, Fri April 13, 2012
STORY HIGHLIGHTS
George Zimmerman is being held at a facility in Seminole County, Florida
He has access to publications, but not television
He has made nearly $80 in purchases at jail commissary
(CNN) -- George Michael Zimmerman, inmate #201200004452, is living in a cell with 67 square feet of floor space, is allowed to read the Bible and magazines, but has no access to TV, according to officials at the central Florida jail where he is being held.
Zimmerman, charged with second-degree murder in the February 26 shooting death of Trayvon Martin, 17, in Sanford, is segregated from the general population at the John E. Polk Correctional Facility, according to the Seminole County Sheriff's Office.
According to jail records, Zimmerman, 28, has purchased $79.84 in items at the facility's commissary, leaving a balance of $41.16. He's allowed to buy items once a week.
The neighborhood watch volunteer's shopping list included contact lens solution, Irish Spring soap, playing cards, puzzle books, Jolly Ranchers candy, two oranges and other snacks, the sheriff's office said in a news release Thursday.
Public documents in Martin shooting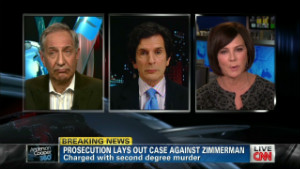 Can Zimmerman's lawyer get him bond?
The facility assesses a $10 booking fee and a $3 per day subsistence fee. The fee is deducted from the inmate's trust account.
Inmates are scheduled for three hours of recreation time per week and are served three meals a day.
According to a booking sheet, Zimmerman weighs 185 pounds and is 5 foot 8 inches tall. Tattoos include theatrical masks and a cross on the chest. He is listed as being unemployed.
Zimmerman's attorney, Mark O'Mara, has not formally asked for his client to be released on bond.
CNN's John Couwels contributed to this report.

Part of complete coverage on
Trayvon Martin shooting
updated 10:51 AM EST, Tue February 26, 2013

February 26, 2012. That was the day two strangers -- Trayvon Martin, and George Zimmerman -- met for the first and only time.
updated 10:47 AM EST, Tue February 26, 2013

The shooting death of Trayvon Martin one year ago continues to resonate among the consciousness of many Americans.
updated 1:16 PM EST, Tue February 26, 2013

The final, violent moments in the life of their son, Trayvon Martin, no longer dominate the national news, as they once did.

One year after an explosion of press attention, the question seems obvious: Has the news media learned anything about covering race issues in the wake of the Trayvon Martin shooting?
updated 8:55 AM EDT, Thu March 22, 2012

Supporters of Trayvon Martin rallyed in New York's Union Square during a "Million Hoodie March" on Wednesday, March 21, 2012.
updated 4:00 PM EST, Tue February 26, 2013

"Murderer," one e-mail's subject line said. These venom-drenched words are just a smattering of at least 400 e-mails and letters, all sent to George Zimmerman over the past 10 months.

The shooting of Trayvon Martin prompted Florida, and other states, to take another look at the law pivotal to this case, the so-called "stand your ground" law.
updated 7:55 AM EDT, Thu July 19, 2012

George Zimmerman gave his first television interview, saying he had to act after Trayvon Martin said "you are going to die tonight" and reached for Zimmerman's gun holster.
updated 11:13 AM EDT, Fri May 18, 2012

Florida, urged prosecutors to take George Zimmerman into custody after arguing his killing of Trayvon Martin was "ultimately avoidable."
updated 8:50 AM EDT, Wed May 9, 2012

The police chief in Sanford, Florida, said communities should "take a good, hard look at who is selected" for neighborhood watch programs.
updated 11:33 AM EDT, Fri March 30, 2012

Just like most any other teenager, Trayvon Martin enjoyed listening to music, going to the movies and the roller rink with his friends, friends and family said.

The Martin case renewed scrutiny of Florida's 2005 "Stand Your Ground" law -- and others like it.
updated 10:10 PM EDT, Wed April 18, 2012

The judge in George Zimmerman case has received high ratings from defense lawyers but isn't known as a "soft touch."
updated 5:31 PM EST, Mon December 3, 2012

See photos of an injured George Zimmerman that his attorneys say it were taken the night unarmed teen Trayvon Martin was killed in Sanford, Florida.