Taliban claim responsibility for Afghanistan suicide attacks
updated 2:59 PM EDT, Tue April 10, 2012
STORY HIGHLIGHTS
The Taliban claim responsibility in a phone message to media
Both attacks were on government facilities, authorities say
Many of the dead were police officers, officials say
Fourteen people were killed in Herat province attack, four in Helmand province
Kabul, Afghanistan (CNN) -- The Taliban claimed responsibility Tuesday for two suicide attacks on government facilities in Afghanistan that killed at least 18 people and wounded 27 others.
Many of the dead were police officers.
The first attack took place outside the police district administrator's office in the Guzara district of western Herat province when three suicide bombers in an SUV tried to enter the compound, according to Saeed Agha Saqib, the provincial police chief.
The bombers detonated their explosives when security forces wouldn't let them through.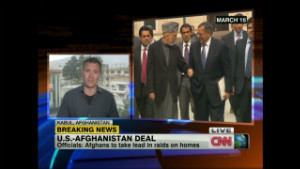 U.S., Afghanistan reach night raids deal
The blast killed 14 people, including three police officers, and wounded 22 others, Saqib said.
In southern Helmand province, a trio of suicide bombers attacked the office of the police chief of Musa Qala district, according to Dawood Ahmadi, a spokesman for Helmand's governor.
Two of the bombers were able to blow themselves up. The third was killed by police.
That attack killed four police officers and wounded five people, including the police chief, Ahmadi said.
The Taliban said they were responsible for both attacks through a phone message to the media.
CNN's Mitra Mobasherat contributed to this report.

Part of complete coverage on
Slaughter in Afghanistan
updated 10:18 PM EDT, Thu March 22, 2012

Army Staff Sgt. Robert Bales will be charged with 17 counts of murder and six counts of assault and attempted murder, a U.S. official said.
updated 8:53 AM EDT, Thu March 22, 2012

His lawyer says Sgt. Robert Bales may have post-traumatic stress disorder or a brain injury. What's the link between violence and those disorders?
updated 7:01 AM EDT, Wed March 21, 2012

Robert Bales' attorney says he's in shock and worried about family as he stands accused of killing Afghan civilians.
updated 1:20 PM EDT, Tue March 20, 2012

An Army soldier accused of killing Afghan civilians was not drunk but doesn't remember what happened and is in shock, his lawyer said.
updated 1:47 PM EDT, Mon March 19, 2012

CNN's Suzanne Malveaux talks with Dean Obeidallah, who wrote an op-ed on the Afghan Massacre Victims
updated 8:35 AM EDT, Mon March 19, 2012

Video: Afghan President Hamid Karzai cast doubt on the U.S. account of a shooting rampage after meeting with the families of victims.
updated 1:20 PM EDT, Tue March 20, 2012

A retired U.S. general suggested the fallout from the massacre could lead to American troops' beginning to return home within weeks.
updated 6:46 AM EDT, Tue March 20, 2012

CNN's Dan Simon has new details about alleged killer Staff Sgt. Robert. Bales' financial troubles and his prior arrest.
updated 8:22 PM EDT, Mon March 19, 2012

Shocked friends of Staff Sgt. Robert Bales say he was passionately committed to serving his country and cared deeply for others.
updated 9:48 PM EDT, Sun March 18, 2012

Video: Witnesses offer accounts of the massacre in Kandahar; Taliban tells why it suspended peace talks. Sara Sidner reports.
updated 11:00 AM EDT, Mon March 19, 2012

Video: CNN's Dan Simon visits the former U.S. home of Staff Sgt. Robert Bales to learn more about the accused shooter.
updated 8:44 PM EDT, Fri March 16, 2012

The attorney representing Staff Sgt. Robert Bales is a pugnacious trial lawyer who doesn't shy from the hardest cases.