China's Ai Weiwei blacked out after self-surveillance experiment
updated 11:06 PM EDT, Wed April 4, 2012
STORY HIGHLIGHTS
Dissident artist Ai Weiwei set up four cameras at his home in Beijing
Ai: "Website has just been shut down by order of public security"
He was arrested and charged with tax evasion last year
His family and rights groups say the charges are politically motivated
Hong Kong (CNN) -- It was intended as a nod to the constant surveillance he finds himself under since being released by Chinese authorities last year.
Dissident artist Ai Weiwei set up four cameras at his home in Beijing over his computer, bed and courtyard to broadcast a 24-hour live feed at a website he set up called weiweicam.com.
But soon after the cameras went live he was blacked out. His website displayed a blank screen.
Ai Weiwei turns camera on himself
"The website has just been shut down by order of public security," Ai told CNN late Wednesday.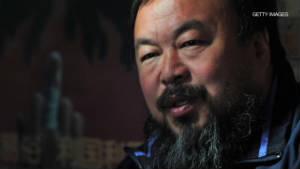 Ai Weiwei rises: Art and activism online
The 54-year old, who helped design the iconic Bird's Nest Olympic stadium in Beijing, has endured a difficult relationship with Chinese authorities. Last year he was detained for 81 days and ordered to pay 15 million yuan ($2.38 million) in back taxes officials said he owed through his company, Fake Cultural Development Ltd.
He paid 8.45 million yuan ($1.3 million) late last year so he could contest the charges. Had he not paid the sum, he said at the time, his wife would have been jailed.
Ai's family and human rights advocates have said they believe the Chinese government is targeting him for his criticism of the regime.
An internationally renowned artist, Ai's works -- often with political undercurrents -- command hundreds of thousands of dollars. His 2010 installation at the Tate Modern in London involved 100 million porcelain sunflower seeds, each one hand-painted by specialists in China, spread on the floor of the museum's large entrance hall.
CNN's Judy Kwon contributed to this report.

Part of complete coverage on
updated 10:25 PM EDT, Wed May 15, 2013

This month, "On China" host Kristie Lu Stout speaks to guests about China's contemporary art scene.
updated 9:07 PM EDT, Wed May 15, 2013

Who is the world's third biggest smartphone maker? BlackBerry? Guess again. HTC? Nope. It's China's Huawei.
updated 8:24 AM EDT, Wed May 8, 2013

CNNGo heads to the capital of China's Sichuan province where numbing peppers rule.
updated 8:16 PM EDT, Wed May 8, 2013

The poisoning of Zhu Ling, a college sophomore in Beijing almost two decades ago, has ignited an emotional debate in China.
updated 6:53 PM EDT, Tue May 7, 2013

80-year-old Chinese war veteran Duan Keke fought for North Korea in the Korean War. He believes China will prevent war with North Korea.
updated 2:54 AM EDT, Fri May 3, 2013

"Iron Man 3" has set a new box office record in China, taking 130 million yuan ($21 million) on its opening day.
updated 10:59 PM EDT, Tue April 30, 2013

The Communist party has become an exclusive club for China's elite, and some say its youngest members are motivated by nothing more than naked careerism.
updated 7:14 AM EDT, Fri April 26, 2013

The H7N9 strain responsible for the bird flu outbreak in China is unlike any that has previously been seen in this type of virus.

Share with us your photos and videos of life in China-- the everyday China. The best content could be featured online or on air.