Cuba sets Good Friday as holiday after pope's request
updated 10:11 PM EDT, Sat March 31, 2012
STORY HIGHLIGHTS
Pope Benedict XVI made visit to Cuba
He asked Raul Castro to make Good Friday a holiday
Workers will have April 6 off
Havana, Cuba (CNN) -- Cuban President Raul Castro has granted Pope Benedict XVI's request to make Good Friday a holiday -- at least this year -- Cuban state media reported Saturday.
During his visit to Cuba this week, the pope asked Castro to recognize the day Christians commemorate Jesus Christ's crucifixion, a Vatican spokesman said.
The government said it would give workers the day off April 6, the first time Good Friday has been officially celebrated since the 1959 Cuban revolution.
Previously, the only other religious holiday the government recognized in Cuba was Christmas, which was deemed a holiday in 1997 at the request of Pope John Paul II prior to his visit to the island.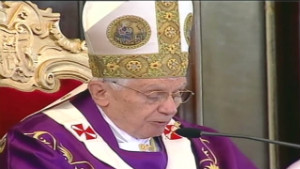 Pope Benedict XVI's Mass in Havana
According to Cuban state media, Castro told the pontiff on Wednesday that Good Friday would be officially celebrated this year.
Whether Good Friday would remain a permanent holiday is still under consideration, the reports said.
In a private meeting with Raul Castro, Benedict also requested that the church be allowed to open Catholic schools and air religious broadcasts, Vatican spokesman Federico Lombardi said during a press conference in Havana. So far, the Cuban government has not responded publicly to those requests.

Part of complete coverage on
Pope in Latin America
updated 11:57 PM EDT, Tue March 27, 2012

Pope Benedict XVI arrives in Havana Tuesday amid speculation over whether he will meet with the island's former president, Fidel Castro.
updated 5:13 AM EDT, Wed March 28, 2012

CNN's Patrick Oppmann reports on Pope Benedict XVI's private and public meetings with Cuban President Raul Castro during his tour.
updated 10:08 AM EDT, Wed March 28, 2012

A top Cuban official told reporters in Havana on Tuesday that his country's political system is "sustainable" and that it will not change.
updated 5:47 AM EDT, Tue March 27, 2012

Before the visit, many Mexican Catholics perceived Benedict as a distant and reserved pope who felt uneasy when interacting with people.
updated 4:43 AM EDT, Mon March 26, 2012

Thousands of Catholics greet Pope Benedict XVI in an open air Mass in central Mexico.
updated 6:23 AM EDT, Sun March 25, 2012

Three Mexican authors chose the Pope's visit to release a book accusing the Vatican of hiding or ignoring cases of child sex abuse by Roman Catholic priests.
updated 5:32 PM EDT, Fri March 23, 2012

It has been a project of celestial proportions, but it's finally ready. Construction workers have labored nonstop for months.
updated 3:06 PM EDT, Sat March 24, 2012

Doubtful youth places their hopes on Pope Benedict XVI's visit to Mexico. CNN's Rafael Romo reports.