Who's the fairest Snow White of them all?
updated 9:31 AM EDT, Fri June 1, 2012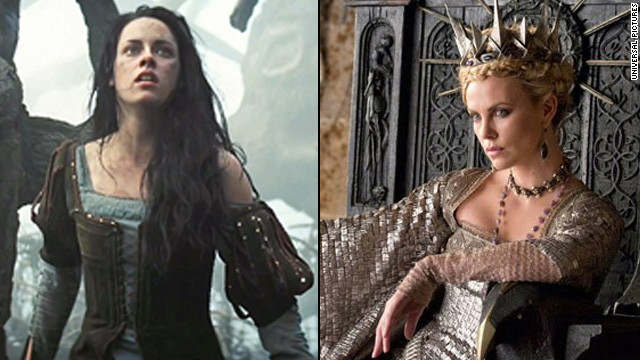 Kristen Stewart is the latest in a long line of actresses play Snow White. The "Twilight" actress stars alongside Charlize Theron's evil Queen in "Snow White and the Huntsman" -- in theaters today. The darker twist on the classic fairy tale has been preceded by a slew of adaptations, but which is the fairest of them all?
Lily Collins and Julia Roberts' more comedic adaptation, "Mirror Mirror," hit theaters in March.
Ginnifer Goodwin plays Snow White on "Once Upon a Time." Thanks to the Queen's curse, Goodwin's Snow White, along with the drama's other fairy tale characters, is plucked from her castle and forced to live in Storybrooke, Maine.
"Snow White" got the modern treatment in 2006's "Sydney White," starring Amanda Bynes. Complete with an evil queen bee, seven gracious young men and a poisoned apple (in the form of a computer virus), the comedy follows a college freshman (Bynes) as she pledges a sorority.
The 2001 TV movie "Snow White: The Fairest of Them All" starred "Smallville's" Kristin Kreuk. (The actress is currently slated to star in an upcoming made-for-TV adaptation of "Beauty and the Beast").
Sigourney Weaver took on the role of Evil Queen in "Snow White: A Tale of Terror." Monica Keena ("Undeclared") played the fairest of them all in the 1997 horror flick.
Disney's 1937 animated account of "Snow White and the Seven Dwarfs" is based on Jacob and Wilhelm Grimm's violent folk tale. The animated classic features the vocal stylings of Adriana Caselotti as Snow White.
'Snow White and the Huntsman'
'Mirror Mirror'
'Once Upon a Time'
'Sydney White'
'Snow White: The Fairest of Them All'
'Snow White: A Tale of Terror'
'Snow White'