Never-before-seen photos of Liz Taylor
updated 1:29 PM EDT, Fri March 23, 2012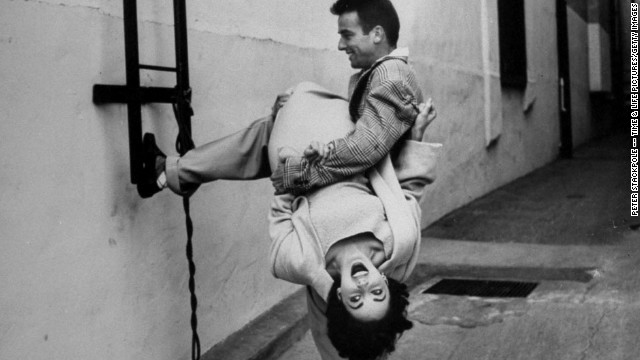 Elizabeth Taylor jokes around with co-star Montgomery Clift on the set of "A Place in the Sun" in 1950. Taylor was born 82 years ago on February 27, 1932, and Life.com published these photos in 2012 to remember the late actress. Photographer Peter Stackpole was able to capture the unique bond the young actors shared.
Taylor is shown here on the Paramount back lot where "A Place in the Sun" was filmed. The movie, which is about a young man involved with two women of different social standings, won six Oscars, including best director and best screenplay.
Taylor and Clift's friendship was strengthened after a series of events. In 1956, around the time they were filming "Raintree County" together, Clift crashed his car outside of Taylor's house while leaving a party. Taylor reportedly ran to the wreck and pulled broken teeth from Clift's mouth when he started choking on them, possibly saving his life. Taylor and Clift are shown here walking around the Paramount back lot.
In a review of "A Place in the Sun" published in the May 28, 1951, issue, Life praised the movie for being "faithful" to the book it was based on -- "An American Tragedy" by Theodore Dreiser. Life also commented on the onscreen chemistry between the two actors, saying, "While they may not make old-timers forget the Greta Garbo-John Gilbert embraces of the '20s, Miss Taylor and Mr. Clift lose no chance to show why they are considered two of the hottest juveniles in Hollywood."
Previously unpublished photos of Liz Taylor
Previously unpublished photos of Liz Taylor
Previously unpublished photos of Liz Taylor
Previously unpublished photos of Liz Taylor
Previously unpublished photos of Liz Taylor