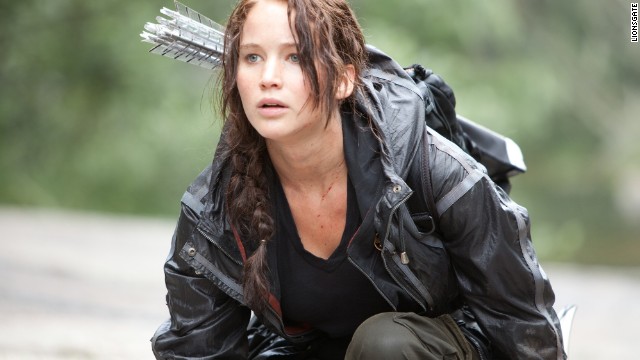 "The Hunger Games," based on Suzanne Collins' series, comes to theaters on Friday. The movie and the books revolve around Katniss Everdeen, a young girl forced to use her hunting and archery skills in a fight to the death during the Hunger Games in a post-apocalyptic future, played by Jennifer Lawrence. We take a look at some other tough heroines from film and TV who know how to kick butt.
broke down gender barriers in the action/sci-fi genre
. She went on to receive an Oscar nomination for best actress for the sequel "Aliens" in 1986.
In "Alien" (1979), Sigourney Weaver starred as Lt. Ellen Ripley, a warrant officer who fights against an extraterrestrial creature that is killing off the crew on a space mining ship. The character was so popular that it spawned sequels, comic books and video games and
box office hit
. It inspired an American remake called "Point of No Return" (1993) starring Bridget Fonda and two TV series.
Anne Parillaud played Nikita, a felon turned stylish assassin for the government in the French film "La Femme Nikita" (1990). Directed by Luc Besson, the movie became a
While Arnold Schwarzenegger gained fame as the cyborg assassin in "Terminator," it was Linda Hamilton's portrayal of Sarah Connor that stuck out in the sequel. In "Terminator 2: Judgment Day" (1991), Connor goes from fearful to warrior mother as she and the Terminator try to protect her son John from the T-1000.
When the character Xena, a warrior played by Lucy Lawless, first appeared on the "Hercules: The Legendary Journeys" TV series, she immediately became a hit. Xena was so popular that the spin-off series "Xena: Warrior Princess" was created in 1995. The show's finale aired in 2001.
Five years after the movie "Buffy the Vampire Slayer" (1992) was released, Joss Whedon took his story about a young empowered woman who battles vampires and other forces of darkness to TV. The series followed Buffy Summers, played by Sarah Michelle Gellar, continuing her slayer duties in Sunnydale. "Buffy the Vampire Slayer" ended in 2003.
Neo may have been "The One" to lead the rebellion against the machines controlling humans in "The Matrix" (1999), but he certainly got a lot of help from Trinity. In the movie, Trinity, played by Carrie-Ann Moss, is also a hacker who helps free Neo from the Matrix and saves Neo many times with her martial arts and gun skills.
In "Crouching Tiger, Hidden Dragon" (2000), Yu Shu Lien, played by Michelle Yeoh, and Li Mu Bai, played by Chow Yun Fat, are Wudang warriors in pursuit of a stolen sword who encounter the skilled teenager Jen Yu, played by Ziyi Zhang (pictured here). The fight sequences and the epic tale led to an Academy Award for best foreign language film.
Angelina Jolie brought the adventurer Lara Croft from video game to life in the film adaptation, "Lara Croft: Tomb Raider" (2001). In the movie, Croft fights to recover an ancient artifact called the Triangle from villains who want to control time and space. Jolie's action-packed performance received praise and led to the sequel "Lara Croft Tomb Raider: The Cradle of Life" in 2003.
In the 2001 TV series "Alias," Jennifer Garner played Sydney Bristow, a CIA agent who maintains several aliases to carry out her missions. Garner went on to win a Golden Globe, a Screen Actors Guild Award and a Teen Choice Award for her role. The series ended in 2006.
a commercial success
and led to three sequels. The fifth installation, "Resident Evil: Retribution," is set to release in 2012.
Based on the survival horror video games, "Resident Evil" (2002) follows Alice, played by Milla Jovovich, and a group of commandos who try to contain a virus that creates flesh-eating creatures. The film was
Quentin Tarantino's bloody "Kill Bill" films featured Uma Thurman as The Bride, a former assassin who seeks revenge on her ex-colleagues and her lover after they almost kill her at her wedding. Thurman went on to win many awards for her role, and the martial arts-heavy film gained cult status.
While most of "Kick A**" (2010) focuses on the title character, Chloe Moretz's portrayal of Hit-Girl, the violent and cussing 11-year-old vigilante, raised eyebrows and brought recognition to the young actress. For her breakthrough performance, Moretz went on to receive many award nominations and won some of them.
In "Underworld" (2003), Kate Beckinsale starred as Selene, a vampire warrior who falls in love with a werewolf while caught in a war between vampires and werewolves. The fourth film of the series, "Underworld: Awakening," was released on January 20.
Some honorable mentions: Geena Davis as Samantha Caine in "The Long Kiss Goodnight" (1996), Summer Glau as River in "Serenity" (2005), Charlize Theron as Aeon Flux in "Aeon Flux" (2005), Keira Knightley as Domino Harvey in "Domino" (2005), Gina Carano as Mallory Kane in "Haywire" (2011).
Jennifer Lawrence as Katniss Everdeen
Sigourney Weaver as Ellen Ripley
Anne Parillaud as Nikita
Linda Hamilton as Sarah Connor
Lucy Lawless as Xena
Sarah Michelle Gellar as Buffy
Carrie-Ann Moss as Trinity
Ziyi Zhang as Jen Yu
Angelina Jolie as Lara Croft
Jennifer Garner as Sydney Bristow
Milla Jovovich as Alice
Uma Thurman as The Bride
Chloe Moretz as Hit-Girl
Kate Beckinsale as Selene
Honorable mentions