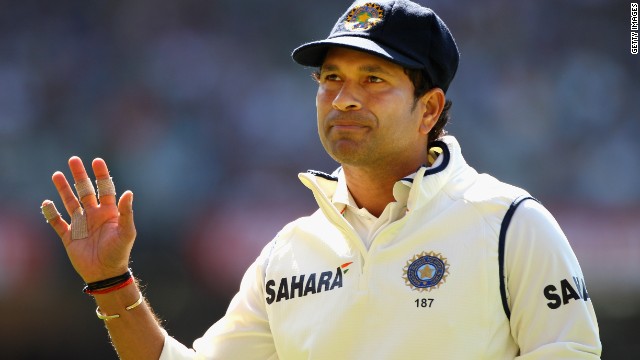 Sachin Tendulkar will end his record-breaking cricket career following his 200th Test match, against the West Indies in his home city of Mumbai.
A face-painter with a queue of spectators outside Mumbai's Wankhede Stadium. The match is not being covered by the world's leading photo agencies due to a dispute with Indian cricket's ruling body, which dates back to 2012.
Security was tight around the ground, which could have been sold out 10 times according to local reports.
Tendulkar helped his Indian Premier League side Mumbai Indians to win the Twenty20 limited-overs tournament earlier this year.
Indian painter Jagjot Singh Rubal touches up his painting commemorating Tendulkar's famous cricketing milestone.
Tendulkar became the first man in cricket history to score 100 international hundreds when he made 114 in a limited-overs match against Bangladesh on March 16, 2012.
Tendulkar visited the residence of Bangladesh's Prime Minister Sheikh Hasina Wazed, right, to mark his achievement.
He had been stuck on 99 since the 2011 World Cup, when he closed to within one of the milestone with a ton against South Africa. Tendulkar helped India win the final against co-hosts Sri Lanka in his home city of Mumbai on April 2. He scored only 18 in that match, but was India's top runscorer as his country won the 50-over tournament for the first time.
Cricket fans had been waiting for the milestone, which came 33 innings after the South Africa game. Tendulkar went close during India's disappointing tour of Australia -- against whom he has scored 20 tons, more than any other nation.
Tendulkar is the first and only player in cricket history to score 15,000 Test match runs, achieving the feat in November 2011.
Having scored a triple century as a schoolboy, and then passing 100 on his first-class debut in 1988, Tendulkar made his international debut the following year at the age of 16 against Pakistan.
Tendulkar scored his first international century in the five-day format the following year on India's tour of England, hitting 119 not out in the second Test at Old Trafford.
Debate still rages as to whether Tendulkar can be considered greater than Australian legend Donald Bradman, whose Test career ended in 1948 with an incredible average of 99.94, scoring 6,996 runs in 52 matches.
England's players applaud after Tendulkar scores 193 in Leeds in 2002, passing Bradman's record of 29 Test centuries. He has now played 188 Tests, notching 51 hundreds.
Tendulkar, left, became Test cricket's highst runscorer in October 2008 when he passed Brian Lara's previous record of 11,953 during a home series against Australia.
Tendulkar became the first batsman to score 17,000 runs in one-day internationals with a knock of 175 against Australia in Hyderabad on November 5, 2009.
Tendulkar's next foray into three figures saw him become the first batsman to score 200 in a 50-over international -- against South Africa on February 25, 2010. Indian schoolchildren in Amritsar celebrated their national hero's landmark feat.
The end of an era
Waving goodbye
Big attraction
Master batsman
The Little Master
100 hundreds
Prime player
India's first World Cup title
An agonizing wait
Test best
Teen prodigy
First of many to come
The greatest?
Passing a legend
Lara's landmark falls
Run machine
Tendulkar's 200
STORY HIGHLIGHTS
Sachin Tendulkar is aiming to continue his distinguished cricket career
He turns 39 in April, having added another milestone to his long list
Tendulkar believes he should have got to 100 centuries faster than he did
India's national icon says he will keep playing as long as he enjoys the game
(CNN) -- India's record-breaking batsman Sachin Tendulkar is looking forward to enjoying cricket after finally becoming the first player to reach the milestone of 100 international centuries.
Tendulkar turns 39 next month, but says he has no intention of following teammate Rahul Dravid and ending a top-level career that began as a teen prodigy in 1988.
"The next thing for me is to enjoy cricket. That factor is really, really important," the man known as the "Little Master" told CNN's Indian affiliate CNN-IBN.
"If I am enjoying it then the performance will be there, and that's how I have always played in the past. There are different challenges along the way and you overcome those obstacles and that is also part of the learning process.
"You take a lot of pride in overcoming those obstacles and contributing something which everyone takes notice of, and that is enjoyment for me. That is satisfaction for me to have done something, and I hope it continues."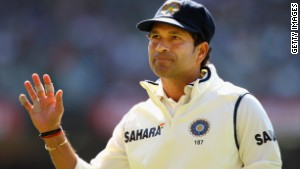 India's 'God of cricket' popularity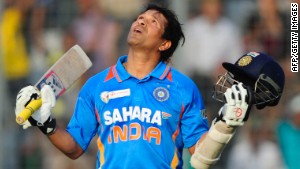 Sachin Tendulkar makes cricket history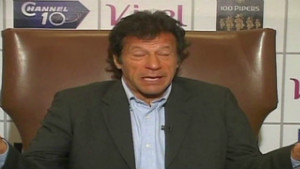 Imran Khan says Tendulkar should retire
Tendulkar has broken every major batting record in the sport, being cricket's highest run scorer in Tests and one-day internationals and the scorer of the most hundreds at the highest level --- now 29 ahead of his closest rival, Australia's Ricky Ponting.
However, his progression from 99 to 100 centuries took more than a year as he was left stranded for 33 innings before scoring 114 against Bangladesh last week.
"Yes, finally because the wait was quite long. My own expectations, also I thought it should have happened earlier but there are certain things which God has planned for every little thing in life and maybe it was that way," he said.
"One thing I can be proud of is my efforts. My commitment in that phase where it was really, really tough didn't fade away -- it was very much there and I was 100% there all the time."
The expectation was even greater given that Tendulkar's 99th ton came during the 50-over World Cup, which India went on to win in his home city of Mumbai last April.
"I got my 99th hundred a year ago against South Africa and after that we played about four or five World Cup matches and nobody spoke about my 100th hundred at that stage because the entire focus was on the World Cup," he said.
If I am enjoying it then the performance will be there, and that's how I have always played
Sachin Tendulkar
"Once the World Cup was over, that's when things shifted to the 100th hundred and there was speculation I didn't go to West Indies because I wanted to score it at Lord's (the home of cricket in England).
"I wish I was good enough to do all those things in my life as to when and where you could score a 100."
Tendulkar is a national hero and one of India's highest-paid athletes, having scored more than 15,000 in 188 Tests and over 18,000 in 460-plus limited-overs internationals.
"I knew there were patches where I was really batting well. There were patches where I thought yeah, I was okay and there were phases where I thought I could have been better and that's very normal," he said of his past year.
"That's part of every sportsman, not just cricketers, but every sportsman goes through that. From a personal point of view I can say it's been a fantastic journey, something that hasn't been overnight or in a decade. It's taken more than a decade to come my way."