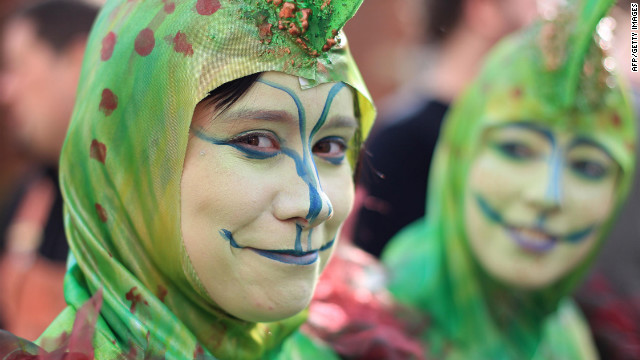 A parade-goer takes part in the St Patrick's Day festivities in Dublin, Ireland, on Saturday. More than 100 parades are being held across Ireland in honor of the nation's patron saint, with up to 650,000 spectators expected in Dublin.
A young boy smiles as he watches the St Patrick's Day festivities in Dublin.
Two women enjoy the St. Partick's Day festivities in Dublin.
A parade-goer dressed as a leprechaun enjoys the Dublin festivities.
The 251st New York St. Partick's day draws a devoted and festive crowd.
Parade-goers watch the 251st St Patrick's Day Parade up 5th Avenue in New York.
Young parade-goers Harley and Presley Eidens celebrate their first St. Patrick's Day in New York City.
Parade-goers glam it up for the 251st St. Patick's Day parade in New York.
The White House fountain is dyed bright green in honor of St. Patrick's Day.
Attendees enjoy the annual parade in Dublin, Ireland, on Saturday, March 17. More than 100 parades will be held across the country to celebrate St. Patrick's Day.
Young girls perform during the parade on Saturday. The holiday is celebrated annually on March 17, the day the patron saint died in 461. British-born Patrick is responsible for converting the people of Ireland to Christianity after escaping slavery there.
A band marches in the celebrations. Patron saints are chosen to protect the interests of a country, place, group, trade or profession, or activity, and to intercede for them in heaven.
A man watches the parade from atop a traffic light. In Ireland, St. Patrick's Day is a national holiday with banks, stores and businesses closing for the day. It is tradition for people to wear green clothing on the holiday.
Parade-goers dress up for the occasion. The Irish blessing says, "May good luck be with you / Wherever you go / And your blessing outnumber / The shamrocks that grow."
In England, Catherine, Duchess of Cambridge, presents shamrock springs to Irish Guards on Saturday. Legend says Christian missionary St. Patrick used the shamrock to explain the concept of the Holy Trinity to the Irish.
In Australia, the Sydney Opera House is illuminated with green lights.
The Sky Tower in Auckland, New Zealand, is lit to mark the festivities.
In the United States, the Chicago River is dyed green annually with a secret recipe. The first U.S. St. Patrick's Day parade was held in Boston in 1737.
St. Patrick's celebrations go green
St. Patrick's celebrations go green
St. Patrick's celebrations go green
St. Patrick's celebrations go green
St. Patrick's celebrations go green
St. Patrick's celebrations go green
St. Patrick's celebrations go green
St. Patrick's celebrations go green
St. Patrick's celebrations go green
St. Patrick's celebrations go green
St. Patrick's celebrations go green
St. Patrick's celebrations go green
St. Patrick's celebrations go green
st pat 07
St. Patrick's celebrations go green
St. Patrick's celebrations go green
St. Patrick's celebrations go green
St. Patrick's Day celebrations
STORY HIGHLIGHTS
Huge crowd attends parade in Savannah
Pub patrons filed into Chicago bars starting at 7 a.m. to celebrate, says one manager
The Chicago River was dyed green, as it is every year
Huge crowds pack central Dublin and wave Irish flags
New York (CNN) -- Thousands of revelers in shades of green jammed Manhattan streets to the tune of bagpipes Saturday for the 251st annual St. Patrick's Day parade.
The parade marched past St. Patrick's Cathedral, where the landmark building is set to undergo more than $175 million in restorations, considered among the largest renovation projects in its history.
Cardinal Timothy Dolan presided there earlier Saturday for a Mass attended by top city officials, including Mayor Michael Bloomberg.
"Today is a day to celebrate all things Irish and that means we have a lot to celebrate," Bloomberg told reporters. "The Irish really have been the center of life for three centuries, and if you look around our administration, it is full of people with names like Kelly and Tierney and Gil Hearn and Dougherty and Hanley and Walsh."
Spectators donned sparkling green top hats and waved tiny Irish flags, as a marching band representing New York's finest drummed their way through Gotham.
In Boston, which also has a large Irish population, thousands showed up for the city's parade that meandered through South Boston in the afternoon.
Officials there have urged restraint in drinking.
Police Commissioner Edward Davis and Mayor Thomas Menino issued a joint statement saying Boston police "will be taking steps to increase patrols, focusing not only on the parade route and calls for service, but also at drinking establishments."
Bars are open until 7 p.m., while liquor stores are required to close at 4 p.m.
In Chicago, the Chicago River was once again dyed green to kick off Irish-inspired festivities and a parade.
Irish Prime Minister Enda Kenny was on hand for this year's celebrations in The Windy City, sharing the spotlight with Mayor Rahm Emanuel.
"People are letting loose, singing, dancing," said Julie Roche, 25, a manager at Chicago's Snuggery pub and sports bar.
Scores of patrons filed in as soon as the downtown bar opened at 7 a.m., she said, swelling to larger numbers as the day progressed.
President enjoys a pint at the Dubliner pub in D.C.
Parade-goers also jammed the streets of Savannah, Georgia, where clover-clad floats carried green-shirted revelers.
"We had a huge crowd here. The weather was incredible," said Julian Miller, public affairs administrator for Savannah-Chatham Metropolitan Police. "It has been a very well-behaved crowd. We still have tonight." He said there were only a couple minor arrests as of late Saturday afternoon.
One participant in the parade became ill and was taken away by ambulance, Miller said. Witnesses told CNN affiliate WTGS that first responders performed CPR on a member of a marching band.
Miller could not provide precise crowd estimates, but said it was probably in the several hundreds of thousands.
Even President Barack Obama partook in the March 17 holiday tradition, enjoying a Guinness at a well-known Capitol Hill pub called "The Dubliner."
Across the pond, huge crowds packed central Dublin, where thousands of spectators waved Irish flags as marchers passed by, carrying banners and singing traditional Irish songs.
"I'll take in more money today than I normally would in a week," said John Hoyne, owner of the Brazen Head pub, a converted manor that dates to 1775 and is described as Dublin's oldest pub. "We are absolutely jammed to capacity."
The 50-year-old pub owner said the Brazen Head has 13 bartenders filling up an average of 500 pints of Guinness per hour.
"It's absolutely electric here," he said.
Dublin crowds also gathered for the much-anticipated Irish-English six nations rugby match-up, a rivalry perhaps made more intense by Saturday's festivities.
Ireland has been reeling from the effects of a banking collapse and the euro zone's debt crisis, battling high unemployment that currently hovers just above 14%.
CNN's Phil Gast contributed to this report.