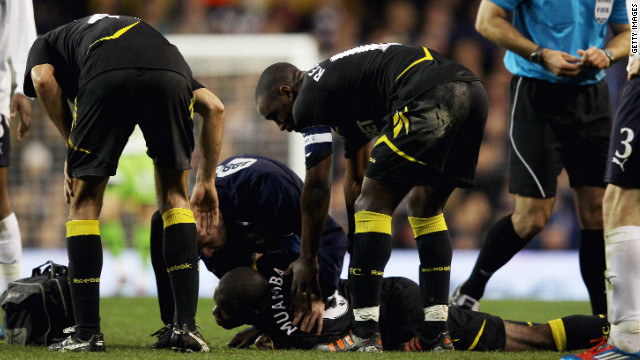 Bolton player Fabrice Muamba lies prone on the pitch after collapsing before halftime during the English FA Cup quarterfinal away to Tottenham Hotspur on Saturday.
Players from both teams, as well as Bolton manager Owen Coyle, far right, watch as the England under-21 international is treated by medics.
Tottenham's Rafael Van der Vaart was one of many players who offered their support for Muamba via micro-blogging website Twitter.
The 23-year-old was carried off the pitch at White Hart Lane and taken to a hospital in London. The game was abandoned.
Muamba has been at the Premier League club since 2008, when he signed in an $8 million transfer from English rivals Birmingham.
Muamba made his name at Birmingham City, where he made a permanent move in 2007 after impressing while on loan from English Premier League club Arsenal.
Muamba came to England in 1999 after his family left his homeland, the Democratic Republic of Congo. He represented his adopted country at under-21 level at the 2009 European Championship.
Muamba had limited first-team opportunities at Arsenal, but appeared in a League Cup match against Reading in November 2005.
STORY HIGHLIGHTS
Fabrice Muamba still in critical condition in intensive care at London heart hospital
Bolton says Fabrice Muamba will be anesthetized in intensive care for 24 hours
Bolton's Tuesday match with Aston Villa is postponed
Referee calls off quarterfinal match after consulting Bolton and Tottenham players
London (CNN) -- A 23-year-old English Premier League soccer player remained in intensive care Monday after suffering cardiac arrest during a game in London, his club Bolton said.
Saturday's match between top-flight teams Bolton and Tottenham was called off after Fabrice Muamba, a Bolton midfielder, collapsed on the pitch before halftime. Medics came onto the field to try to revive him while fans and players looked on in shock.
Muamba was taken to the Heart Attack Center at The London Chest Hospital, where he has been kept since.
"Fabrice Muamba's heart condition is stable, but he remains critically ill in intensive care," read Monday's joint statement from Bolton and the hospital.
Bolton manager Owen Coyle said Muamba's family appreciated the large amount of messages of support they had received.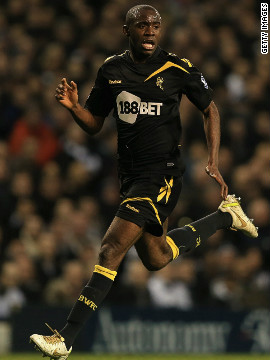 Doctors have described Fabrice Muamba's progress since his cardiac arrest during a match on Saturday as "miraculous." The Bolton star's heart stopped beating for 78 minutes after his collapse but now he is talking and joking with visitors.
Barcelona's Lionel Messi wore a t-shirt with a message of support for Muamba before Wednesday's game with Granada, in which the Argentina striker scored a hat-trick and became the club's leading goalscorer of all time.
Bolton announced Thursday they will fulfill their Premier League fixture with local rivals Blackburn on Saturday after postponing the midweek clash with Aston Villa. Before Blackburn's win over Sunderland on Wednesday their players offered messages of support for Muamba.
Bolton Wanderers fans have left flowers and scarves outside the English club's Reebok Stadium in support of Muamba, while most of the playing squad have been to visit him in the London Chest Hospital.
Muamba's former teammate Gary Cahill, who left Bolton to join Chelsea in January, revealed a t-shirt honoring his ex-colleague after scoring against Leicester City on Sunday.
Tributes were paid to Muamba from across the footballing world. Real Madrid's players took to the pitch before last Sunday's Spanish league match with Malaga wearing shirts displaying a message of support for the midfielder.
Fans at Liverpool's FA Cup quarterfinal against Stoke City send their best wishes to Muamba. Supporters also chanted his name at various points during Sunday's Anfield match.
Bolton manager Owen Coyle (left) and chairman Phil Gartside outside the London Chest Hospital where Muamba is being treated.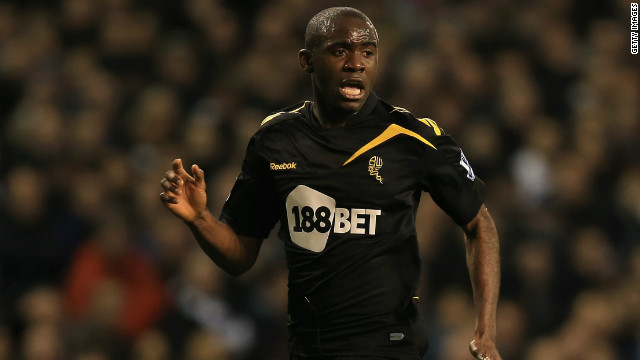 Tributes to Fabrice Muamba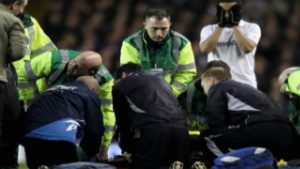 Muamba collapses; reaction from stadium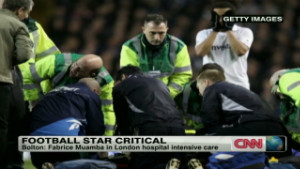 Stadium hushed as medics worked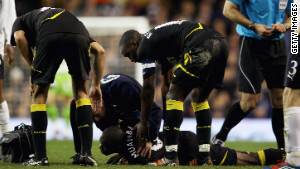 Heart health in sports
"The message is the good will, the prayers from everybody, they are so thankful and they want to put that on record -- to say 'keep up the prayers, thanks for all the support,' " Coyle told reporters outside the hospital after visiting the player Monday.
"They have been inundated as we all have, both in the football community globally and family and friends. People are taking a genuine interest and a real concern with how Fabrice is doing."
"It's a difficult situation but the family are bearing up as well as they can. They themselves are very positive people," Coyle said.
"You look at what Fabrice has been through in life already and you can tell that he is a fighter. He has such a fantastic smile and that's what we all want to see again."
Magunda also thanked fans via her account on micro-blogging website Twitter.
"2 everyone out there thank u so much for all the love and support collectively as a family we appreciate it all. Plz continue 2 pray 4 fab x," she wrote on Monday.
"Fabrice WILL!! Pull through because God is good. Love u so much @fmuamba keep strong we're praying for u honey xx"
Bolton said Sunday that Muamba received "prolonged resuscitation" on the ground and en route to the hospital, where his heart eventually started working.
"As is normal medical practice, Fabrice remains anesthetized in intensive care and will be for at least 24 hours," the club said. "His condition continues to be closely monitored by the cardiac specialists at the hospital."
Players pray for Muamba's recovery
Muamba, who is from the Democratic Republic of Congo and has represented England at under-21 level, fell to the ground in the 41st minute with no other players near him.
He has such a fantastic smile and that's what we all want to see again
Bolton manager Owen Coyle
Referee Howard Webb consulted both teams before calling off the match at Tottenham's home ground in London, which was a quarterfinal tie in England's prestigious knockout competition, the FA Cup.
A member of CNN World Sport's London staff was at the match at White Hart Lane and described the situation.
"We were situated on the halfway line. ... Fabrice Muamba just hit the deck out of nowhere," assistant producer Zayn Nabbi said by phone.
"We realized quite quickly that this was serious because the medical staff all rushed on and they were waved onto the field by the Tottenham players. From what we saw they were trying to resuscitate Fabrice Muamba."
Bolton Wanderers announced Sunday that its match with Aston Villa, scheduled for Tuesday evening, was postponed after talks with the club and the Premier League. Bolton thanked them both for their support and understanding.
Muamba's peers have been quick to show their support on micro-blogging website Twitter.
"For all those asking, I know as much as you do," wrote clubmate Stuart Holden, a U.S. international. "Waiting anxiously for updates from teammates. Fab is a fighter! prayforMuamba."
Tottenham's Rafael van der Vaart wrote: "Terrible what happened with Muamba during the game. We're all praying for him."
The last player to die after collapsing in a match in Britain was Motherwell's Phil O'Donnell, who suffered heart failure during a 2007 game against Scottish rivals Dundee United and passed away on the way to hospital.
Terrible what happened with Muamba during the game. We're all praying for him
Tottenham's Rafael van der Vaart
The most high-profile such tragedy was when Cameroon international Marc-Vivien Foe collapsed during a Confederations Cup semifinal against Colombia in 2003 and died in hospital.
There have been two similar incidents more recently in Spain, involving Sevilla's Antonio Puerta in 2007 and Espanyol's Daniel Jarque in 2009.
Muamba grew up in Kinshasa, the capital of what was then known as Zaire. After moving to the UK in 1999 he began his football career with Premier League club Arsenal in 2005 but did not make a first-team appearance in the top division and was loaned out to Birmingham.
He signed a permanent deal with the Midlands club in 2007 before moving to Bolton a year later for a fee of £5 million ($8 million).
English Football Association chairman David Bernstein paid tribute to Muamba, who played for his country at most age-group levels.
"Fabrice has played 33 times for England Under-21s, captaining Stuart Pearce's side during this time, and is a player -- and more importantly -- a person we care greatly for," Bernstein said.
Premier League chief executive Richard Scudamore praised those at the game for the way they reacted to the situation.
"We would like to praise the players, match officials, coaching staff and medical teams of both clubs at White Hart Lane for their swift actions in attending Fabrice," Scudamore said in a statement.
"The League would also like to commend the compassion shown by the fans of Bolton Wanderers and Tottenham Hotspur."
Those sentiments were echoed by Tottenham chairman Daniel Levy, who in a club statement, thanked both sets of fans for their support and behavior.
Levy said: "Too often we read the negatives about football and yet last night, at a time of intense emergency and uncertainty, we saw the true humanity and empathy of the footballing family."