STORY HIGHLIGHTS
NEW: Swiss prosecutor says he has no evidence the bus driver was changing a DVD
Planes carrying victims' bodies have landed in Belgium, a health official says
A minute's silence is observed, and church bells toll as a national day of mourning is held
Twenty-eight people, most of them children, died in a bus crash in Switzerland
(CNN) -- Belgium observed a minute's silence Friday as the country holds a national day of mourning for 28 people, most of them children, killed in a horrific bus crash in Switzerland.
Somber crowds gathered in the towns of Heverlee and Lommel, where the children attended two schools, to remember the victims, most of whom were Belgian. Many left flowers and lit candles.
Church bells across the country tolled after the silence, and flags flew at half-staff, Belgian public broadcaster RTBF reported.
Twenty-two children and six adults died when the bus slammed into the wall of a tunnel in Sierre in the Swiss canton of Valais as it returned to Belgium from a ski trip.
An additional 24 children -- ages 11 and 12 -- were injured in the crash late Tuesday.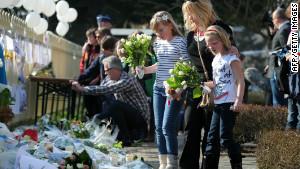 Belgians try to cope with tragedy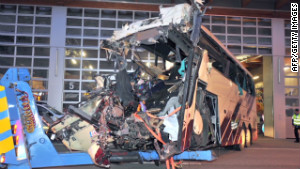 Swiss bus crash kills 28
Prosecutor Olivier Elsig told a news conference Friday in Switzerland that investigations into the cause of the crash are continuing.
Initial findings indicated that the bus had not been speeding and that no other vehicle was involved, he said.
Elsig also said he had no evidence to support media reports the driver may have been changing a DVD at the time of the crash.
Investigators are continuing to focus on three potential causes for the accident, Elsig said -- a technical issue with the bus, a health problem with the driver or human error.
However, investigators have ruled out fatigue as the driver was well-rested and had only been driving for a short time, he said.
Christian Varone, chief of police in Valais canton, told reporters that all those killed had been identified and their bodies flown back to Belgium.
Jan Eyckmans, a spokesman for the Belgian Ministry of Health, said two C-130 military aircraft had brought the bodies from Switzerland to Melsbroek airport in Belgium. A third plane transferred the luggage, he said.
Three medical planes are bringing back 14 of the injured Friday for treatment at a hospital in Leuven, Eyckmans said. Six children were flown back Thursday night.
Four children remain in the hospital in Switzerland -- one in Bern and three in Lausanne. It's "still too early, medically speaking," to move them, the spokesman said. Their parents are staying nearby.
The Ministry of Health has a crisis team in Brussels and one at each school in Lommel and Heverlee, he said. There are also people on the ground in Switzerland working on bringing everybody back, he added.
A spokeswoman for the mayor of Lommel, Greet Poets, said the town plans to hold a memorial service Wednesday, which the Belgian royal family is expected to attend.
Eyckmans said Belgians came together to pay their respects at 11 a.m. local time.
"All private companies, the government, institutions, radio, TV -- the whole country had a minute of silence, which was quite impressive," he said.
Twenty-two of the victims were Belgian, some of whom have dual nationality, he said.
Belgian Prime Minister Elio Di Rupo earlier this week said there were 10 people of Dutch nationality among the victims as well as one of German and one of Polish origin.
Investigators are working to determine why the bus hit the curb on the right side of the tunnel, then crashed headlong into the wall of an emergency stopping point.
Rescuers reported that the children were wearing their seat belts, he said, but the impact of the crash was so great that the belts did not save the lives of many.
CNN's Christopher Cottrell, Stephanie Halasz and Laura Smith-Spark contributed to this report.