Having tried grits, Romney returns to delegate math
updated 3:29 AM EDT, Wed March 14, 2012
STORY HIGHLIGHTS
Mitt Romney and advisers played down expectations before Tuesday's votes
Massachusetts governor returns to mantra of race being about delegates
Romney added events in Alabama and Mississippi in an effort to win there
Romney backer in Mississippi blames loss on low turnout
Kansas City, Missouri (CNN) -- Mitt Romney lost the Alabama and Mississippi primaries to Rick Santorum on Tuesday, but he continued the long slog for delegates, which his campaign believes will eventually secure him the nomination.
Romney and his advisers played down the importance of winning both states in the hours before polls closed, and pointed instead to the proportionally awarded delegate totals Romney could add to his overall haul.
"You know, this is all about getting delegates," the former Massachusetts governor told reporters on his campaign plane Tuesday afternoon. "If the polls are right, we'll pick up some delegates. That's what it's all about."
Romney heads next to friendlier territory in Puerto Rico, where he has been endorsed by the governor, and Illinois, where he is expected to perform well in urban areas of the state.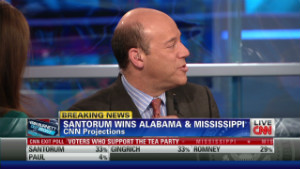 Fleischer: No end in sight for this race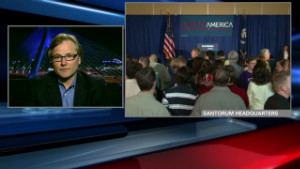 Romney adviser on Santorum wins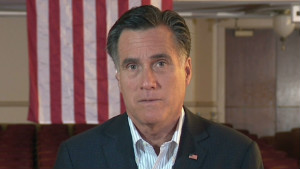 Romney cautious on Afghanistan
The losses in the southern states Tuesday followed an effort by Romney's campaign that was more robust than expected. The campaign added events in Mississippi and Alabama over the weekend as he gained momentum in state polls.
Romney joked with audiences about his taste for "cheesy grits" and hugs from southern girls, as his rival Newt Gingrich scoffed at the former governor's attempts to relate to voters in the Deep South.
At his campaign rallies, Romney generally focused on his economic message, even as many voters in those states describe themselves as social conservatives.
A high-profile Romney backer in Mississippi blamed Tuesday's loss in part on low turnout in areas where Romney was expected to perform well.
In a statement released to the media in lieu of a primary night event, Romney returned to his focus on delegates.
"With the delegates won tonight, we are even closer to the nomination," Romney said in the statement. "Ann and I would like to thank the people of Alabama and Mississippi. Because of their support, our campaign is on the move and ready to take on President Obama in the fall."
CNN Political Reporter Peter Hamby contributed to this report

Part of complete coverage on

Get all the latest news at CNN's Election Center. There are race updates, a delegate counter and much more.

A black man is returning to the White House. Four years ago, it was a first, the breaking of a racial barrier. Tuesday night, it was history redux. And more.

The 2012 presidential election shattered spending records, further polarized a divided country and launched a thousand hashtags.
updated 1:41 PM EST, Thu November 8, 2012

Democratic and Republican congressional leaders continue to sharply disagree over the key issue of whether top tax rates should be raised to help resolve the looming crisis.
updated 2:24 PM EST, Wed November 7, 2012

In a historic turnaround, the ballot box is showing America's shifting attitudes about same-sex marriage.

Even though voters indicated to pollsters that their financial situation is the same or worse than it was four years ago, they put their trust in the president.
updated 4:19 AM EST, Thu November 8, 2012

The president faces a long and familiar set of challenges after riding a wave of support from moderates, women and minorities to victory.
updated 9:27 AM EST, Wed November 7, 2012

Republicans kept a lock on the U.S. House of Representatives, a crucial victory after the party failed to wrest away the presidency from Barack Obama and the Senate from the Democrats.
updated 7:34 PM EST, Wed November 7, 2012

Democrats will retain their control of the Senate after winning several closely contested races on Tuesday.