STORY HIGHLIGHTS
Party leader says reports that Saleh is leaving are "fabrications"
Tens of thousands march near the former leader's home calling for his prosecution
Saleh hands over power after leading Yemen for 33 years
Earlier this week, an official said he was leaving for Ethiopia
(CNN) -- The former Yemeni president is not leaving the country any time soon, his party's spokesman said, calling reports of his departure "fabrications" as a new leader takes over.
Ousted leader Ali Abdullah Saleh plans to stay in Yemen in the longterm, according to Tareq Shami, a spokesman for the General People's Congress party.
Tens of thousands have marched near Saleh's home calling for his prosecution and demanding he leave the country over concerns that his presence will undermine the new president.
Abdurabu Mansur Hadi, who served as Saleh's vice president, was sworn in Saturday in the capital, Sanaa.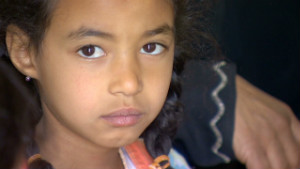 Yemen poverty challenges new president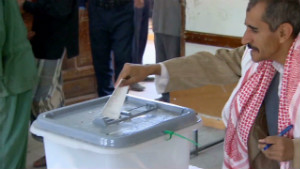 A close look at Yemeni voting polls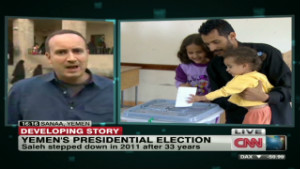 Yemen election signals end of Saleh era
The two appeared at the presidential palace Monday in a handover ceremony cementing a power transfer deal that helped end months of protests and violence over Saleh's longtime rule.
Before Hadi became acting president in November, protesters had taken to the streets demanding an end to Saleh's 33-year rule.
A Yemeni government official said this week there have been discussions about Saleh settling in Oman or Ethiopia, but the former president has not made a decision. The official asked for anonymity as the official is not authorized to speak to the media.
Saleh congratulated Hadi at the ceremony, referring to him as "my brother and colleague" as protesters took to the streets nearby condemning the incoming president's appearance with his predecessor.
Hadi acknowledged the numerous challenges ahead and said stability remains a priority.
"Today, we welcome and bid farewell. ... Welcome a new leadership and we bid farewell to the leadership," he said. "This means that we lay new rules for the exchange of peaceful transfer of power in Yemen, because security and stability is the basis of development."
Saleh was wounded in a June assassination attempt at his presidential palace during battles between government troops and tribal fighters.
Despite his stepping down, he will remain involved with his party, officials said.
"Saleh has the option to continue involvement in politics, and the power transfer deal will not force him to step aside," said Abdu Ganadi, his senior aide. "He is the leader of the GPC, and his voice and support will continue being heard in the GPC."
Yemen is the poorest country in the Middle East, with a severe shortage of water and rising levels of malnutrition among its population of about 25 million.
Saleh faced a separatist movement in the south, sectarian tensions in the north and the growing presence of what Western officials describe as al Qaeda's most dangerous affiliate, al Qaeda in the Arabian Peninsula.
CNN's Gabe LaMonica contributed to this report.