STORY HIGHLIGHTS
Special U.N. envoy Kofi Annan: 'The killing and the violence must stop'
At least 29 people killed Wednesday, an opposition group says
Activists in Homs say snowfall helped spare them further gunship attacks
In the capital of Damascus, some students hold a demonstration
Are you there? Send us your images or video.
United Nations (CNN) -- Fresh diplomatic efforts to resolve the nearly year-old crisis in Syria got under way Wednesday as the situation inside Syria reached a new level of concern.
"I think the message is clear: that the killing and the violence must stop," said Kofi Annan, the joint special envoy on Syria, to reporters here. "Humanitarian agencies must be given access to do their work, and it is regrettable that that doesn't seem to be happening. That is not happening."
Annan, who served as U.N. secretary-general from 1997 to 2006, announced he was departing for the region "to talk to all concerned."
He did not specify with whom he would meet or when the meetings would take place. "As you can imagine," he said, "in this type of situation, every move is sensitive and highly political, even the itinerary. But we are working it out, and I would expect to get to Syria fairly soon."
He said that if his mission is to succeed, "it is extremely important that we all accept that there should be one process of mediation -- the one both the United Nations and the Arab League have asked me to lead. When you have more than one, and people take their own initiatives, the parties play with the mediators."
He added, "It is when the international community speaks with one voice that that voice is powerful."
Annan's remarks were preceded by comments from Ban Ki-moon, the current secretary-general of the world body.
"The situation in Syria has grown increasingly desperate," he said. "There is no more urgent task for the international community than to end the killing immediately. The government must cease using force against the civilians."
After meetings in New York, Annan will travel to Cairo to meet with the secretary-general of the Arab League, and from there, he will travel "as soon as possible" to the Middle East, including to Damascus, Ban said.
He urged Syrian officials to cooperate, and expressed disappointment to have learned Wednesday that they did not permit U.N. humanitarian chief Valerie Amos to visit Syria "despite the clear need and the repeated commitment by the government that she would be welcomed."'
Annan said he had not been in contact with Syrian President Bashar al-Assad "for a couple of years," but said he would "plead with him that he should engage -- not only with me but with the process we are launching today."
The diplomatic activity came as helicopter gunships fired Wednesday on civilians in the Baba Amr neighborhood of Homs, a move that marked a new level of violence in the country, activists said.
They credited snowfall over Homs with causing the helicopter pilots to land, thereby ending the threat.
The snow began falling in the evening, after the opposition stronghold of Baba Amr had endured an intense, daylong campaign of shelling and gunfire that triggered fears among the approximately 20,000 residents that a full-fledged ground invasion could be imminent, the opposition activists said.
They said Baba Amr was under its heaviest shelling yet and that ground troops had advanced in al Hakura, an old part of that neighborhood. Free Syrian Army fighters repelled the incursion, which lasted for hours,, the activists said.
At least 29 people were killed Wednesday, including 16 in Homs, according to the opposition Local Coordination Committees of Syria. The toll included three people in Damascus suburbs, three in Daraa, two in Deir Ezzor, two in Idlib, one in Hama and one in Latakia.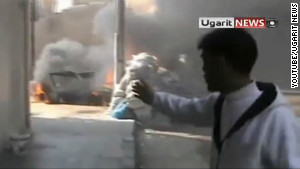 'Horrifying massacre' in Syria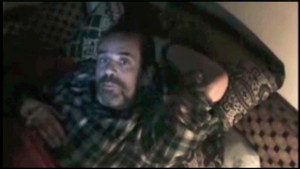 Wounded journalist evacuated from Syria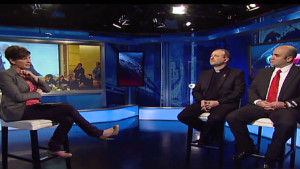 Is it too late for dialogue on Syria?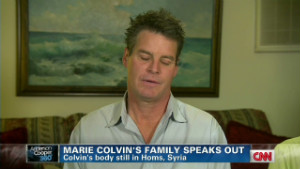 Marie Colvin's family on her legacy
The deaths in Homs included a family of five, the group said.
The intense shelling made it difficult for the citizen journalists among Syria's opposition to take videos and post them on YouTube documenting the day's events, they said. With electricity to the city cut, activists said they were using generators to power the computers they were using to upload the few videos they were able to shoot.
The opposition Syrian Observatory for Human Rights said the family was killed at a roundabout in the neighborhood of Karm al Zaytoun.
A man was killed by a rocket-propelled grenade in the Homs neighborhood of Bab Aldreeb, and another civilian was shot dead in the Inshaat neighborhood, the observatory said.
Numerous neighborhoods in Homs were under attack. Explosions shook al Khalidiya, al Bayada, Karm al Zaytoun, Bab Sbaa and others, an opposition activist said.
Homs' water supplies and communications were also cut, the activist said.
France said it was trying to evacuate two nationals stranded in Homs, in coordination with Syrian authorities and the Red Crescent.
"We expect the government of Damascus to meet all the conditions for a safe and rapid evacuation, including an immediate cease-fire on Baba Amr," French Foreign Ministry spokesman Bernard Valero told CNN.
Syrian state-run news agency SANA, which consistently blames the violence on "armed terrorist groups" reported on violence in Homs, as well. One such "terrorist group" killed a nurse at a hospital, while another attacked a water plant in the Homs countryside, SANA said.
But opposition activists said the violence was perpetrated by the Syrian regime.
A 13-year-old boy was killed by sniper fire in the eastern neighborhood of Deir Ezzor, the Syrian Observatory for Human Rights said.
An undisclosed number of casualties resulted when rockets fell on the western city of Rastan, the group said.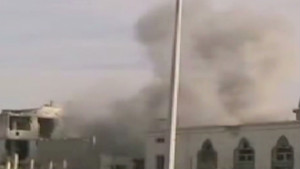 Red Cross hopes to continue in Syria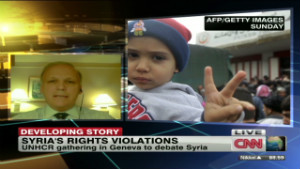 Syria under fire for rights violations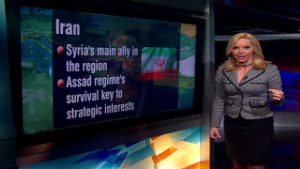 Who are the key players in Syria?
In Hama, regime forces carried out a raid and arrest campaign amid sporadic gunfire in several neighborhoods, the LCC said.
Reinforcements for security forces, including tanks, arrived at the Syrian-Turkish border, the LCC said. There were also reports of helicopters flying over some villages in the area, the group said.
In the Damascus suburb of Zabadani, Syrian forces stormed residential buildings detaining males older than 13, an opposition activist named Mostapha said.
CNN cannot independently verify opposition or government reports because Syria has severely limited journalists' access to the country. But the vast majority of reports by activists inside the country indicate that government forces are killing citizens in an attempt to eliminate those seeking President Bashar al-Assad's ouster.
Spanish journalist Javier Espinosa managed to get out of Syria and into Lebanon, his newspaper, El Mundo, and an opposition activist said.
A United Nations official said indiscriminate bombardment by government tanks and rocket fire has contributed to "well over 7,500 deaths" since the violence began last March.
The United Nations has credible reports that "the death toll now often exceeds 100 civilians a day, including women and children," Lynn Pascoe told the U.N. Security Council. Pascoe is the U.N.'s undersecretary general for political affairs.
Opposition activists say more than 9,000 people have died in the nearly yearlong government attempt to quell the opposition. At least 104 people were killed Tuesday across Syria, the LCC said.
In Damascus on Wednesday, students from the Zain Abideen school in the Midan neighborhood began demonstrating, chanting for freedom and demanding the regime's ouster, according to the LCC.
SANA, meanwhile, said a terrorist group stole a cement truck in Hama, while another clashed with customs personnel in Idlib.
Twelve "army and law enforcement martyrs" were buried Wednesday, SANA reported.
"The martyrs' relatives hailed the role of the Syrian army in maintaining the security and stability of the homeland, expressing confidence of the ability of the Syrian people to overcome the crisis through their unity and rallying around their leadership, asserting that Syria will foil all the conspiracies hatched against it," the report said.
About 25,000 people have registered as refugees in neighboring countries and 100,000 to 200,000 are displaced within Syria, Pascoe said.
Tunisia, which last year became the first country in the region to oust a longtime ruler, has offered asylum to Syria's president.
Tunisian President Moncef Marzouki said "closing all exits in front of the Syrian regime" would "worsen its brutality against the revolution of the brotherly Syrian people and, consequently, the likelihood of causing thousands more victims," the Tunisian state TAP news agency reported.
"If the Syrian president's departure to another country, including Tunisia, helps bring about a settlement to the political crisis in Syria, Tunisia will be ready to lend its assistance," Marzouki said, according to TAP.
U.S. Secretary of State Hillary Clinton told the Senate Appropriations Committee that al-Assad could be tried for war crimes.
"I think people have been putting forth the argument, but I also think from long experience that could complicate a resolution of a difficult, complex situation because it limits options to persuade leaders, perhaps, to step down from power," Clinton said Tuesday.
The pressure on the Syrian regime mounted Tuesday, when the U.N. Human Rights Council met to discuss a report saying Syrian government officials were responsible for "crimes against humanity" against opposition members.
CNN's Nic Robertson, Arwa Damon, Raja Razek, Tracy Doueiry, Kamal Ghattas, Holly Yan, Joe Vaccarello, Yousuf Basil, Salma Abdelaziz, and Josh Levs contributed to this report.