U.S. and Egypt broach issue of Americans' trial
updated 4:34 PM EST, Tue February 28, 2012
STORY HIGHLIGHTS
Clinton says the U.S and Egypt are "moving toward a resolution"
The trial includes 16 Americans accused of fraud in Egypt
Three judges presiding over the case have asked to step down
The trial is scheduled to resume April 26
Washington (CNN) -- Secretary of State Hillary Clinton said Tuesday that the United States and Egypt are "moving toward a resolution" regarding the prosecution of Americans and other nongovernmental organization employees accused of trying to stoke unrest in the country.
"We are engaged in very intensive discussions with the Egyptian government about finding a solution," Clinton said during a Senate hearing. "We've had a lot of very tough conversations and I think we're ... moving toward a resolution."
The trial -- which includes 16 Americans accused of fraud in Egypt -- got a brief start Sunday as intense behind-the-scenes diplomatic discussions simmered over the case.
Asked Tuesday if she felt the charges against the workers were legitimate, Clinton replied "no, I do not."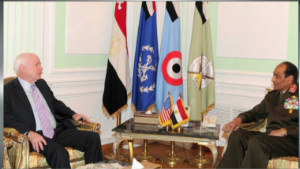 Egypt sets trial date for aid workers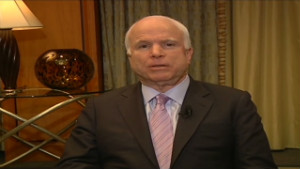 McCain: Egypt trying to fix NGO crisis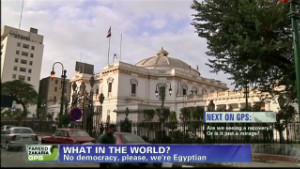 What in the world
Three of the judges expected to preside of over the case submitted letters that expressed their intention to step down, forcing Egyptian authorities to reshuffle their judicial rotation, Abdel Moez Ibrahim, the head of Egypt's Appeals Court, said Tuesday.
Ibrahim said that the judges' reasoning was based on "critical feelings," and done for "personal psychological reasons." He did not elaborate.
The trial is scheduled to resume April 26.
The accused were detained as part of a crackdown on pro-democracy, non-government groups, which Egyptian officials say is part of a pattern of foreign interference stoking unrest.
The specter of pulling more than $1 billion in U.S. aid to Egypt over the prosecution is something the Egyptian government is "coming to understand," Clinton said Tuesday.
Out of the 43 defendants facing fraud charges, only 14 non-American workers showed up to court for a trial unfolding in the wake of the revolution that ousted former President Hosni Mubarak.
Clinton declined to discuss the details of the negotiations.
"I don't want to go making this a dramatic situation," she said.
The list of charges includes the unapproved conducting of political training and opinion polls -- and sending reports to the United States.
The workers are charged with operating in Egypt without being officially registered and receiving foreign funding.
Of the Americans charged, only seven are still in Egypt. Those in the country are all believed to be at the U.S. Embassy, though the Egyptian government has not asked for them to be turned over or to turn themselves in.
Among the Americans charged in the case is Sam LaHood, director of Egypt operations for the International Republican Institute and the son of U.S. Transportation Secretary Ray LaHood.
Journalist Mohamed Fadel Fahmy contributed to this report from Cairo.

Part of complete coverage on
updated 8:52 PM EDT, Wed April 11, 2012

Egypt's administrative court has suspended the country's 100-member constitutional assembly. What does that say about the country's progress toward political reform?
updated 1:27 PM EDT, Wed April 11, 2012

On February 1, riots at a football match in Port Said plunged Egypt into mourning and despair -- the future of one of African soccer's traditional powerhouses seemed bleak.
updated 5:46 AM EST, Thu February 2, 2012

Political tensions flare after more than 70 people die and hundreds are injured when fans riot at a soccer match in the Egyptian city of Port Said.
updated 10:11 AM EST, Sat February 4, 2012

The scenes in Port Said will leave an indelible mark on post-revolution Egypt because soccer matters more here than anywhere, argues James Montague.

An Egyptian photographer found himself in the middle of the Arab Spring. Months after the demonstrations died down, he returned to document what had changed.
updated 2:48 PM EST, Wed January 25, 2012

The protests in Egypt that toppled Hosni Mubarak began one year ago today. But some are asking now: What's the difference?
updated 2:45 PM EST, Wed January 25, 2012

It's been a year since the mass protests started in Egypt but one author says the seeds of revolution were sown years ago.
updated 8:19 AM EST, Wed January 25, 2012

Many Egyptians wonder if the revolution amounted to nothing more than a military coup, writes Aladdin Elaasar, a former professor and author.
updated 7:14 AM EST, Sun January 22, 2012

Egypt's first democratically elected parliament is to meet Monday - but that is not the end of the country's revolution.
updated 4:30 PM EST, Mon January 23, 2012

A look at some of the moments from the first 18 days of upheaval in Egypt that culminated in political change.