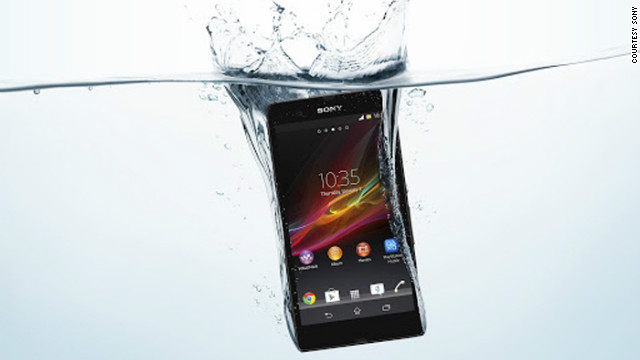 Sony's Xperia Z smartphone, pictured, and Xperia Tablet Z have received a lot of attention for being water-resistant. But Sony isn't the only manufacturer seeking to make electronics more durable. Here are some other options:
Japanese electronics firm Fujitsu relies on waterproof seals to keep its tablets dry.
Panasonic's Eluga Power smartphone is among the new breed of waterproof devices.
A low-tech solution to waterproofing: Phones are placed in airtight cases made by DiCAPac before being dunked.
To prove their seaworthiness -- or just attract attention -- Fujitsu phones and tablets sit submerged in a fish tank at this tech trade show.
An iPhone waterproofed using a substance called Liquipel is submerged at the 2012 Mobile World Congress in Barcelona, Spain.
Chinese manufacturer Huawei dunks its Ascend D2 in a bowl of clear liquid at the 2013 Mobile World Congress in February.
P2i says its invisible, liquid-repellent nano-coating makes phones such as Alcatel's One Touch 997 impervious to water.
Kyocera says its Hydro phone can withstand being in up to 3 feet of water for 30 minutes.
Sony says its Xperia Z phone can withstand being submerged in roughly 3 feet of water for up to 30 minutes.
Gadgets that aren't afraid to get wet
Gadgets that aren't afraid to get wet
Gadgets that aren't afraid to get wet
Gadgets that aren't afraid to get wet
Gadgets that aren't afraid to get wet
Gadgets that aren't afraid to get wet
Gadgets that aren't afraid to get wet
Gadgets that aren't afraid to get wet
Gadgets that aren't afraid to get wet
Gadgets that aren't afraid to get wet
STORY HIGHLIGHTS
Waterproof phones generate interest at mobile phone expo in Barcelona
Some companies use nano-technology, others special seals to keep water out
Low-tech solutions also include keeping phone inside a watertight case
Barcelona, Spain (CNN) -- The ability to work inside a fish tank is not high on most people's wish lists when it comes to buying a new smartphone.
But at the Mobile World Congress in Barcelona, several major manufacturers were putting the waterproof credentials of their devices ahead of more conventional selling points such as processor power.
While some handset manufacturers are looking at more effective rubber seals to protect devices for unexpected dunks and spills, high-tech companies are also springing up offering nano-coating technology as alternative protection.
Liquipel, based in southern California, announced at Mobile World Congress that it was expanding its operations to Australia, Brazil and China.
The company encourages mobile owners to send their devices through the post so they can be coated with what it describes as a "revolutionary water shield."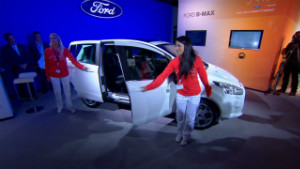 Ford goes high-tech with new vehicles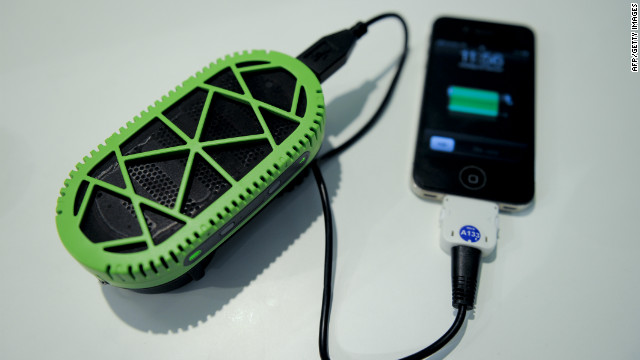 The FC PowerTrekk charger converts water into electricity to power a mobile.
A wireless in-car phone charger created by Duracell and Powermatt .
A man displays a Sony SmartWatch conected to a Sony mobile phone during a presentation at the Mobile World Congress on February 28
The Asus padfone, part phone, part tablet, part laptop, this is the Russian doll of the mobile world.
Fujitsu's speedy quad-core smartphone prototype has a 13.1-megapixel camera on board and is waterproof.
Huawei's MediaPad 10 FHD is a 10-inch tablet boasting super-fast processing speeds.
Samsung smartphones will soon be able to connect with Toyota's In-Vehicle Infotainment (IVI) system
The stylus is back! The Samsung Galaxy Note device has reintroduced the tool for more accurate touch screen control.
Samsung's Galaxy Beam features a built-in image projector
The fastest phone yet? BlackBerry showed off a device that pairs with a Porsche 911
Nokia raised eyebrows with its new PureView smartphone, boasting a 41 Megapixel camera.
Motorola shows off its combined GPS tracking device and MP3 player, which also acts as a workout coach and tracks a user's performance.
People wander through the Android display area. With no official Apple presence at the Mobile World Congress, Android phones dominate.
Demonstrators dressed in curious bobble hats staff a Nokia stand at the Mobile World Congress in Barcelona.
Duracell showcases its Powermat WiCC which can be used to wirelessly charge specially-adapted electronic devices.
The robot symbol of the Android operating system guards a display at the Mobile World Congress in Barcelona.
A hostess holds a LG Optimus Vu, which boasts one of the biggest screens seen on a smartphone.
Taiwanese phone giant HTC launched its new One range, featuring toughened Gorilla glass screens.
Ford's launched its technology-stuffed B-Max car at the Mobile World Congress to tout its hi-tech credentials.
Nokia's Lumia 900 mobile phone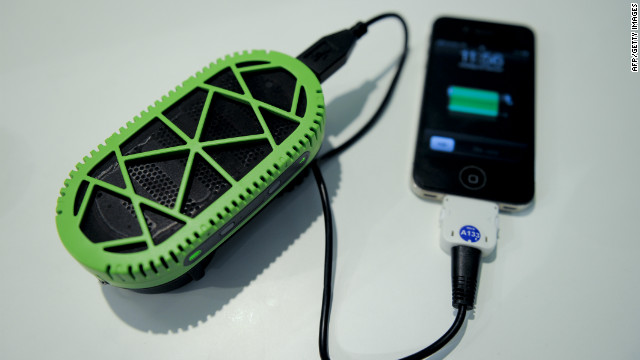 Mobile World Congress
Company President Danny McPhail said: "You won't want to go swimming with it, but in the event it does come into contact with water, you'll be protected.
"Talking in the rain, texting in the shower, and playing Angry Birds in the shower is all possible."
He said devices are placed into a machine which draws in the proprietary liquid formulation as a dry vapor, coating the device inside and out.
British company P2i, a few stands away at Mobile World Congress, uses a similar process, but works directly with manufacturers, rather than consumers.
Read more: Phones poised to replace money
Its technology was originally developed by Britain's Ministry of Defence to help protect soldiers from both rain and chemical attack.
The company, which is working with Motorola and about 100 other manufacturers, says it has used its Aridion nano-coating technology to waterproof more than 9 million electronic devices, including mobile phones, tablets and hearing aids.
Dr Steven Coulsen, chief technology officer for P2i, said: "this is fast becoming a must-have technology. People expect to have this protection when they buy a device off the shelf."
Japanese electronics firm Fujitsu relies on waterproof seals rather than revolutionary nano-coatings to protect the insides of its smartphones and tablets. It was showing off its ultra-thin waterproof and dustproof Tegra 3 Android quad-core prototype smartphone in Barcelona.
Read more: Mobile jargon buster
Panasonic was also using the waterproof credentials of its new Eluga smartphone as a major selling point at Mobile World Congress.
Meanwhile, at the other end of the technology scale, South Korean company DiCAPac was in Barcelona looking for distributors for its colorful, low-tech plastic phone cases.
Spokesman Myeonghwan Yeom said: "Not every manufacturer has waterproof phones, and this is so easy to use. It means you can take your phone to the beach or water park and continue taking photos.
"You can also take photos under water, and none of the major phone manufacturers have worked out how to do that yet."