U.N. experts leave Iran without nuclear agreement
updated 5:29 AM EST, Wed February 22, 2012
STORY HIGHLIGHTS
NEW: Report: Iran's representative to the IAEA says the talks involved mutual understanding
The IAEA chief says results of visit "disappointing"
Iran also barred IAEA team from visiting Parchin military base
Report: Base may have been a site for testing explosives that could detonate nukes
(CNN) -- Two days of talks with Iran have failed to produce agreement on how to verify that Iran's nuclear program remains peaceful, the International Atomic Energy Agency announced Tuesday.
Iran also refused to allow a team from the U.N. nuclear watchdog agency to visit its military base at Parchin, southeast of Tehran, during the two-day visit, the IAEA said.
"Intensive efforts were made to reach agreement on a document facilitating the clarification of unresolved issues in connection with Iran's nuclear program, particularly those relating to possible military dimensions," an IAEA statement on the visit read. "Unfortunately, agreement was not reached on this document."
The high-level team of experts was on its way back from Iran late Tuesday, the agency said.
But Ali Asqar Soltaniyeh, Iran's representative to the IAEA, said the Iranian and IAEA experts' recent negotiations involved cooperation and mutual understanding between the two sides, Iran's semi-official Fars news agency reported.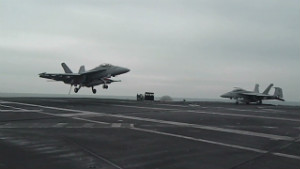 Deterring the threat from Iran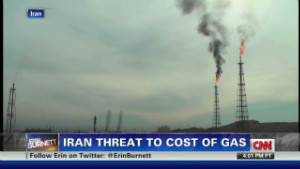 Iran could send U.S. gas prices to $5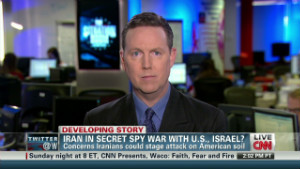 Iran in secret spy war?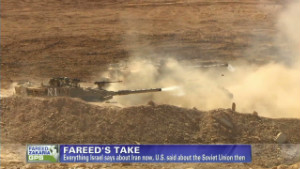 Fareed's take: Iran
Soltaniyeh also said Iran will hold further talks with the agency over its civilian nuclear energy program, according to Fars.
Iran says it is producing enriched uranium to fuel civilian power plants and has refused international demands to halt its production. But the IAEA reported in November that it had information to suggest Iran had carried out some weapons-related research.
According to November's IAEA report, Parchin may have been the site of tests of high explosives that could be used to detonate a nuclear bomb -- experiments the agency called "strong indicators of possible weapon development."
"It is disappointing that Iran did not accept our request to visit Parchin during the first or second meetings," IAEA Director General Yukiya Amano said in the IAEA statement. "We engaged in a constructive spirit, but no agreement was reached."
The November report states that Iran built a large, cylindrical chamber at Parchin in 2000 that was designed to contain the force of up to 70 kilograms (154 pounds) of high explosives. IAEA inspectors visited the site twice in 2005, but did not go to the building now believed to have housed the test chamber, the report states.
"It remains for Iran to explain the rationale behind these activities," the report noted.
The talks come as Iran is under intense pressure to demonstrate that it has no intention of pursuing nuclear weapons. U.S. and European sanctions are crippling its currency, while a new round of sanctions are targeting its crude oil sales, which make up about half of Tehran's revenue.
In the meantime, Israel is making clear it is pondering an attack on Iran's nuclear infrastructure. Israel is widely believed to have nuclear weapons itself, though it has never declared itself a nuclear power and considers Iran an existential threat.
Iran has threatened to cut off the Strait of Hormuz, the only shipping lane out of the oil-rich Persian Gulf, if it is attacked. But last week, it also proposed a resumption of long-stalled talks with European powers and Security Council permanent members aimed at resolving the issue.

Part of complete coverage on
Iran: Mounting tensions
updated 9:03 AM EDT, Fri April 13, 2012

Two months ago, Emad Ghavidel turned on the television in Tehran and saw graphic footage of an injured Syrian child crying out in pain.
updated 9:38 AM EST, Fri March 9, 2012

Iran's biggest customers are responding to increasing pressure to cut imports from Tehran.
updated 5:44 PM EST, Thu March 8, 2012

Faced with mounting pressure from world powers over its controversial nuclear program, Iran's ambassador to the IAEA says this country "is ready to re-engage with (the) IAEA."
updated 4:52 PM EST, Tue March 6, 2012

Republican presidential hopefuls and U.S. President Barack Obama trade barbs over Iran.
updated 9:56 AM EST, Fri March 9, 2012

Why is the international community suspicious of Iran's nuclear program? CNN's Hala Gorani reports.
updated 5:05 PM EST, Fri March 9, 2012

President Barack Obama's rebuke of Republicans who are "beating the drums of war" for military action against Iran should also be directed at Israel, Asher Kaufman says.
updated 12:51 PM EST, Thu March 8, 2012

Opinion: The only way war with Iran may be avoided is if the country believes an attack from the West is a real possibility, Frida Ghitis says.
updated 9:30 AM EDT, Mon March 19, 2012

Iran's controversial nuclear program began more than 50 years ago with aid from the West.
updated 11:39 AM EST, Thu March 8, 2012

Recent remarks by U.S. President Barack Obama that he is not thinking of military action against Iran are positive, according to Iran's supreme leader, Iran's state-run Press TV reported.
updated 5:31 PM EST, Mon March 5, 2012

CNN's Matthew Chance reports U.N. inspectors have "credible information" that Iran may be developing a nuclear device.
updated 2:31 PM EST, Tue March 6, 2012

LZ Granderson looks at the effect of Mahmoud Ahmadinejad and his nuclear weapons "game."
updated 11:22 AM EST, Fri March 9, 2012

A threatened Israeli attack on Iran's nuclear program carries enormous risks for the Jewish state, including international isolation, retaliation at home and abroad, and steep economic costs.
updated 3:36 PM EST, Tue March 6, 2012

Erin Burnett breaks down the mixed messages between Israel and the U.S. on Iran.
updated 1:34 PM EST, Tue March 6, 2012

Israeli President Shimon Peres discusses his concerns about Iran.