STORY HIGHLIGHTS
Residents in Baba Amr have been cut off from basic services, activist says
At least 61 people die Friday across Syria
Activist says the regime is planning a "massive" assault on Baba Amr
"Popular resistance" is the theme of the mass demonstrations
Are you there? Send us your images or video
(CNN) -- Thousands of Syrians defied their government's relentless, bloody crackdown by staging hundreds of public protests Friday in cities nationwide.
Video posted by activists on YouTube showed protesters gathered in Daraa under a banner that read: "Shed the blood, cast off the cowards."
The opposition Local Coordination Committees counted 613 demonstrations, 158 of them in Idlib alone.
Demonstrators took to the streets of Idlib, Daraa, Homs, Hama and suburban Damascus, chanting for the end of President Bashar al-Assad's regime, and focused their attention on "popular resistance" -- the theme of the protests. Activists have been staging mass protests every Friday, the Muslim holy day, since the unrest began roiling the country nearly a year ago. They focus on a different theme every week.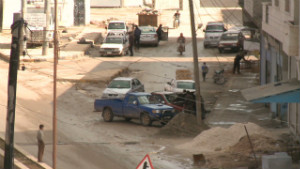 Syrian town held by opposition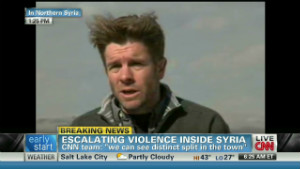 Violence intensifies inside Syria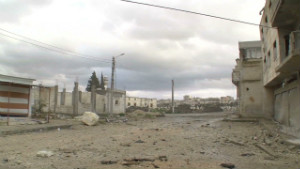 Homs snipers prevent travel in city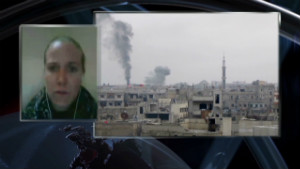 Searching for the truth in Syria
The popular resistance theme comes as calls for an armed struggle have intensified.
Conflict has occurred every day in Syria for months and it flared Friday amid the mass protests. At least 61 people died across Syria, including 12 military defectors executed in the town of Jassem in Daraa province and an 11-year-old boy in the Damascus suburbs, said the Local Coordination Committees of Syria, an opposition group that organizes and documents demonstrations.
The state-run Syrian Arab News Agency reported that six members of the army and law enforcement who had been killed by "armed terrorists" in the Damascus countryside, Homs, Idlib and Daraa, were buried Friday.
While protesters took to the streets in some areas of the volatile city of Homs, unrest engulfed other areas of the city.
Security forces shelled the flashpoint city on Friday, the 14th consecutive day of bombardment during which Syrian forces targeted neighborhoods including Baba Amr, a bastion of anti-government sentiment where 15 people died Friday, the LCC said.
Dima Moussa, a Syrian activist in Chicago in contact with army officers, said the regime is planning to launch an invasion Saturday morning on Baba Amr. "They are planning a massive ground invasion of Baba Amr, no matter what the cost is and no matter what the number of casualties is, even if they have to annihilate everyone in the neighborhood. Assad forces started their moves from all directions since noon today," said Moussa, who is a member of the Revolutionary Council of Homs and the Syrian National Council.
All services had been cut to Baba Amr, where residents were collecting rain because they have no running water, she said. The only news from the neighborhood was coming from the few people who had satellite devices, she said. "Medical supplies and food are nearly completely unavailable," she said about the neighborhood, which has been under siege for two weeks. "People are now at a stage when they are hoping to get killed if they are going to be bombed, instead of getting injured, as getting injured only means a slow death or living forever with some sort of a disability or disfigurement," she said.
Earlier, Syria TV said terrorists had sabotaged an oil pipeline in Baba Amr and another nearby neighborhood, Sultania. It is the second such pipeline incident in three days.
The dark plumes rising from the pipeline could work in the military's favor, Moussa said.
"The massive amounts of smoke have certainly made the regime's movements and preparations a lot easier," she said.
The perils for foreigners were reflected by a British travel advisory issued Friday, which urged its citizens "to leave now by commercial means whilst these are still available."
The violence has enraged world powers, including many in the West, and it has outraged many in the Muslim world.
In neighboring Iraq, hundreds of demonstrators took to the streets of Falluja to support the uprising. Falluja is in Anbar, a province that is largely Sunni -- much like Syria's opposition. The al-Assad regime is dominated by the Alawite minority.
Attempts by international forces to stop the violence have failed.
French President Nicolas Sarkozy urged Syrian opposition forces to unite if they want to prevail.
"We will not accept that a dictator is allowed to massacre his own people but the revolution cannot come from the outside, it must be born from within," Sarkozy said at a joint news briefing with British Prime Minister David Cameron at the Elysee Palace in Paris.
On Thursday, the U.N. General Assembly passed by an overwhelming margin a nonbinding resolution endorsing the Arab League plan for the Syrian president to step down. It was unclear what effect, if any, the resolution might have on what many world leaders see as a relentless campaign by al-Assad's forces to stamp out the opposition.
The symbolic resolution was introduced into the General Assembly after China and Russia blocked the Security Council from approving enforceable measures aimed at curbing the violence. China and Russia were among the dissenting votes in Thursday's symbolic vote, which marks the strongest U.N. statement to date condemning al-Assad's regime. It calls on Syria to end immediately human rights violations and attacks against civilians, and condemns violence by al-Assad's forces and the opposition.
"We have marshaled the great weight of international opinion against the Assad regime," Secretary of State Hillary Clinton told reporters Friday in a joint news conference with European Union foreign policy chief Catherine Ashton.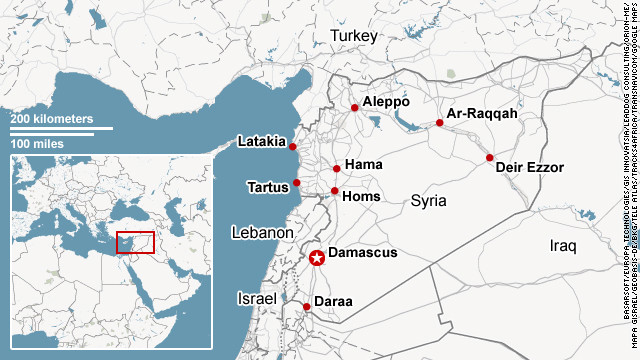 Syria map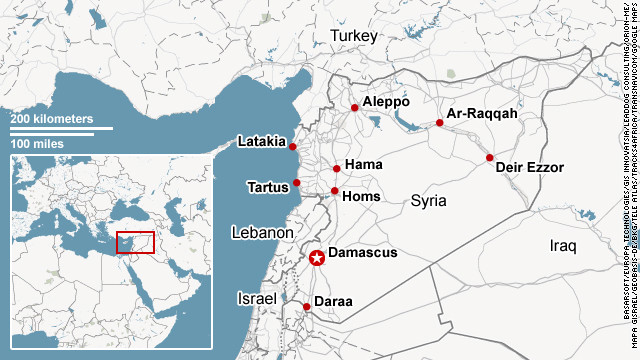 Syria map
Clinton said the United States and other world powers are working "to determine ways forward, to strengthen the opposition, to help them convey to the entire Syrian population that they are seeking an inclusive, peaceful, democratic transition."
For nearly a year, al-Assad has denied reports that his forces are targeting civilians, saying they are fighting armed gangs and foreign fighters bent on destabilizing the government.
But the vast majority of accounts from within the country say that Syrian forces are slaughtering civilians as part of a crackdown on anti-government opposition calling for al-Assad's ouster.
The United Nations says that well over 5,000 people have died in more than 11 months, though it does not have a recent death count due to the conditions in the country. The LCC puts the number at more than 7,000.
CNN cannot independently confirm opposition and government reports of violence because the Syrian government has severely restricted the access of international journalists.
CNN's Saad Abedine, Salma Abdelaziz, Pierre Meilhan, Nada Husseini and Nick Paton-Walsh contributed to this report