STORY HIGHLIGHTS
Laureus panel of experts addresses the problem of racism in sport
Cricket's Steve Waugh says cultural differences can often be the cause of conflict
Former tennis star Boris Becker says the pressures of sport have changed in recent decades
Golf legend Gary Player says it is important to focus on the positives
(CNN) -- What happens on the field stays on the field -- that's an unofficial code that athletes have lived by for decades.
Historically players have preferred not to discuss what they do and say to each other during a game or an event. But these days do they really much of a choice, being tracked by multiple cameras following their every move?
In recent months, two English Premier League footballers -- John Terry and Luis Suarez -- have been charged with using racial slurs after officials watched video evidence of the incidents.
At this week's Laureus World Sports Awards, we put together a panel of experts to examine major issues in the sporting world.
Former Australia cricket captain Steve Waugh, Germany's tennis champion Boris Becker, South African golf legend Gary Player and Ukraine's Olympic gold medal-winning pole-vaulter Sergey Bubka gave their opinions on the problem of racism in sport.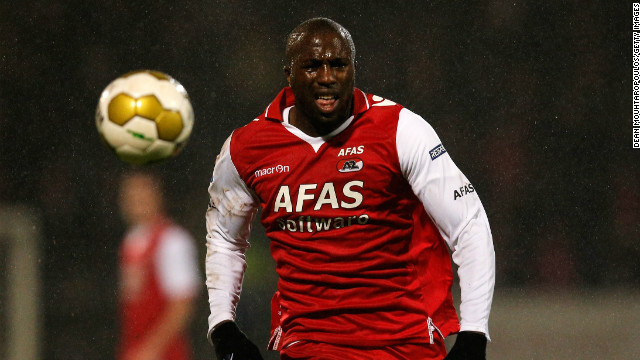 U.S. star Jozy Altidore was subjected to racial abuse during AZ Alkmaar's cup win at Den Bosch in the Netherlands. The match was halted and the crowd were asked to stop the abusive chanting before the action resumed.
AC Milan's Kevin Prince-Boateng walked off the pitch after being racially abused during his side's friendly game with Pro Patria earlier this month. The midfielder was praised for his actions by FIFA president Sepp Blatter.
Serbia was ordered to play one under-21 match behind closed doors and was fined $105,000 by European football's governing body UEFA for racial abuse in a match with England. UEFA president has appealed the verdict of his organization in the hope of seeing stiffer punishments administered.
Chelsea and England captain John Terry was charged by UK police after allegedly making racist remarks to Queens Park Rangers defender Anton Ferdinand in October 2011. Terry was cleared of the charges in a London court in July 2012.
Liverpool's Luis Suarez was banned and fined by the English Football Association after Manchester United's Patrice Evra claimed the Uruguayan racially insulted him during a match, also in October 2011. Suarez flatly denies Evra's claims.
Brazilian World Cup winner Roberto Carlos walked off the pitch while playing for Russian team Anzhi Makhachkala against Krylya Sovetov in June the same year, after having a banana thrown towards him in the closing stages of the match.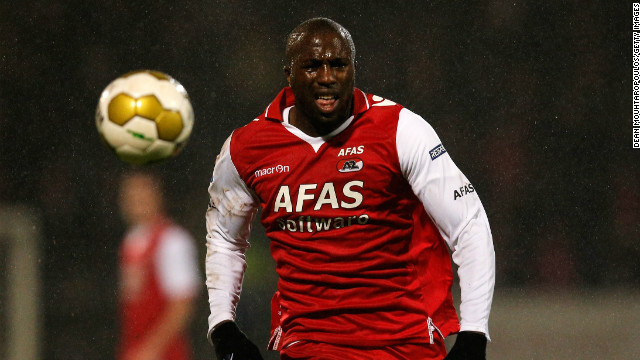 Racism in football
Do you think there is racism on the field of play right now and what are your experiences?
Steve Waugh: "Sometimes I think you don't understand the culture of the people you are playing against and that's been the main problem in the past. For instance, when we play against a subcontinent side we always know that they are time wasters and they over-appeal, and they always think we are too aggressive when we talk too much. But as soon as all the players got together and played in the Indian Premier League, when they all played together as one team they got to understand each other's culture and a lot of the problems on the field moved away. These days there is very little racism on the field and I think when it does happen it becomes big news because it is such a rarity."
Boris Becker: "Of course there is racism in sport, because racism is part of our society. You cannot just switch off because you play tennis or golf or football, you are still a racist in your core. But, in the heat of the moment, you say things you are going to regret 10 minutes after. I had moments, and thank God in the '80s we didn't have any cameras and any microphones, I said things to the other guy that weren't appropriate."
Sergey Bubka: "I think it's maybe more exceptional ... it's happened time to time, but it is not systematically that someone is claiming (it) or blaming some colleagues. Sport always brings the philosophy of unity, respect and friendship, fair victory. This philosophy is why sport is so powerful."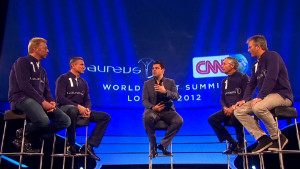 How can sport tackle match-fixing?
Football's Euro 2012 finals will be held in Ukraine and Poland. There have been cases in Eastern Europe of fans abusing black players and ethnic minorities -- is this something that worries you?
Sergey Bubka: "As we see, it's happening today. We need to do more activities, more explanation, more educational steps, because this is a bad trend that is appearing now."
Gary Player: "I think it's inexcusable to have any racial slurs, but we must understand people are saying things where they are crushed and they are losing their temper. I lived in a time of apartheid in South Africa -- I played in America and around the world and they wanted to kill me for two years. They called me 'white trash ... we hate you white man.' I know if I met them personally they wouldn't be saying it. They say things in the heat of the moment. I think we must look at the positive side, at the great things that are happening in sport that are changing the world."
Do you think players should be judged by what happens and what is said in the heat of the moment during an event?
Steve Waugh: "Sport has changed in the last 10 years. Everyone knows the result, information is available straight away. The big story is actually what happens behind the scenes. What happens on the field, that's not obvious to everyone else, so these stories are always going to be big news going forward. Players have got to understand now that its not so much what they do on the field how they perform its what they say and how they act and what happens after the game that big news these days.
A professional athlete who earns a lot of money must be aware of the fact that the whole world is watching
Boris Becker
Sergey Bubbka: "I just want to say a few words about the Youth Olympic Games. I was involved in Singapore and Innsbruck Winters just finished and I can tell you that the atmosphere at that young age, 14 to 18, is totally different, it's much better. They support each other, they hug each other, they speak together, participate in the cultural and educational programs, and it's really warm."
Gary Player: "I think we need to look at the positive side of things. People make too much of an issue of one little thing. If I am playing and some guy called me white trash, so what, I am a white man -- I am proud to be it. Why take it too seriously? There are too many good things happening, that's what we should look at."
Boris Becker: "The role of an athlete today is very different than it was 10 or 20 years ago. When you become a professional athlete, yes your sport is important, but your behavior is as important. Yes it's important to score the winning goal but unfortunately sometimes it's more important what you say after in a news conference. This is maybe taking it to the extreme but a professional athlete who earns a lot of money must be aware of the fact that the whole world is watching. Not only your performance, but your behavior, and that's just the price you have to got to pay."