STORY HIGHLIGHTS
NEW: "There are some still complicated issues," U.S. Ambassador Susan Rice says
Rice: Moroccans will come back with another version to be voted on
Arab League chief Nabil Elaraby says Syria is feeling great international pressure
Russia says it won't accept suggestion of sanctions or military intervention in Syria
United Nations (CNN) -- A Security Council meeting ended Thursday evening with no agreement on a draft resolution intended to pressure Syria to end its months-long crackdown on anti-government demonstrators.
"We had what I would characterize as sometimes difficult but ultimately useful discussions," U.S. Ambassador Susan Rice told reporters. "We're still working. This is not done."
She said the Moroccans, who submitted the original draft, will come back with another version that could be voted on. "In any case, there are some still complicated issues that our capitals will have to deliberate on and provide each of us with instructions on."
"We'll see what the reaction of the capitals will be," Russian Ambassador Vitaly Churkin said of the fate of the reworked wording of the resolution. "They're assessing the situation. We'll see what the outcome is going to be."
Before the talks, Arab League Secretary General Nabil Elaraby said Thursday that even a watered-down resolution would pressure the Syrian government.
Meanwhile, at least 70 people were killed across Syria on Wednesday, opposition activists said, with three more deaths reported Thursday.
The draft discussed Thursday had dropped demands from an Arab League plan for Syria to form a unity government and for President Bashar al-Assad to delegate power to his deputy.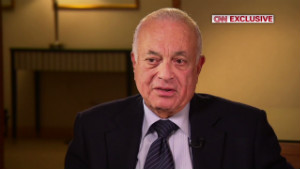 Arab League looks at Syria's future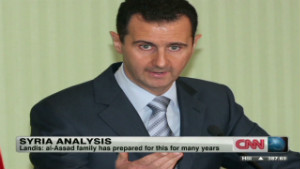 How long can al-Assad remain in power?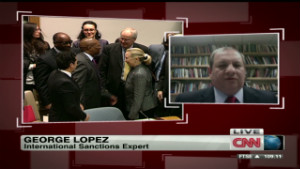 Syria violence and sanctions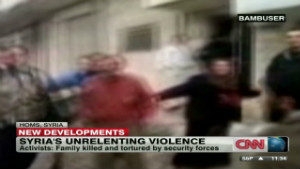 UN Security Council debates over Syria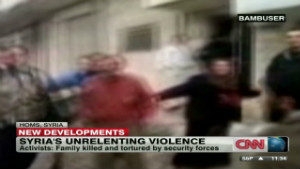 UN Security Council debates over Syria
U.N. diplomats said the changes reflected a big concession to Russia, which has been reluctant to sign on to any plan that could be seen as a mandate for regime change in Damascus, as occurred in Libya after it signed a resolution calling for a no-fly zone. Russia, which has said it is concerned about the prospect of a Syrian civil war and does not want al-Assad pushed from power, has made clear it will not accept an arms embargo or economic sanctions.
A call for other nations to follow the Arab League members in adopting measures such as sanctions against Syria had also been dropped from the latest version of the draft resolution.
French Ambassador Gerard Araud had said he hoped to have the text finalized by the end of Thursday and suggested that a vote could happen as soon as Friday, or Monday if necessary. Other diplomats suggested that a vote over the weekend was possible.
U.S. and European diplomats insisted that the revised text still fully endorsed the Arab League plan and that it did not need to spell out every detail to have the same meaning. "It will still put pressure on the Syrian government, because they realize that Russia cannot stand up forever. And they are under great pressure now. And, you know, Russia does not want to be against the people," Elaraby said.
Read why Russia protects Syria's Assad
Russia made clear its objections to the draft resolution, Elaraby said.
"They do not want any reference to military intervention, and no one is speaking about that. They do not want any reference to sanctions, and no one is speaking about sanctions as such.
"They don't want the Arab peace plan, which says that the president delegates power to the vice president. We didn't ask that the president should step down but only to delegate powers to the vice president."
The U.N. Security Council is still the best body to tackle the issue, he said, as "the organ vested with the primary responsibility for the peace and security in the world. You cannot go further than that."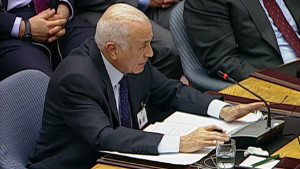 'Trying to avoid intervention in Syria'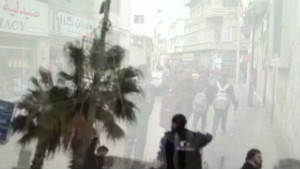 Video appears to show Homs family killed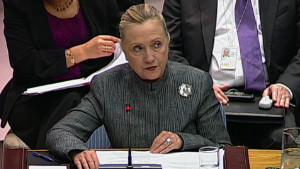 Clinton talks support for Syrians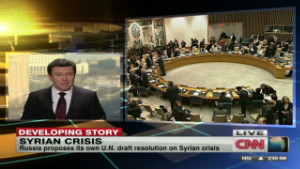 Russia proposes Syrian resolution
Asked why Libya was seen as a case for international intervention because of the threat of a massacre, whereas Syria has seen thousands of deaths but no intervention, Elaraby cited the situation on the ground, the geopolitical location of Syria, the fact it has a strong, regular army -- "and, maybe, there is no oil in Syria."
The economic element could be a factor, he suggested, especially in a year when the United States and France are holding presidential elections and when Europe is in the grip of a debt crisis.
Elaraby said he had urged Syria's leadership to learn the lesson from Egypt, where he was formerly foreign minister, and other nations that have seen popular uprisings.
"Once the people will go the street, you have to yield to their demands," he said.
This week, Syria's envoy to the United Nations said the country is the victim of a campaign to distort facts. The Arab League, he said, is interfering with Syrian affairs and has ignored reports from observers inside the country.
"Syria is going through decisive challenges in its history," Ambassador Bashar Ja'afari said. "We want this stage to be through the will of our people, not through the will of anyone else."
Meanwhile in Syria, opposition groups reported continued violence in cities across the country Thursday.
In the city of Hama, protesters dyed red most of the main streets and some buildings to mark the 30th anniversary of a notorious 1982 clampdown by the government of Hafez Assad, the father of the current president, the Syrian Revolution General Commission group said.
The authorities mobilized water tanks to wash down the streets, the opposition group said.
The Syrian-based Local Coordination Committees, another opposition group, reported shelling in the town of Jizah and heavy gunfire in north Jouyeh, both in in Daraa province.
In Deir Ezzor province, government security forces carried out a series of raids and arrests, the opposition Syrian Observatory for Human Rights said.
Five military officers and a conscript, as well as one civilian, were killed in clashes with "armed terrorist groups," the state-run Syrian Arab News Agency reported Thursday.
At least 7,100 people, including 461 children, have died since the start of the Syrian anti-government uprising in March, the Local Coordination Committees said Tuesday.
The United Nations estimated in December that more than 5,000 people have died since March, though it has also said it has been unable to update that figure because of the situation on the ground.
CNN cannot independently confirm opposition or government reports from Syria because access to the country is limited.
CNN's Richard Roth, Mick Krever, Elise Labott and Salma Abdelaziz contributed to this report.