Famed boxing trainer Angelo Dundee dies
updated 7:38 AM EST, Thu February 2, 2012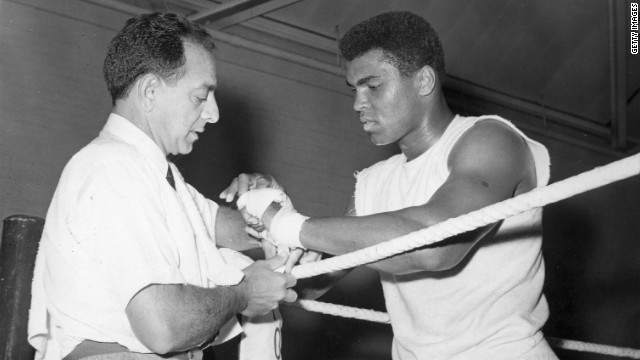 Angelo Dundee helped a young Cassius Clay transform himself into the world heavyweight champion. Here he tapes the renamed Muhammad Ali's hands at a training session ahead of a 1966 bout with British champion Henry Cooper.
Dundee with Ali ahead of his successful title defense against Joe Bugner in June 1975.
George Foreman accused Dundee of loosening the ring ropes before his famous defeat by Ali in 1974's infamous "Rumble in the Jungle" but later worked with the trainer as he retained his IBF belt in 1995.
In 2000, U.S. President Bill Clinton presented Ali and Dundee with the National Italian American Foundation One America award. Born in Philadelphia, Dundee had Italian ancestry.
Dundee was portrayed by actor Ron Silver in the 2001 film "Ali" starring Will Smith in the title role and Jamie Foxx as assistant trainer Drew Bundini Brown.
Dundee had the honor of throwing the first pitch of a baseball game between the Tampa Bay Rays and the Minnesota Twins in St. Petersburg, Florida, in 2010.
Dundee helped Oscar De La Hoya train for his 2008 fight against Manny Pacquiao in Las Vegas.
Dundee at an Ali book launch with Ken Norton in 2003. Norton broke Ali's jaw when he inflicted only his second career defeat in 1973, but lost the rematch in another split-decision.
Dundee signs memorabilia at the 23rd Annual Great Sports Legends Dinner to Cure Paralysis in New York in September 2008.
Ali's cornerman
Ruling the world
Old foe
Presidential approval
Silver screen
Ball game
Helping De La Hoya
Old times' sake
A good cause
STORY HIGHLIGHTS
Dundee was inducted into the International Boxing Hall of Fame in 1992
He trained Muhammad Ali and Sugar Ray Leonard
'Dad lived a great life, and he did a great job living it," his son told CNN affiliate WFTS
Read more about this story from CNN affiliate WFTS.
(CNN) -- Legendary cornerman Angelo Dundee, the man who helped motivate Muhammad Ali and many other boxing champs, died Wednesday, a source close to Ali said.
He was 90. Dundee died Wednesday in Florida from natural causes, Dundee's son Jimmy Dundee told CNN affiliate WFTS.
Dundee, known for being a supreme motivator, was inducted in the International Boxing Hall of Fame in 1992. His biography on its website reads like a who's who list of boxing royalty.
He was hired to be Ali's trainer and cornerman in 1960 back when the brash-talking, quick-jabbing boxer went by the name Cassius Clay. Dundee was there through Ali's historic name change, his brawls with George Foreman, "Smokin" Joe Frazier, Ken Norton and Leon Spinks.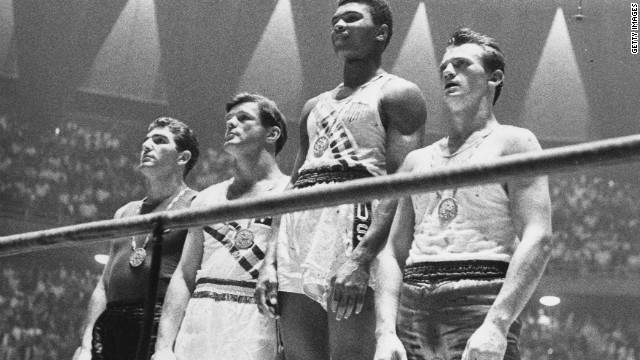 Cassius Clay, later to become known as Muhammad Ali, rose to prominence at the 1960 Olympic Games in Rome, where he claimed a boxing gold medal in the light heavyweight division.
Ali boldly predicted how many rounds it would take him to knock out British boxer Henry Cooper ahead of their bout in London in 1963. The fight was stopped in the fifth round as Cooper was bleeding heavily from a cut around his eye and Ali was declared the winner. Cooper died in May 2011.
Ali first became a world champion in 1964, when he was still known as Cassius Clay. He upset the odds to defeat reigning champion Sonny Liston, a result which prompted him to yell "I'm the greatest" at gathered reporters.
In 1974, Ali took part in one of the most famous world championship fights in the history of boxing. He took on reigning champion George Foreman in Zaire, in a fight which was dubbed the "Rumble in the Jungle." Ali emerged victorious after flooring Foreman in the eighth round.
Ali provided one of the iconic images of the 1996 Atlanta Olympics when he lit the Olympic flame to officially declare the Games open.
In addition to lighting the flame, Ali also received a replacement gold medal for the one he had won 36 years earlier. Ali tossed the original into the Ohio River after being refused entry to a restaurant.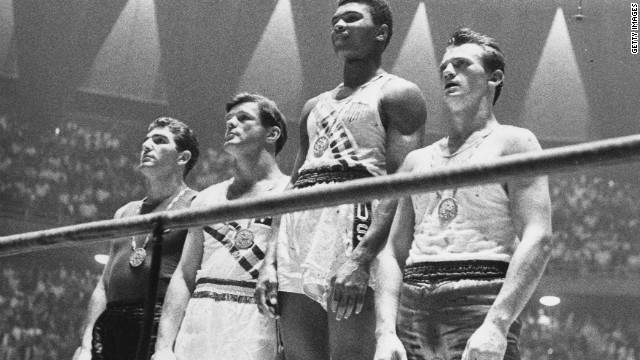 Muhammad Ali: 'The Greatest' at 70
He was there all the way toward the end of Ali's career in his punishing loss to Larry Holmes in 1980. After watching Ali get battered for round after round, Dundee stopped the fight after the 10th round fighting off objections from others in the corner and the bruised and puffy-eyed Ali.
Loquacious sports analyst Howard Cosell described the scene in the corner this way.
"This fight should be stopped. Angelo is telling the referee to stop it. He would not give in. Angelo Dundee. He cared about his fighter too much."
Dundee was also in the corner of Sugar Ray Leonard giving sage advice during some of Leonard's most memorable fights.
During Leonard's 1981 battle with Tommy Hearns, Dundee uttered the emphatic phrase that some say spurred the listless boxer to a dramatic comeback. Sensing that Leonard was behind on the judge's scorecards before the 13th round, Dundee leaned close to Leonard and said in a fatherly tone: "You're blowing it now son! You're blowing it."
Leonard snapped out of it and knocked Hearns out in the 14th round to gain another welterweight championship.
Dundee started his career training Hall Fame boxer Carmen Basilio and also trained champs Jimmy Ellis, Luis Rodriguez, Sugar Ramos, Ralph Dupas and Willie Pastrano.
"Dad lived a great life, and he did a great job living it," Jimmy Dundee told WFTS.