New car gives McLaren confidence to end Red Bull dominance
updated 12:38 PM EST, Wed February 1, 2012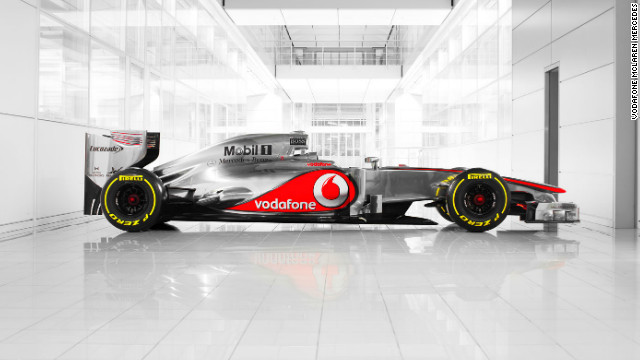 British Formula One team McLaren unveiled their car for the 2012 season on Wednesday -- the MP4-27.
McLaren's Lewis Hamilton (left) and Jenson Button have both won the F1 drivers' championship. Hamilton claimed the title in 2008, while Button did so with Brawn GP in 2009.
Hamilton and Button are pictured here with team principal Martin Whitmarsh, who vowed that McLaren will challenge the dominance of two-time defending world champions Red Bull.
Button will race in this red, white and blue helmet in 2012 as he aims to improve on his second-place finish last season.
Hamilton endured a troubled 2011 campaign, but still matched Button's total of three race victories. The 27-year-old, who will wear this yellow helmet, was summoned to the stewards' office on several occasions and had a public spat with Ferrari driver Felipe Massa.
McLaren unveil MP4-27
Battling Brits
Grand designs
Button hopes for better
Lewis looks for more
STORY HIGHLIGHTS
Martin Whitmarsh wants McLaren to challenge Red Bull's dominance in 2012
Whitmarsh helps unveil McLaren's new car for the upcoming Formula One season
Former world champion Jenson Button is optimistic about the British team's chances
Lewis Hamilton, the 2008 title winner, is excited by the prospect of driving the new MP4-27
(CNN) -- Red Bull left McLaren trailing a distant second in Formula One last year, but the British team is determined to change that in 2012.
Spaeaking at Wednesday's launch of McLaren's new car, team principal Martin Whitmarsh vowed that drivers Jenson Button and Lewis Hamilton would be given every chance to close the gap on double world champion Sebastian Vettel.
"The 2012 season will be an important one for McLaren," Whitmarsh said ahead of McLaren's bid to win a ninth constructors' title -- and first since 1998 -- when the new season starts in Australia on March 18.
"Having finished second in the constructors' championship for the past two seasons, we're determined to mount a sustained, hard challenge for both world titles.
"It's a beautiful car, and one we feel is the perfect platform from which to launch our assault on the world championship. We are well aware that Red Bull remains a very powerful and capable operation.
We have no room to be complacent -- what you see today only scratches the surface of what we're planning to deliver
Martin Whitmarsh
"We have no room to be complacent -- what you see today only scratches the surface of what we're planning to deliver to the track both from an engineering and operational point of view throughout 2012."
Button was world champion with Brawn in 2009, and finished runner-up in the drivers' standings last year -- trailing Vettel by 122 points.
"This is a beautiful car," said the 32-year-old Englishman, a veteran of over 200 grands prix starts. "Many of them that you will see will not be!
"I still think we had a very fast package last year ... we were also able to continuously develop throughout the year to match Red Bull -- and that shows that we have the knowledge, effort and resources to sustain our efforts across the course of a whole season.
"Everyone will be watching us very closely to see what progress we make during the preseason tests, but I genuinely believe we have every reason to feel optimistic about the progress we've made and our competitiveness this year."
Hamilton clinched McLaren's 12th drivers' crown in 2008, but had a troubled time last year. His campaign was blighted by multiple visits to the stewards' office and a highly-publicized spat with Ferrari's Brazilian driver Felipe Massa, and he had a high-profile split with pop star girlfriend Nicole Scherzinger.
I genuinely believe we have every reason to feel optimistic about the progress we've made
Jenson Button
The 27-year-old matched compatriot Button with three race wins, but finished well off the pace in fifth overall.
"I think we already had a very strong base to build upon," he said. "Jenson and I won six races with MP4-26 last year and I think we've been able to retain all the strengths and the reliability of that design while also incorporating lots of improvements and new ideas into the new car.
"I get the feeling the MP4-27 is going to feel very new and exciting when we get to drive it for the first time."
Button will be the first to experience the new car on Tuesday at the opening pre-season test event in Jerez, Spain.
Ferrari and Red Bull will launch their 2012 models on Friday and Monday respectively.