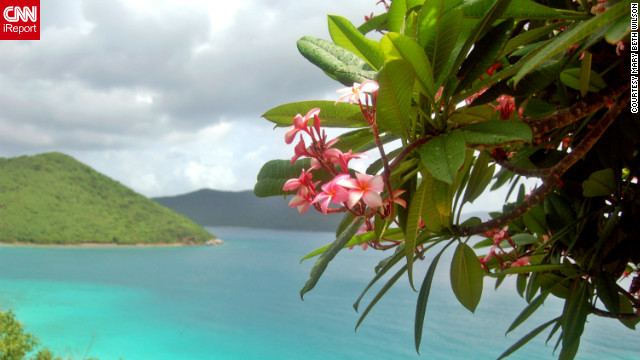 The British and U.S. Virgin Islands offer crystal blue waters and beautifully serene escapes. iReporters shared their favorite photos of paradise with us. Mary Beth Wilson captured this gorgeous view of St. John, looking toward the British Virgin Islands. "St. John is our island paradise."
Jobelle Daquis lives in the British Virgin Islands and took this photo of sailing in Spring Bay, Virgin Gorda.
Shandiz Shafaei shot this sunset on St. Thomas while visiting for the first time to attend a wedding.
Andrew Warren took this photo of colorful buildings at Soper's Hole on Tortola. "We love the beauty and laid back feel of the place, the warmth of the people and find that each island has its own unique character and charm."
Mary Beth Wilson captured this picturesque view of St. Thomas at sunset from Caneel Bay Resort on St. John. "We feel at home there."
Shandiz Shafaei captured this fiery sunset on St. Thomas. "It's a great place to relax and recharge your batteries."
David Turcotte captured this scenic vista during a sailing trip at the Bitter End Yacht Club, located in the North Sound of Virgin Gorda.
Ted Strand snapped this shot of the historic Frederick Lutheran Church in Charlotte Amalie on St. Thomas.
Joan Dedmon captured this serene view of Trunk Bay during a trip with her daughter. "We found ourselves speechless with the beauty of the view of St. John Island in the distance. The jaw dropping views were non-stop throughout our adventures around the islands."
Amy McColl took this photo of a sea turtle while snorkeling. "My absolute favorite thing to do on St. John is snorkeling, and I love the fact that you can simply walk into the water and see amazing sea life."
Hezikiah Maddox shot this panoramic view of Road Town on Tortola. "The British Virgin Islands is a wonderful getaway. It has some really nice places to get off the grid for a few days."
Kirk Ross captured this view of a busy St. Thomas from Paradise Point. "With camera in one hand and a Bushwacker [a specialty drink from Paradise Point] in the other, this is the best view of St. Thomas."
Tanya Porter snapped this shot of The Baths while floating out in the water of Devil's Bay in Virgin Gorda. "Being from Canada, I appreciate the beauty of the white sand beaches and the blue water."
Kiffin Bryan snapped this shot of the view from her hotel on St. John. "The sun was setting and the light changed every five minutes, it was amazing. I couldn't resist sharing St John with everyone!"
St. John, U.S. Virgin Islands
Virgin Gorda, British Virgin Islands
St. Thomas, U.S. Virgin Islands
Tortola, British Virgin Islands
St. John, U.S. Virgin Islands
St. Thomas, U.S. Virgin Islands
Virgin Gorda, British Virgin Islands
St. Thomas, U.S. Virgin Islands
St. Thomas, U.S. Virgin Islands
St. John, U.S. Virgin Islands
Tortola, British Virgin Islands
St. Thomas, U.S. Virgin Islands
Virgin Gorda, British Virgin Islands
St. John, U.S. Virgin Islands