STORY HIGHLIGHTS
Jarvis: Journalists must say clarify the extent of their information
The Onward State student news website was the first to report Paterno had died
Several other news outlets also said Paterno had died, following Onward State's report
Paterno's family says the former Penn State coach is alive but in serious condition
(CNN) -- Hours before legendary football coach Joe Paterno died, some media outlets pounced on an early, inaccurate report and announced that he was dead .
The race to report started at 8:45 p.m. Saturday.
The Penn State student news website Onward State posted an item saying Paterno had died.
Within minutes, the misinformation pinged from one major news outlet to another, like a metal ball in a pinball machine.
CBSSports.com seized onto the Onward State report, without directly attributing the site. The Guardian and The Star-Ledger, in turn, based their accounts on CBSSports.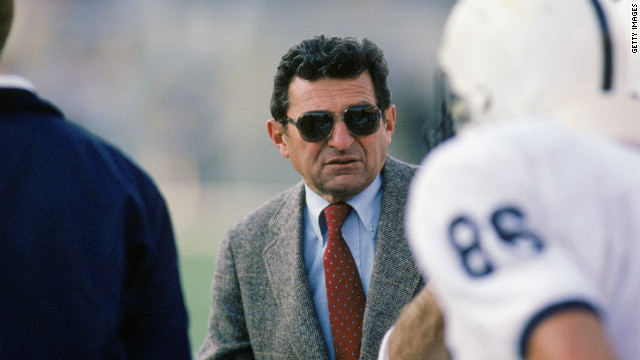 Former Penn State football coach Joe Paterno died on January 22. He was 85. The legendary coach, seen here in 1988, was fired in November 2011 during his 46th season at the helm of the Nittany Lions program.
The statue of Paterno outside Beaver Stadium is among many vestiges of Paterno's years as head coach.
Paterno sprints off the field with his team at halftime in a 1996 game.
Paterno celebrates after winning the Fiesta Bowl against Texas in 1997. Paterno was diagnosed with a treatable form of lung cancer, his son announced in November.
In October 2001, Paterno is honored before a game for having won the most games in Division 1-A. He continued to vie with Florida State's Bobby Bowden for the most all-time major college wins until Bowden retired in 2009.
Paterno and his Nittany Lions look on before facing Iowa at Beaver Stadium in State College, Pennsylvania, in October 2004.
Paterno shakes hands with Lloyd Carr of Michigan before their game in 2005 in Ann Arbor, Michigan.
Paterno celebrates a triple-overtime Orange Bowl win over Florida State in Miami on January 3, 2006. Paterno has guided his teams to more bowl victories than any other college coach.
Paterno speaks at a post-game press conference after winning the Outback Bowl on January 1, 2007, in Tampa, Florida.
Paterno walks the field as his players warm up before their game against the Syracuse Orangemen at Beaver Stadium in September 2009 in Pennsylvania. The coach was fired in November amid the outcry over the handling of accusations against former defensive coordinator Jerry Sandusky.
Paterno gives direction to his players before playing the Crimson Tide in Alabama in 2010.
Paterno walks the sidelines in October 2009 in Evanston, Illinois. In December 2011, he was admitted to a hospital after fracturing his pelvis when he slipped and fell at his home in State College.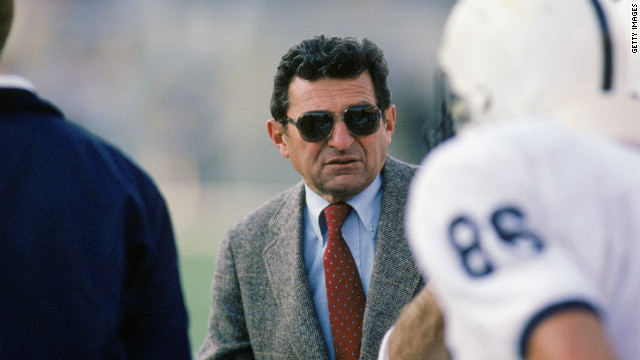 Photos: Paterno as Penn State coach
The influential Twitter feed @breakingnews -- which boasts more than 3.5 million followers -- linked to the CBS story. The news was tweeted and re-tweeted, spawning several trending topics on Twitter.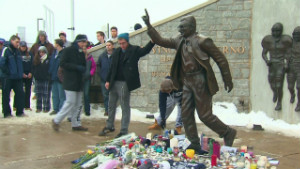 Mourners pause to remember 'JoePa'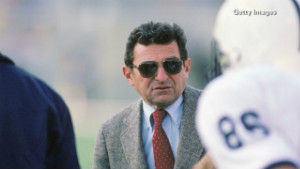 Joe Paterno dead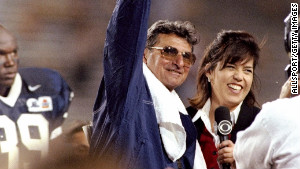 Paterno's family says coach is dead
Over at Wikipedia, someone altered the entry on Paterno, adding his date of death as "January 21, 2012."
All of this occurred within 15 minutes, before a Paterno family spokesman, and then Paterno's sons, set the record straight.
"Not true. Not true. Not true," the spokesman, Dan McGinn, told CNN after getting off the phone with the family.
Scott Paterno took to Twitter to correct the misinformation.
"CBS report is wrong - Dad is alive but in serious condition. We continue to ask for your prayers and privacy during this time," he tweeted.
On Sunday morning, the Paterno family announced that Paterno "passed away earlier today."
The incident highlighted the crucial clash in today's hyper-competitive news environment: getting it fast versus getting it right.
"Reports like this will spread on their own; when journalists repeat them, they must say where the report comes from and the extent of the confirmation," said Jeff Jarvis, a professor at City University of New York's journalism school who blogs about media and news at Buzzmachine.com
Following the Paterno family's clarification Saturday night, Onward State's managing editor said he was stepping down.
"I never, in a million years, would have thought that Onward State would be cited by the national media," Devon Edwards wrote in a letter. "...To the Penn State community and to the Paterno family, most of all, I could not be more sorry for the emotional anguish I am sure we at Onward State caused."
The site initially said its information had been "corroborated by multiple sources."
"We were confident when we ran with it, and are still trying to figure out where our process failed," it said.
More than an hour after Edwards' mea culpa, CBSSports.com issued an apology for publishing "an unsubstantiated report."
"That mistake was the result of a failure to verify the original report," CBSSports.com Managing Editor Mark Swanson wrote.
The site said it went off Onward State's report that Penn State players were notified of Paterno's alleged passing via e-mail.
The Huffington Post, which also published the inaccuracy, later issued a correction, saying it "did not properly attribute the source."
The misinformation has raised questions about fairly attributing news outlets on breaking news stories.
"We will see more of these cases. Mistakes will be made and will be spread," said Jarvis, who last year authored the book, "Public Parts: How Sharing in the Digital Age Improves the Way We Work and Live."
"But since the advent of 24-hour news, it has been necessary for the audience to become more sophisticated about judging news by its sources. That means that we, in news, have to be better at giving provenance for reports. Put another way: The key skill of the journalist will not be to say what we know but what we don't know."
It's not the first time in the last year that the news media have erroneously reported a public figure's death.
In January 2011, when a gunman in Tucson, Arizona, killed six people and wounded more than 12 others, several major media outlets, including CNN, reported that Rep. Gabrielle Giffords had died.
CNN's Richard Allen Greene and Susan Candiotti contributed to this report.