Ron Paul says he's on the hunt for convention delegates
updated 1:04 AM EST, Sun January 22, 2012
STORY HIGHLIGHTS
Paul tells supporters he's trying to amass as many delegates as possible to the GOP nominating convention.
Paul plans to focus on states that award delegates proportionally and states that hold caucuses.
Paul is looking past Florida's contest to Nevada and Minnesota.
Paul is the oldest candidate in the GOP presidential race with some of the youngest supporters.
Columbia, South Carolina (CNN) -- Republican presidential candidate Rep. Ron Paul, R-Texas, told supporters on Saturday that he has embarked on a strategy to amass as many delegates to the Republican National Convention as possible because "that's the name of the game."
His comments signaled that even though he finished fourth in a four-man field in the South Carolina primary, he has no intention of giving up.
Paul said in an exclusive interview with CNN that his campaign will focus on states that assign their delegates proportionally, as well as on states that hold caucuses as opposed to primaries.
"It's the momentum that we want," Paul told CNN, "and our goal is to get delegates. And we're going to be doing the states were they allocate by percentages as well as caucus states. So that's been our plan all along."
Paul had called South Carolina a tough road to hoe in his campaign for the Republican nomination. He campaigned lightly in the state until Friday, when he went hit six different stops in one day including a blowout of a rally in Columbia.
Gingrich wins South Carolina primary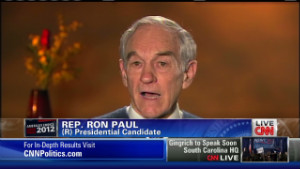 Ron Paul: 'We're looking beyond Florida'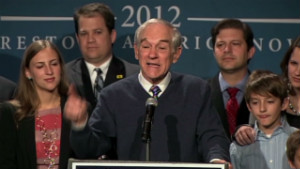 Ron Paul:'This is a cause I will pursue'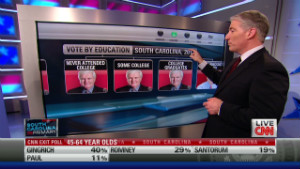 Exit polls give clues to Gingrich win
Earlier in the week, Paul had traveled back to Washington to participate in a vote in the House of Representatives on increasing the debt ceiling.
In his stump speeches and in debates, Paul often suggested that South Carolina, with its large population of military personnel and retirees, might be fertile ground for votes. He is the only military veteran in the race and frequently claims that he gets more political contributions from active duty military personnel than any of his competitors.
But his calls to cut military spending make some in the party think twice.
After a second-place finish in New Hampshire, the Paul campaign signaled early that the candidate was looking farther ahead than even Florida, which is the next primary state on the calendar.
A campaign aide told CNN that Paul is focusing heavily on the states of Nevada and Minnesota, which hold caucuses instead of primaries.
The aide said Paul is buying broadcast and cable ads in both states, and described the size of the ad buy as significant.
The oldest candidate in the race with some of the youngest followers, Paul has attracted a considerable following on college campuses with his libertarian, anti-war and smaller government message, though his opponents claim that his chief attraction among younger voters is his previously stated position on legalization of marijuana.
Paul has been dogged by questions relating to newsletters from the 1990s bearing his name that contained sometimes racist language. Paul says he didn't write the newsletters and only later became aware of their content and disavowed them.

Part of complete coverage on

Get all the latest news at CNN's Election Center. There are race updates, a delegate counter and much more.

A black man is returning to the White House. Four years ago, it was a first, the breaking of a racial barrier. Tuesday night, it was history redux. And more.

The 2012 presidential election shattered spending records, further polarized a divided country and launched a thousand hashtags.
updated 1:41 PM EST, Thu November 8, 2012

Democratic and Republican congressional leaders continue to sharply disagree over the key issue of whether top tax rates should be raised to help resolve the looming crisis.
updated 2:24 PM EST, Wed November 7, 2012

In a historic turnaround, the ballot box is showing America's shifting attitudes about same-sex marriage.

Even though voters indicated to pollsters that their financial situation is the same or worse than it was four years ago, they put their trust in the president.
updated 4:19 AM EST, Thu November 8, 2012

The president faces a long and familiar set of challenges after riding a wave of support from moderates, women and minorities to victory.
updated 9:27 AM EST, Wed November 7, 2012

Republicans kept a lock on the U.S. House of Representatives, a crucial victory after the party failed to wrest away the presidency from Barack Obama and the Senate from the Democrats.
updated 7:34 PM EST, Wed November 7, 2012

Democrats will retain their control of the Senate after winning several closely contested races on Tuesday.