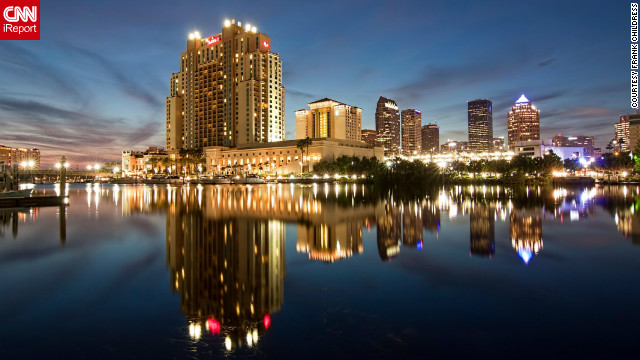 Landmark cities take on a whole new allure at nightfall. iReporters shared photos of the world's most glittering cityscapes. Frank Childress took this photo from Harbour Island in Tampa right after a thunderstorm passed over the city. He used a 30-second exposure to capture the glimmering effect of the lights on water.
Lulis Leal's photo showcases the splendor of the "crossroads of the universe," which is how she referred to Times Square. "In addition to the dazzling billboards, Broadway theaters, street vendors and throngs of crowds, it is bursting with energy and excitement. I always walk away from Times Square feeling inspired."
Robert Ondrovic took this photo of Notre Dame during his visit to Paris, which included racing an Acura NSX at the Le Mans race.
John McGraw snapped this shot while strolling in a park after work near the river in Cleveland.
Patrick Salvador shared this photo of the Las Vegas strip. He visited the city with his family, who was visiting from Australia. "Vegas is always an awesome place to be," he said.
Rick Cordsen took this photo of the Kremlin in Moscow. "Moscow is a beautiful place, the people are friendly -- but you have to reach out to them first."
Jessica Wolkoff took this photo from the Rialto Bridge, overlooking the Grand Canal in Venice. "The city is up early and out late. Nature is architecture here, and the weathering of buildings shows a thousand years of history."
Justin Rowe snapped this shot of a doubledecker bus racing by at Picadilly Circus in London. "I loved the city -- there is so much culture to be seen there."
Robert Ondrovic took this photo of the Jefferson Memorial a few blocks from the tidal basin at midnight during the Cherry Blossom Festival in Washington.
Jennifer Rhodes snapped this shot of the iconic Golden Gate Bridge in San Francisco on an incredibly clear night in winter. "There are amazing vistas everywhere you look."
Timothy Poole captured this view of the full moon over Indianapolis. "I will say that I love living in Indianapolis. There is something always going on downtown and many options are within walking distance."
Jerry Ratigan took this photo of what he called "organized chaos" in Ho Chi Minh City. "This one was special to me as I was able to capture the liveliness and energy around the city center."
Shaune Mushaw shot this scene of clouds over Boston from a balcony at the Hyatt Regency Cambridge on the Charles River. "The balcony views on that side of the Hyatt are incredible."
Rob O'Leary took this photo on the platform of the N Subway train at Queensborough Plaza. This is part of his daily routine, and he always brings his camera with him.
Bryce Klatsky snapped this enchanting shot in Vienna. "I think I speak for just about anyone who has spent the holidays in Vienna when I say that there is something really magical about the city. The lights and the abundant Christmas markets really make it a special and 'gemütlich' (German for cozy) place to be."
John McGraw is especially fond of taking night shots in his favorite cities, and captured this view while walking through Hart Plaza in Detroit.
Matthew Regan lives in Chicago and captured this view, looking north from the southern part of the city, from his balcony on a cold winter's night.
Robert Ondrovic took this moody aerial photo of New York City from the top of the Empire State Building in Midtown Manhattan at 1 a.m. on a rainy night.
Nikhil Kikkeri captured this "view of the Vegas strip looking towards the Mirage, shot from the top of the Eiffel Tower at the Paris Casino."
Tampa, Florida
New York City
Paris, France
Cleveland, Ohio
Las Vegas, Nevada
Moscow, Russia
Venice, Italy
London, England
Washington, D.C.
San Francisco, California
Indianapolis, Indiana
Ho Chi Minh City, Vietnam
Boston, Massachusetts
New York City
Vienna, Austria
Detroit, Michigan
Chicago, Illinois
New York City
Las Vegas, Nevada