Gingrich's daughters defend him ahead of ABC interview with ex-wife
updated 2:16 AM EST, Thu January 19, 2012
STORY HIGHLIGHTS
The Gingrich campaign releases a "Memo to ABC News Leadership"
It is from his daughters from a first marriage
ABC News says the interview with Marianne Gingrich is set to air Thursday night
Columbia, South Carolina (CNN) -- Newt Gingrich's adult daughters are coming to their father's defense ahead of a potentially damaging interview with his second wife scheduled to air two days before the Republican South Carolina primary.
The Gingrich campaign released a "Memo to ABC News Leadership" from daughters Kathy Lubbers and Jackie Cushman. The memo addresses reports Wednesday evening of the network's extensive interview with the Republican presidential candidate's ex-wife.
CNN confirmed with ABC News that the interview with Marianne Gingrich is scheduled to run Thursday evening on "Nightline."
ABC News would not comment on The Drudge Report exclusive that said "her explosive revelations are set to rock the trail." The network will likely release excerpts in advance of the evening program.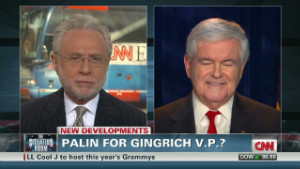 Palin For Gingrich V.P.?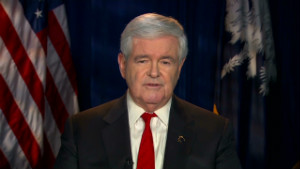 Gingrich: SC loves my conservative ideas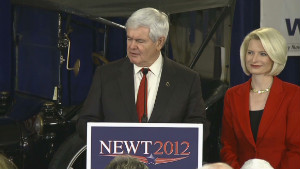 Gingrich: Obama's Keystone veto 'stupid'
Lubbers and Cushman, daughters from Gingrich's first marriage to Jackie Battley, have both been out on the campaign trail extensively with their father, his two grandchildren and wife, Callista. In the statement, the daughters refer to the failure of a marriage being a "terrible and emotional experience for everyone involved."
"Anyone who has had that experience understands it is a personal tragedy filled with regrets, and sometimes differing memories of events," the statement said. "We will not say anything negative about our father's ex-wife. He has said before, privately and publicly, that he regrets any pain he may have caused in the past to people he loves."
The daughters allude to questions about the timing of the interview's potential release, which reportedly could have a negative impact on their father. In recent days, Gingrich has picked up considerable ground in South Carolina, according to the latest CNN poll.
"ABC News or other campaigns may want to talk about the past, just days before an important primary election. But Newt is going to talk to the people of South Carolina about the future- about job creation, lower taxes, and about who can defeat Barack Obama by providing the sharpest contrast to his damaging, extreme liberalism. We are confident this is the conversation the people of South Carolina are interested in having."
CNN's Ashley Killough contributed to this report.

Part of complete coverage on

Get all the latest news at CNN's Election Center. There are race updates, a delegate counter and much more.

A black man is returning to the White House. Four years ago, it was a first, the breaking of a racial barrier. Tuesday night, it was history redux. And more.

The 2012 presidential election shattered spending records, further polarized a divided country and launched a thousand hashtags.
updated 1:41 PM EST, Thu November 8, 2012

Democratic and Republican congressional leaders continue to sharply disagree over the key issue of whether top tax rates should be raised to help resolve the looming crisis.
updated 2:24 PM EST, Wed November 7, 2012

In a historic turnaround, the ballot box is showing America's shifting attitudes about same-sex marriage.

Even though voters indicated to pollsters that their financial situation is the same or worse than it was four years ago, they put their trust in the president.
updated 4:19 AM EST, Thu November 8, 2012

The president faces a long and familiar set of challenges after riding a wave of support from moderates, women and minorities to victory.
updated 9:27 AM EST, Wed November 7, 2012

Republicans kept a lock on the U.S. House of Representatives, a crucial victory after the party failed to wrest away the presidency from Barack Obama and the Senate from the Democrats.
updated 7:34 PM EST, Wed November 7, 2012

Democrats will retain their control of the Senate after winning several closely contested races on Tuesday.