STORY HIGHLIGHTS
He calls Homs a "ghost town full of horror"
Iran and Hezbollah are helping combat the uprising, he says
The work of Arab League monitors "seemed like a sightseeing trip"
Cairo (CNN) -- A member of Syria's Parliament has defected to Egypt and spoken of leaving behind a "ghost town full of horror."
Imad Ghalioun has represented the city of Homs for five years. He defected with his immediate family two weeks ago after, he says, he convinced the al-Assad regime that he was traveling on business.
Ghalioun told CNN that many senior officials want to defect but it may be harder now because the al-Assad regime banned officials from traveling the day after he left Syria.
"What is happening in Homs is a crisis, a ghost town full of horror," he said.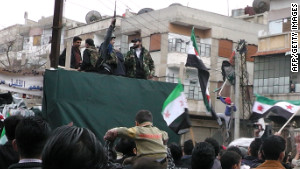 Monitors witness Syrian violence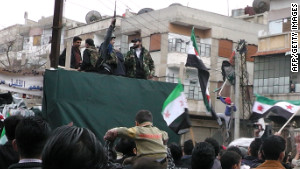 Monitors witness Syrian violence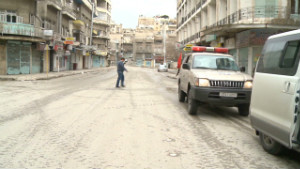 Empty streets and tension in Hama, Syria
"The humanitarian situation is dangerous and no basic services, food supplies, or equipped hospitals. Residents can not move from (one) neighborhood to the other because of snipers that kill people. People are sitting at home wondering if they will be bombed."
Ghalioun was withering in his appraisal of Arab League monitors.
"We expected the Arab monitors to stop the regime's killing machine, but what happened is that they came to what seemed like a sightseeing trip," he said.
"Some went to visit the governor; others spent most of their time in five-star hotels. We wanted them to meet the activists on the ground, visit the prisoners and the injured and the families of the martyrs. They did not do that, maybe some wanted to do that but could not do it."
Ghalioun also spoke about the outside help the al-Assad regime was receiving to combat the uprising.
"Iran is supporting the regime with all its might, (because) sustaining the Syrian regime is protecting Iran itself and its interests," he said.
"But Iran knows the Syrian regime is weakening and is using it as a bargaining chip for negotiations with the West."
He also claimed that the Lebanese militia Hezbollah was helping the regime -- providing logistical support and fighters to al-Assad.
Both Iran and Hezbollah have denied any military role in Syria. Last week, Turkey impounded several Iranian trucks on their way to Syria on suspicion they were carrying weapons.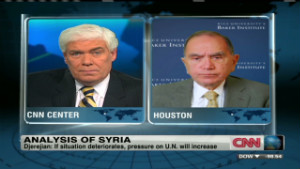 President Assad clings to power in Syria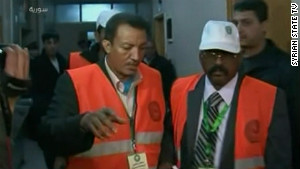 Monitor: 'No civil war' in Syria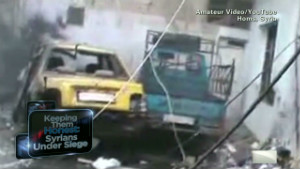 Bloodshed continues in Syria
Ghalioun echoed the call of his cousin Burhan Ghalioun, who is the leader of the opposition Syrian National Congress, for an international no-fly zone and other support for the opposition.
He said the unrest had devastated the Syrian economy.
"Investment and developmental projects have stopped. We feel it in the fall of the Syrian currency against the U.S. dollar. Trade and business with the Arab nations has collapsed. The tourism sector has lost more than $4 million and we are not exporting or importing any more oil," he said.
But the military had plenty of resources, he said. "There is an 'open budget' allocated to the crackdown on the popular uprising -- serving the regime's security forces and its 'Ghost hit men' -- a reference to snipers in pro-government militia.
The Arab League has warned that Syria is on verge of a civil war but Ghalioun insists it has not reached that point. The League will meet later this week to discuss the future of its monitoring mission.
"If they fail to take a decision to end the killing during then, there is no solution but to raise the file to the U.N. Security Council," Ghalioun said.
Ghalioun intends to travel to Turkey to connect with opposition leaders. But he has a message for the West.
"I would like to say to Western people that Syrian people are civilized and want freedom, pride and peace and not more than that. I tell them go back to your humanitarian values built on democracy, and I ask them to help us stop the killing and reach our own true democracy."