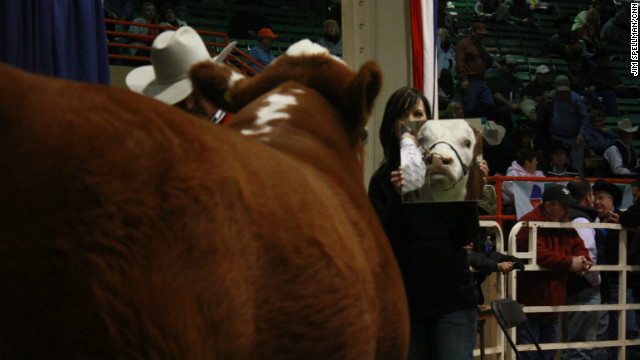 Every year, cattlemen travel from around the Western United States to Denver for the annual National Western Stock Show. One of the highlights is the cattle show. Because cows enjoy looking at themselves, handlers use mirrors to get them to hold their heads up high. This year, CNN's Jim Spellman got a behind the scenes look at this uniquely American tradition:
Before heading into the ring to be judged, each cow is put through an intense beauty regimen.
First, they must get a thorough washing with shampoo -- and yes, conditioner, too.
This bull is getting a last-minute trim of his leg fur.
The gap between the legs presents a bit of unwanted negative visual space, so the handlers use tail-adhesive -- essentially heavy-duty hair spray -- to form the end of the tail into a ball-shaped tail bush.
Handlers use dozens of different bovine beauty products like this styling mousse.
When a cow like this Black Angus wins a ribbon, they get a turn in the winner's circle.
National Hereford Queen Amanda Bacon, left, and Colorado Hereford Queen Brooke Hinojosa hand out the ribbons to all the winning Hereford bulls.
There's a lot more to the National Western Stock Show than just the cattle competition: It's also a place where ranchers can purchase livestock and other farm animals. This golden Polish rooster was selling for $20. He'll be showing off his feathery 'do later in the week at the chicken and rooster judging contest.
Ranchers can also take care of their own personal beauty needs. Miles Flatley, pictured here, uses a steam table to soften the felt and re-shape hats that have gotten dirty or stretched out. "A lot of cattlemen come to the stock show once a year and this is the only time they get their hats reshaped," he said. "Some are more vain and come see me every few weeks."
Blake Tucker, 16, traveled from North Platte, Nebraska, with his cow Diana.They won the blue ribbon in the junior polled female category. Diana¹s mother, Shelby, and grandmother, Harley, were also champions.
Del Slaugh puts a new set of horseshoes on a horse named West Indies. Slaugh has been a farrier for 43 years.
National Western Stock Show
National Western Stock Show
National Western Stock Show
National Western Stock Show
National Western Stock Show
National Western Stock Show
National Western Stock Show
National Western Stock Show
National Western Stock Show
National Western Stock Show
National Western Stock Show
National Western Stock Show