STORY HIGHLIGHTS
The oil union says it is suspending the strike to allow protesters to stock up on food
An oil industry union gave the government an ultimatum to restore fuel subsidies
Talks between the government and unions resume Saturday
Sectarian violence also plagues the oil-rich but largely impoverished nation
Are you protesting fuel prices in Nigeria? Send CNN iReport your stories, videos
Lagos, Nigeria (CNN) -- Nigeria's national strike entered its fifth day Friday as union officials called for a weekend suspension to allow protesters to go home and stock up on food and water.
Throngs of protesters took to the streets, demanding government accountability and a return of fuel subsidies ended on January 1, a move that doubled gas prices and sent the cost of other goods skyrocketing.
A union official urged demonstrators to take a break Saturday and Sunday, and he said stores will reopen to allow them to get supplies.
The weekend suspension follows reports that protesters are running out of basic necessities, said Folorunso Oginni, chairman of the nation's oil union, the Petroleum and Natural Gas Senior Staff Association of Nigeria.
Despite the suspension, the deadline to shut down oil production Sunday is still in effect unless the government and labor unions reach an agreement, he said.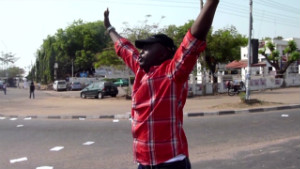 Nigerian protestor: 'I'm ready to die'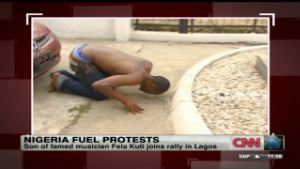 Protests over fuel price rise in Nigeria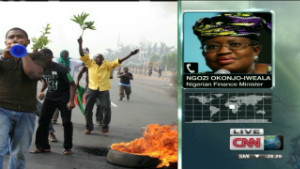 Nigerian finance minister talks strikes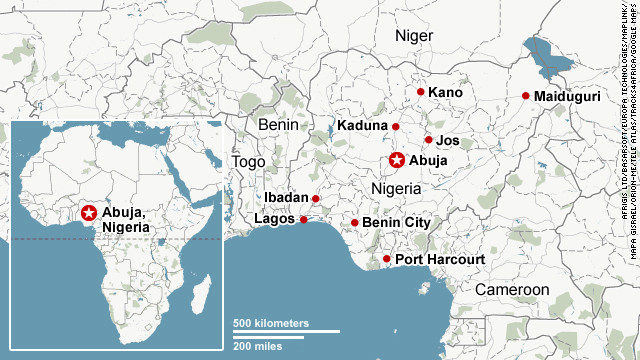 Nigeria map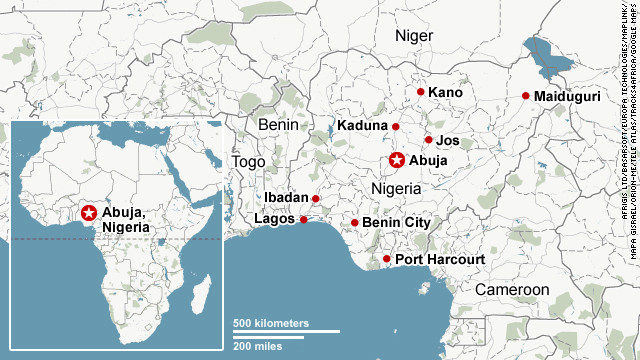 Nigeria map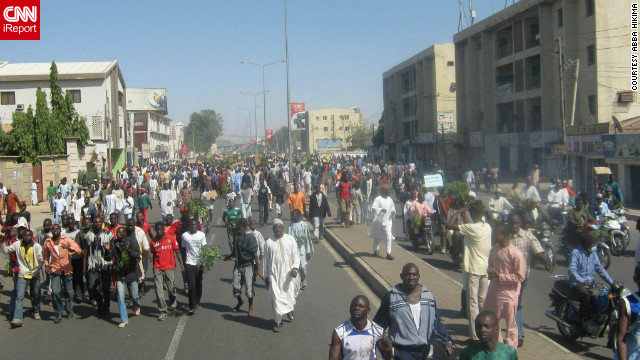 Protesters took to the streets on Monday, January 9, in a nationwide strike against the Nigerian government's decision to take away fuel subsidies.
Bonfires were set ablaze by protesters outside Lagos State University. iReporter Lawal Adekunle Olusegun said: "I know a lot of people around are suffering and going through a hard time the fuel subsidy is only making things worse for a lot of people."
This picture, taken by iReporter Medaiyese Olorunjuwon shows the armed forces monitoring protesters in the city of Ilorin, Kwara State capital. Olorunjuwon said: "The protesters were cheering the armed forces... All in all it was peaceful."
During the rally in Ilorin, Kwara State, demonstrators displayed a mock coffin, while demanding the government bring back fuel subsidies.
IReporter Patrick Gbenga captured the protest scenes in the Nigerian city of Akure, capital of the Ondo state.
Gbenga said: "Thousands of people took to the street of Akure... it is part of me to fight against injustice."
An 83-year-old woman joins the protest rally at Liberation Square in Kano State.
The nationwide strike comes after days of protesting across the country. Gas prices have more than doubled following the government's decision to take away fuel subsidies.
Adjarho David Obaro, who is currently in Nigeria for the holidays, took photos of the protests near King's Square in Benin City on Thursday, January 5. He said there were thousands of protesters there from different backgrounds.
"I saw raw anger in the eyes of the protesters with regards to the increase in prices of good (and) services as a result of the subsidy removal," said Obaro.
iReporter Victor Iyamu took this photo at the protest in Benin City, the capital of Edo State, on Thursday, January 5. Iyamu says he is not participating in the protest but that he does support the protesters and their cause.
The Nigeria Labour Congress and Trades Union Congress urged the government to immediately restore the subsidies -- or see the country grind to a halt starting January 9.
After learning about the fuel subsidy protests from Twitter on Tuesday, iReporter Kfire decided to join the crowds in Lagos. "The aim of the protest was to disrupt vehicular movement, shut down gas stations and ask people to go back home," he said.
"The mood was one of anger and frustration towards the government for doing this on New Year's Day," Kfire said.
Freelance journalist Mohammed Bashir observed the large protest in his town of Lokoja, Nigeria, on Tuesday, January 3. He snapped this photo with his BlackBerry as hundreds gathered in the street.
Obi Akwukwuma, 47, observed the demonstrations at King's Square in Benin City on Thursday, January 5. Akwukwuma, who works on an engineering project nearby, took this photo with his BlackBerry as demonstrators protested the removal of fuel subsidy.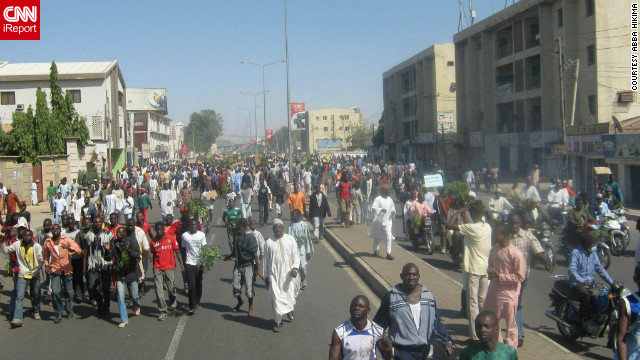 iReport: Occupy Nigeria protests
In solidarity with protesters, the petroleum association has threatened to stop production if the government does not reinstate the subsidies and return the cost of fuel to previous levels.
A decision to halt production would affect global oil prices; Nigeria is the world's eighth-largest exporter.
Labor unions and the government negotiated until late Thursday without an agreement to restore fuel subsidies. Talks are expected to resume Saturday, a union official said.
Nigerians accused their leaders of corruption and of misusing oil revenues in a country where most citizens battle grinding poverty.
The protests -- dubbed "Occupy Nigeria" -- have galvanized the continent's most populous nation.
"People of all walks are coming out to protest," said Olumide Adeleye, a Lagos entrepreneur. "There are young people and old people. People parking their Mercedes-Benzes and Land Rovers. People walking barefoot."
Many Nigerians view the subsidy as the only benefit of living in an oil-producing country that has little infrastructure, poor roads, high unemployment and intermittent electricity. The government has said the removal will free funds to improve the country's infrastructure.
But there is a widespread lack of trust in the government to provide the infrastructure -- Nigeria is regularly ranked among the most corrupt countries in the world.
"It is to now to try to move this forward regain the people's trust. They cannot say because of mistakes in the past the country should not move forward," Nigerian Finance Minister Ngozi Okonjo-Iweala said Friday.
In addition to the protests, the government faces another crisis -- religious attacks that have heightened fears of sectarian violence in parts of the country.
Continued anti-Christian violence in the north and a long-simmering separatist movement have erupted recently.
More than 30 Christians died in recent violence in Adamawa state, prompting a 24-hour curfew in that northwestern Nigerian state to guard against reprisals, a government chaplain said Saturday.
Boko Haram, a militant Islamic group that is said to favor strict Sharia law, is frequently blamed for the sectarian violence.
Rumors have swirled in recent days that Muslims in the largely Christian and animist south are also becoming the targets of attacks, the Red Cross said. A mosque in southern Edo state was burned and another vandalized during recent clashes in Benin City.
CNN's Vladimir Duthiers and Kim Chakanetsa contributed to this report.