New Hampshire aftermath: Cleaning up after the campaigns
updated 1:03 AM EST, Thu January 12, 2012
STORY HIGHLIGHTS
Hundreds of campaign signs are left in New Hampshire
City workers are largely handling the cleanup
'It's a never-ending battle,' a worker says
(CNN) -- The votes have been counted, the candidates have moved on to South Carolina, but remnants of a hard-fought battle blanket Manchester, New Hampshire.
The campaigns left behind hundreds, perhaps thousands of political signs on street corners and traffic medians from one end of the city to the other. Now someone has to go around and collect them.
"It's definitely a big task to pick them up after the election is over," said Bob Roy as he surveyed a pile of signs at a city yard.
PODCAST: The sound of cleaning up a campaign.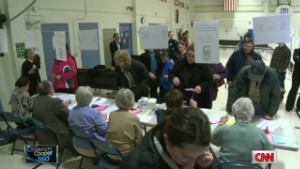 Are Republicans turning out to vote?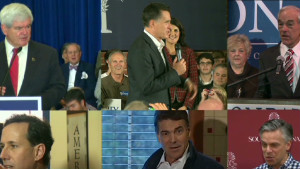 S.C. GOP chair: The race is wide open
The chief of street operations for Manchester said every four years, they expect to clean up after the campaigns in the same way they expect to plow the streets when it snows.
"A lot of them are just left in place and, therefore, we go pick them up," Roy said. "It's a never ending battle."
Often, campaign workers show up at the yard. They sift through the pile and collect the signs bearing their candidate's name. Sometimes they bring them to the next primary state. Or, they hold on to them and hope to re-plant them around the city if their candidate becomes the party's nominee in the general election.
Shawn Dionne makes runs in his pick-up truck several times a week as he clears the signs. "The pile gets pretty big," said the public works employee who has the back-breaking job of pulling the signs out of the ground.
Sometimes, campaign workers are at the yard waiting for him to back his pick-up truck up to the bin and toss in a few hundred more signs.
"I come to bring in a load and they're chilling out here just digging through, throwing signs around ... I let them do their thing," Dionne said. "When they're done I come and drop off my load, go out and pick up more."
He gets pleasure from the spectacle.
"You gotta enjoy your job sometimes."

Part of complete coverage on

Get all the latest news at CNN's Election Center. There are race updates, a delegate counter and much more.

A black man is returning to the White House. Four years ago, it was a first, the breaking of a racial barrier. Tuesday night, it was history redux. And more.

The 2012 presidential election shattered spending records, further polarized a divided country and launched a thousand hashtags.
updated 1:41 PM EST, Thu November 8, 2012

Democratic and Republican congressional leaders continue to sharply disagree over the key issue of whether top tax rates should be raised to help resolve the looming crisis.
updated 2:24 PM EST, Wed November 7, 2012

In a historic turnaround, the ballot box is showing America's shifting attitudes about same-sex marriage.

Even though voters indicated to pollsters that their financial situation is the same or worse than it was four years ago, they put their trust in the president.
updated 4:19 AM EST, Thu November 8, 2012

The president faces a long and familiar set of challenges after riding a wave of support from moderates, women and minorities to victory.
updated 9:27 AM EST, Wed November 7, 2012

Republicans kept a lock on the U.S. House of Representatives, a crucial victory after the party failed to wrest away the presidency from Barack Obama and the Senate from the Democrats.
updated 7:34 PM EST, Wed November 7, 2012

Democrats will retain their control of the Senate after winning several closely contested races on Tuesday.