STORY HIGHLIGHTS
Unions: "We call on Nigerians to continue the strikes"
So far, strike-related clashes have left at least 16 dead
"Revolution has come to Nigeria and the youth will spearhead it," a local journalist says
The government's decision to end a subsidy has more than doubled fuel prices
Are you protesting against fuel rises in Nigeria? Send CNN iReport your stories, videos
Lagos, Nigeria (CNN) -- Two Nigerian trade unions accused the country's president of using "armed thugs" to attack protesters, and urged demonstrators to continue their nationwide strike against high fuel prices on Wednesday and beyond.
"In a Mubarak-style response to the peoples' protests, the Jonathan administration brought into Abuja, thugs armed with various weapons including guns," the Nigeria Labour Congress and the Trade Union Congress of Nigeria said in a joint statement late Tuesday night.
The unions were comparing President Goodluck Jonathan to former Egyptian President Hosni Mubarak, who is accused of ordering security forces to fire on protesters in Egypt last year.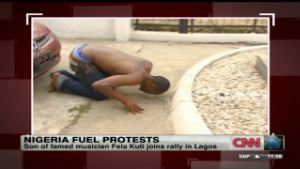 Protests over fuel price rise in Nigeria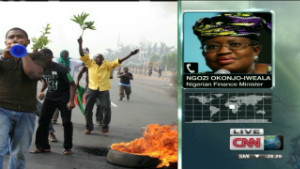 Nigerian finance minister talks strikes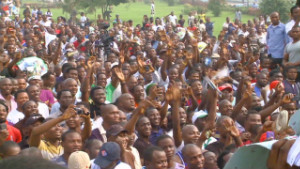 Nigerians strike over gas price increase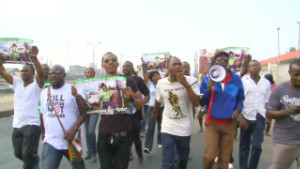 Addressing Nigeria's infrastructure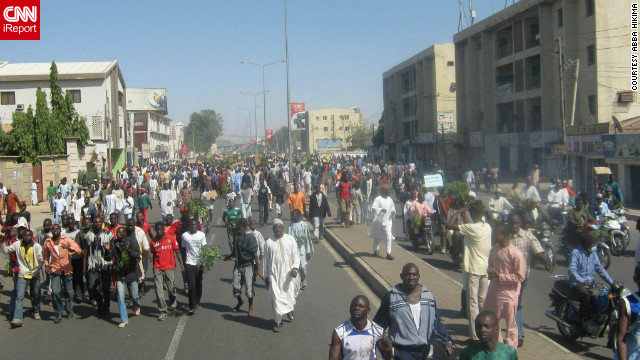 Protesters took to the streets on Monday, January 9, in a nationwide strike against the Nigerian government's decision to take away fuel subsidies.
Bonfires were set ablaze by protesters outside Lagos State University. iReporter Lawal Adekunle Olusegun said: "I know a lot of people around are suffering and going through a hard time the fuel subsidy is only making things worse for a lot of people."
This picture, taken by iReporter Medaiyese Olorunjuwon shows the armed forces monitoring protesters in the city of Ilorin, Kwara State capital. Olorunjuwon said: "The protesters were cheering the armed forces... All in all it was peaceful."
During the rally in Ilorin, Kwara State, demonstrators displayed a mock coffin, while demanding the government bring back fuel subsidies.
IReporter Patrick Gbenga captured the protest scenes in the Nigerian city of Akure, capital of the Ondo state.
Gbenga said: "Thousands of people took to the street of Akure... it is part of me to fight against injustice."
An 83-year-old woman joins the protest rally at Liberation Square in Kano State.
The nationwide strike comes after days of protesting across the country. Gas prices have more than doubled following the government's decision to take away fuel subsidies.
Adjarho David Obaro, who is currently in Nigeria for the holidays, took photos of the protests near King's Square in Benin City on Thursday, January 5. He said there were thousands of protesters there from different backgrounds.
"I saw raw anger in the eyes of the protesters with regards to the increase in prices of good (and) services as a result of the subsidy removal," said Obaro.
iReporter Victor Iyamu took this photo at the protest in Benin City, the capital of Edo State, on Thursday, January 5. Iyamu says he is not participating in the protest but that he does support the protesters and their cause.
The Nigeria Labour Congress and Trades Union Congress urged the government to immediately restore the subsidies -- or see the country grind to a halt starting January 9.
After learning about the fuel subsidy protests from Twitter on Tuesday, iReporter Kfire decided to join the crowds in Lagos. "The aim of the protest was to disrupt vehicular movement, shut down gas stations and ask people to go back home," he said.
"The mood was one of anger and frustration towards the government for doing this on New Year's Day," Kfire said.
Freelance journalist Mohammed Bashir observed the large protest in his town of Lokoja, Nigeria, on Tuesday, January 3. He snapped this photo with his BlackBerry as hundreds gathered in the street.
Obi Akwukwuma, 47, observed the demonstrations at King's Square in Benin City on Thursday, January 5. Akwukwuma, who works on an engineering project nearby, took this photo with his BlackBerry as demonstrators protested the removal of fuel subsidy.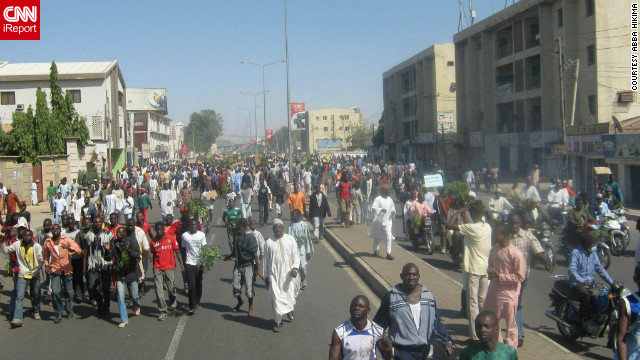 iReport: Occupy Nigeria protests
"Labour warns the Presidency that it will be held responsible for whatever atrocities these thugs commit," the statement said. "We call on Nigerians to continue the strikes, rallies and protests ... Wednesday ... and subsequent days until the Jonathan government listens to the voice of the Nigerian People."
Government spokesman Reuben Abati denied the accusations and said negotiations between the labor unions and the government are under way.
"If these claims are properly investigated, you will find out that failed and bitter politicians have not only hijacked this protest, but have diverted it from a protest against deregulation policy," he said Reuben Abati.
Wednesday will mark day three of the strike, which was spurred by a government decision to remove fuel subsidies -- a move that resulted in more than doubled fuel prices in the largely impoverished country.
So far, clashes have left at least 16 people dead and 205 injured, according to a tally collected by the Nigerian Red Cross Tuesday.
The strike, continued religious violence in the north and a long-simmering separatist movement are all issues that have created growing problems for Jonathan and fueled tensions on the street.
The southern state of Edo was a focus for much of the violence, according to the Red Cross, with five people killed and 83 injured.
"Revolution has come to Nigeria and the youth will spearhead it. Until our demands are met, we are ready to protest every day and make sacrifice," said Eromo Egbejule, a Nigerian freelance journalist.
Other violence erupted in northern Nigeria Tuesday and Wednesday, although it was unclear whether the incidents were related to the strike.
In Yobe state, four people died Wednesday after two gunmen on a motorcycle stopped next to a car filling up at a gas station and opened fire on the occupants in the town of Potiskum, about 600 kilometers northeast of Abuja, said Lawan Tanko, Yobe state police commissioner.
"We don't know if it's Boko Haram or other criminal elements," he said. "We are still investigating." The victims' ethnic groups had not been confirmed, he said.
Boko Haram, a shadowy militant Islamic group that is said to favor strict Sharia law, is frequently blamed for sectarian violence.
Also in Yobe state, eight people drinking in an open-area bar, including a police officer, were shot to death Tuesday by several unidentified gunmen in Potiskum, Tanko said. The gunmen opened fire without announcing their presence, he said.
No one has claimed responsibility, and police are not sure who was behind the attack, he said.
In a recent address, Jonathan tried to explain the need for ending the subsidies, telling Nigerians that the government would invest the money in the country's crumbling infrastructure.
"My fellow Nigerians, the truth is that we're faced with two basic choices with regards to the management of the petroleum sector," Jonathan said. "Survive economically or continue with a subsidy regime that will continue to undermine our economy."
Some analysts say the changes could help Nigeria in the future.
"If they're prepared to try this petroleum subsidy removal then perhaps they can push through electricity reform too. If they do that, Nigeria's growth can be instead of 7%-8% a year, 10% or 11%," said Charlie Robertson, a chief economist at the global investment firm Renaissance Capital.
But assurances from the president did not allay fears from many Nigerians who do not trust the government to use the money to improve the country's infrastructure.
Many Nigerians view the subsidy as the only benefit of living in an oil-producing country that has little infrastructure, poor roads, high unemployment and intermittent electric power.
"Though we know that in the long run, removal of (the) subsidy will help the economy, for now it is a high-profile lifestyle that is unbearable for most Nigerians, and soon the poorer ones will die out," said protester Diane Awunah.
CNN's John Defterios, Jack Maddox and Michael Saba, and journalist Vladimir Duthiers contributed to this report.