'Fear Rick's Vest': Santorum's sweaters go viral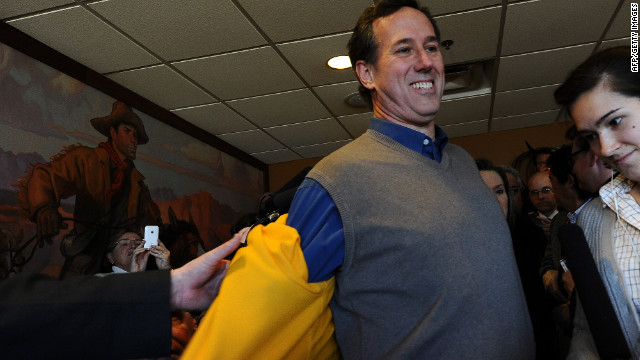 Republican presidential hopeful Rick Santorum rips off his jacket to reveal the hottest trend in candidate wear. Nothing quite says lunch at the Pizza Ranch restaurant in Boone, Iowa, like a sweater vest, right? This was not the first time Santorum sported such a fashion-forward ensemble. Check out his other campaign-trail couture choices leading up to Tuesday's Iowa caucus.
We'll say this for the sweater vest -- it sure shows off Santorum's guns. And solid red is a always an appropriate choice for a GOP candidate. Here Santorum poses for a picture while hosting a Pinstripe Bowl- watching party at a restaurant in Ames, Iowa. Go Cyclones!
Santorum looks relaxed here in a navy blue sweater vest, layered nicely over a light-blue dress shirt. We're sure supporters at the Daily Grind coffee shop in Sioux City, Iowa, picked up on the subtle presidental tones.
A light-grey sweater vest conveys solid seriousness, but it may look a little staid for Santorum's "Rock the Caucus" event in West Des Moines. Senator, where was the leather vest?
Most men can't pull off pink -- but Santorum isn't most men. Here he tones down the ensemble with a gray sweater vest to talk with CNN's John King in a diner in Cedar Rapids.
Santorum strides confidently out of a pickup truck in Knoxville, Iowa, in a gray sweater vest embroidered with his name. Guess his mom doesn't have to write on the tag anymore ...
Santorum again employs a dark blue sweater vest (we never tire of typing that) to woo potential voters in Denison, Iowa. Maybe we should credit the pink dress shirt (again) for the CNN entrance polls that showed him the most popular candidate among Iowa female voters.
The trend must be catching. Santorum's co-chair in New Hampshire, William Cahill, adds momentum to the "Fear the Vest" movement with this green-and-blue argyle number.
Oh, and what's this -- is the younger generation jumping aboard the sweater vest train? A member of the Duggar family supports Santorum's style on caucus day in Johnston, Iowa.
Santorum's sweater vests
Santorum's sweater vests
Santorum's sweater vests
Santorum's sweater vests
Santorum's sweater vests
Santorum's sweater vests
Santorum's sweater vests
Santorum's sweater vests
Santorum's sweater vests
STORY HIGHLIGHTS
On the Web, Rick Santorum's sweater vests take on a life of their own
A Tumblr page and Twitter feed are both named "Fear Rick's Vest"
Santorum supporters post a YouTube video montage to his sleveless wear
Vests reportedly took off after candidate wore one during a December debate
(CNN) -- Republican Rick Santorum may have come up eight votes shy of a win in the Iowa caucuses. But a piece of his wardrobe appears to have emerged as the clear winner.
His sweater vests.
While it's go-to outerwear for kindhearted dads everywhere, the sweater vest isn't exactly common among political heavy hitters, who prefer power suits or man-of-the-people, rolled-up shirt sleeves. But on the Web, Santorum's sartorial choice has taken off.
There are Facebook pages devoted to The Vest. And "Fear Rick's Vest" has both a Twitter feed and Tumblr blog, from which it shares its thoughts on the campaign.
Rick Santorum feels like Rocky Balboa
How to explain Santorum, who had been under the radar for much of the Iowa race, climbing into a virtual dead heat with Mitt Romney in Iowa? Perhaps it's the "Sweater Vest Surge."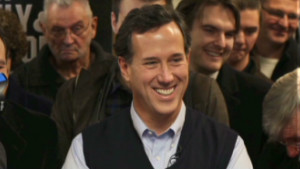 Santorum goes sleeveless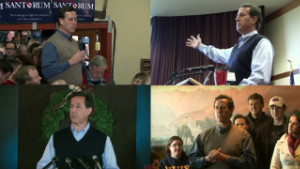 Candidate's mom jeans and sweater vests
"Now don't get me wrong, I do give Rick some credit," the vest (or a reasonable human facsimile) wrote on the blog. "But let's get real -- everyone time he wears me on the campaign trail, his ratings go up!!!"
In an interview with The New York Times, Santorum said the sweater vest became a trademark of sorts at a debate in December. While the other candidates worked the traditional dark suits, he styled a sweater vest -- and people took note.
After that, he told the Times, "It sort of took on a life of its own. So I started wearing more and more. My staff bought me a bunch more."
Of course, in the heated campaign climate, it didn't take long for some operatives to politicize the vest, tongue presumably in cheek.
"@RickSantorum is such a fiscal conservative he doesn't buy sleeves," tweeted Michael Biundo, Santorum's political director.
Maybe it's an Iowa thing, but the Web isn't new to strange vest celebrations. Hilariously quirky singer/rapper/performance artist Leslie Hall, who hails from Ames, Iowa, has an entire Web site devoted to modeling over-the-top '80s "gem sweaters."
Santorum's vests have joined Hall on YouTube, too, with a video by the candidate's supporters called "Sleeves Slow Me Down."
Whether the love for his vests on the Web will translate into votes remains to be seen. But, if nothing else, maybe it will help counteract Santorum's Google problem.