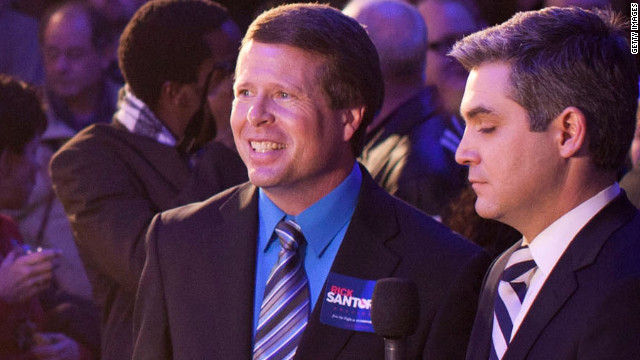 As the Iowa caucuses wind down, the remaining Republican candidates are looking to boost their poll numbers for Tuesday's New Hampshire primary. One approach has been receiving celebrity support to advance and finance their campaigns. Recently, Jim Bob Duggar, star of "19 Kids and Counting" announced his and
his family's endorsement for Sen. Rick Santorum
. Here are some other celebs who are cheering for their favorite GOP presidential candidate.
demonstration video for a Mitt Romney fundraiser
, leading many to believe that she had changed sides. Crawford's representative later said that the video was a favor for one of Romney's sons.
Cindy Crawford backed President Barack Obama during the 2008 elections. However, in May she appeared in a
The Daily Caller
website, singer Barry Manilow said that he agrees with "just about everything" Rep. Ron Paul says. "I like what he says. I think he's solid," he said.
In a September interview with
campaign chairman also told CNN
, "Dr. Paul is proud to have his friendship and support."
Vince Vaughn introduced Ron Paul at the Liberty Political Action Conference this September. While Vaughn has not officially endorsed Paul, the actor apparently invited the candidate's family to the premiere of "Couples Retreat," according to the congressman's website. Paul's
her support for Ron Paul last week
saying, "I love Ron Paul ... If he wins the nomination for the Republican party in 2012 he's got my vote." Despite criticism, Clarkson defended her statement and said she "voted Democrat last election."
Kelly Clarkson faced backlash when she tweeted
The Christian Science Monitor
and
FrumForum.com
, a website run by journalist David Frum, Chuck Norris is supporting Ron Paul this election. During the 2008 election, the actor endorsed former Gov. Mike Huckabee.
According to
The Hill
that he plans to endorse Newt Gingrich. "I've never met Newt but I know what he stands for," he said. The very next day Busey
withdrew his support
. "It is not time for me to be endorsing anyone at this time," he said in a statement.
In December, Gary Busey told
told CNN
that he regretted voting for President Obama in 2008. Then this August
he tweeted
his support for Gov. Rick Perry saying, "He will be our next President. I've never been wrong."
Last December, Gene Simmons
interview with Fox News
, former Superman Dean Cain said that he liked Rick Perry. "I like his record on job creation," he said. "[He is] an upstanding guy who will help turn us around." Cain supported Sen. John McCain in 2008.
In a September
Jim Bob Duggar
Cindy Crawford
Barry Manilow
Vince Vaughn
Kelly Clarkson
Chuck Norris
Gary Busey
Gene Simmons
Dean Cain