STORY HIGHLIGHTS
William J. Bennett: Rick Santorum's strong showing in Iowa was remarkable
He says Santorum has to show that he can do well in South Carolina and other states
Bennett: Mitt Romney has yet to prove he can win over staunch conservative voters
He says Ron Paul underperformed in Iowa, may fare worse in coming primaries
Editor's note: William J. Bennett, a CNN contributor, is the author of the newly published "The Book of Man: Readings on the Path to Manhood." Bennett, the Washington fellow of the Claremont Institute, was U.S. secretary of education from 1985 to 1988 and was director of the Office of National Drug Control Policy under President George H.W. Bush.
(CNN) -- A win is a win for Mitt Romney, even if it's only by eight votes. But Tuesday night belonged to Rick Santorum.
Santorum's second-place finish (a virtual tie for first place) is remarkable. What he lacked in staff and resources, he made up for with grit and determination. Campaigning around the state in a pickup truck, Santorum put in more groundwork than any other candidate, visiting all 99 counties and attending more than 350 campaign events. His strong second-place finish is a victory he thoroughly deserved, and he's tentatively made the case that he can be a conservative alternative to Romney.
Since the start of the GOP race, Santorum has been the most consistent conservative in the race, but the misgiving with his candidacy was his electability.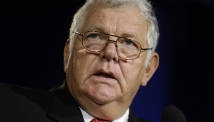 William J. Bennett
With his success in Iowa, he may have put some of those qualms to rest. He is now in the difficult position of having to prove that Iowa was no fluke. He should put in time in New Hampshire but invest his strength in South Carolina, a red state that favors Santorum's strong conservative credentials.
New Hampshire will likely go to Romney, making South Carolina the next state in serious contention for the nomination. A winnowing GOP field will give Santorum a boost as well as an inevitable surge in campaign donations, so don't underestimate this one-man band.
Romney heads into New Hampshire as the odds-on favorite. He is in position to win the first two primaries of the season, yet the nomination is far from a lock. Romney's razor-thin victory in Iowa hardly puts to rest what has been the problem with his candidacy all along -- the question of whether he can win over staunch conservative voters.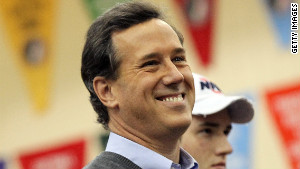 Santorum: There's going to be a rematch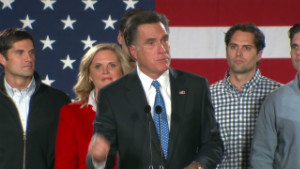 The candidates' words from Iowa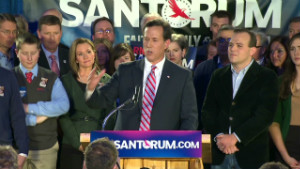 Santorum thanks God after Iowa caucuses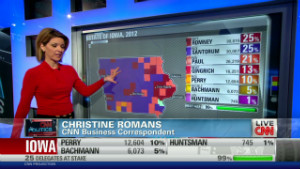 Iowa caucuses: Behind the numbers
Romney won Iowa with 25% of the vote, the same percentage he garnered in his second-place finish in 2008 behind Mike Huckabee. This year Romney again failed to win over much of the conservative heartland of central Iowa, which went overwhelmingly to Santorum.
If Romney is to win the nomination, he has to find a way to court the Santorum, Rick Perry and Michele Bachmann voters. So far he has yet to demonstrate he can do so. He can take some comfort in escaping Iowa with a win after devoting a fraction of the resources he did in 2008, but it's not much about which to boast.
Historically, Iowa is a mixed bag. Of the past five Republican presidential nominees, two (George W. Bush and Bob Dole) have won the Iowa caucuses, while the other three (Ronald Reagan, George H.W. Bush and John McCain) finished second, third and fourth, respectively.
The Iowa caucuses aren't all-important, but they matter in momentum and perception. Santorum has the majority of the momentum right now; Romney has enough to remain the front-runner. Barring a surprise in New Hampshire, the weight of the race shifts next to South Carolina.
The other story of the night may be the underperformance of Ron Paul, whom many thought would win Iowa. His third-place finish, largely on the backs of independent voters, will likely be his best performance of the primary season.
If Romney is to win the nomination he has to find a way to court the Santorum, Perry, and Bachmann voters.
William J. Bennett
He had the staff and organization on the ground in Iowa to do well, but it will be difficult for him to replicate this success in closed primaries such as South Carolina. It will be interesting to see if his loyal voting bloc splinters toward or away from Romney, Santorum and Newt Gingrich as we move further into the primary season.
Even with a fourth-place finish in Iowa, Gingrich is still in the race. Only a month ago, the former House speaker was the front-runner in Iowa, but negative ads by his opponents have taken a toll on his support. He has an uphill fight to win back voters from Santorum and Romney, both of whom have much more momentum than he does. The South is still his stronghold, and he remains a factor in South Carolina and Florida.
After failing to secure a top-four finish, Texas Gov. Rick Perry announced Tuesday that he would put his campaign on hold in South Carolina and reassess his candidacy. Bachmann finished in a similar position, but as of this moment says she will continue her candidacy.
The race is on for Romney, Santorum and Gingrich to win over the supporters of Perry and Bachmann, which will make New Hampshire notable, but the South Carolina primary all that more important.
Follow @CNNOpinion on Twitter.
The opinions expressed in this commentary are solely those of William J. Bennett.