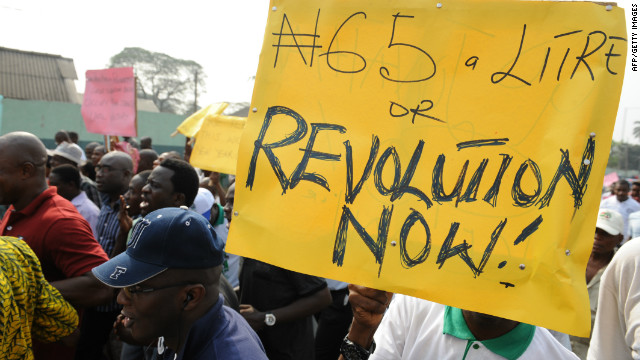 Union and civil rights activists march in Lagos, Nigeria, to protest the removal of petrol subsidies by the government.
Protesters march in Lagos, over an increase in fuel-prices, photographed by iReporter Samuel Osabuohien.
Bystanders watch as protestors try to set fire to a car tire in the middle of Ikorodu Road in Lagos.
This photo of protests on Ikorodu Road was taken by iReporter OKshorty1.
OKshorty1 said he heard about the protest on Twitter. "The aim of the protest was to disrupt vehicular movement, shut down gas stations and ask people to go back home. The mood was one of anger and frustration towards the Government for doing this on New Year's Day."
iReporter Boma Taiu took this photo of protests in Ibadan, Nigeria. "The poor are suffering," he said.
iReporter Paul Utho took this photo of the protests in Ikorodu Road, Lagos. "The people are tired of this insensitive government," he said.
Fuel-price protests in Nigeria
Fuel-price protests in Nigeria
Fuel-price protests in Nigeria
Fuel-price protests in Nigeria
Fuel-price protests in Nigeria
Fuel-price protests in Nigeria
Fuel-price protests in Nigeria
STORY HIGHLIGHTS
Thousands of Nigerians protested Tuesday across the country
Demonstrations over the removal of fuel subsidies that saw price of petrol double
Nigeria is one of Africa's largest oil and gas producers
(CNN) -- Car tires were set on fire and gas stations blockaded as hundreds of Nigerians took to the streets to protest the removal of fuel subsidies that saw the price of petrol more than double virtually overnight.
Angry Nigerians chanted anti-government slogans and brandished placards in a largely peaceful protest Tuesday against the removal of government subsidies.
In what has been described as a "callous New Year gift," the government ended its fuel subsidy Sunday, bringing the cost of a liter of gasoline from 65 naira (40¢) to 141 naira, (86¢)
Nigerians say this is the last straw in a country rich with oil reserves but with poor infrastructure and impoverished citizens who live on less than $2 a day, according to U.N. figures.
Shade Ladipo, 29, was one of those who marched for hours in Lagos, the country's economic capital, where some major districts were shut down by protestors.
"The atmosphere has been charged. We were stopping cars from moving, we told them to park their cars and join us. Many people parked their cars and joined in. Even the police have been calm and not hostile to us. They know that this rise affects everyone, even them."
Ladipo added that she and many Nigerians accepted the need for a price rise but accused the government of bringing the increase abruptly and without prior warning it would happen on January 1.
"Nothing has been put in place for this," she said. "We still don't have light. The roads are terrible. It was already hard to live in Nigeria. This will make life even worse. We are angry and we're not going to take this," she added.
Ladipo, who runs a travel and tourism company, complained: "The government says that Nigeria is broke and the subsidies are needed. But this rise will not affect them. They still have their allowances and huge salaries."
You cannot ask us to sacrifice while you run a government obese with waste and corruption
Chude Jideonwo, youth activist
Among the demonstrators were musician Seun Anikulapo-Kuti, son of afrobeat innovator Fela Kuti, and activists Femi Falana and Ganiyat Faweyinmi.
Nigerian President Goodluck Jonathan's government says it believes the removal of fuel subsidies would have a positive impact on the country's economy. They say money saved will be used to invest elsewhere such as refineries.
Despite being one of Africa's largest oil producers, Nigeria has no functioning refineries and has to import fuel.
Presidential spokesman Reuben Abati told CNN: "The fuel subsidy debate has been going on for two months and the president consulted widely during this period to explain the political and economic issues. It's natural for certain people to disagree. In a democracy that right to differ and to express opinion is sacrosanct."
He added: "The protests have been largely peaceful and we have had no reports of violence. The president has no problems with people protesting as long as they do it in a civil way. "
Unrelated to the fuel subsidy issue but also causing problems for Jonathan's administration is sectarian violence in northern Nigeria where, in recent months, states of emergency have been declared.
But Nigerians protesting the new year's price hikes say they no longer trust the government to fulfill its promises of investment and regeneration.
Chude Jideonwo, a youth activist, said: "There is a searing anger across the nation - and it's not just about the fuel subsidy: marching with the hundreds today, this much was clear - Nigerians deeply distrust this government and it has squandered the goodwill it had barely a year ago.
"The demand is clear -- return to the old price. You cannot ask us to sacrifice while you run a government obese with waste and corruption. I don't think Nigerians will back down from this, and we shouldn't."
The protests were organized by the country's two labor unions, who released a joint statement Monday saying: "This New Year 'gift' by the presidency is callous, insensitive and is intended to cause anarchy in the country."
There were also protests reported elsewhere in the country.
CNN iReporter Boma Tai, 24, narrated the scene of protests in the streets of Ibadan, Nigeria, as he participated in a demonstration over fuel price increases.
"At the center of the displeasure are other issues as massive unemployment, the shut down of the Nigerian government owned universities by the ASSU strike and lack of stable electric power. They are saying 'No to subsidy removal,'" he said.
The storm of protest was not limited to the rallies on the ground. Many Nigerians vented their anger on Twitter, including music star BankyW, who wrote: "Its not just about fuel subsidy. Its about electricity, healthcare, security, education, corruption & the quality of life 4 every Nigerian."
While @samsonnnamdi tweeted: "this govt is wicked,how can you remove subsidy when the roads are not good ,refineries are not working,traffic jam everywhere.That is wickedness in high places."