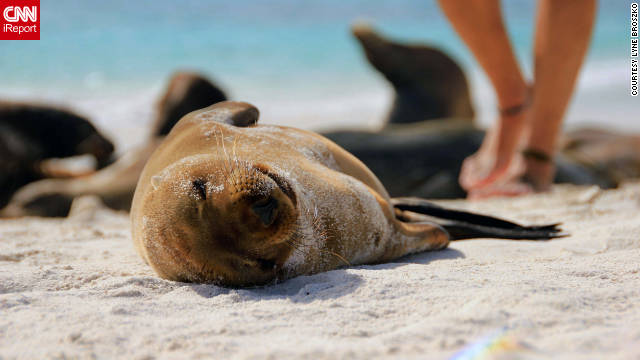 iReporters transported us across the globe with their 2011 travel photos. These are some of our favorites. Lyne Broszko of Montreal shot this photo of a sea lion pup sunning itself on a Galapagos Islands beach in Ecuador. "All the sea lions have grown accustomed to having visitors on their islands, so we humans are only slightly annoying paparazzi to them," she said.
John McGraw shared this stunning photo of the Chicago skyline. "I'm lucky enough to be in Chicago several times a year and I'm always finding new things to do."
Lee Gunderson took this colorful photo of a yellow finch. "In the early morning, their interaction with sunflowers is stunning."
Michael Carlton Abalon captured this unique perspective of "a one of a kind golden hour." "Next time, I'll capture the sun itself as it colors the sky gold," he said.
George Carter Eberwine used a 10-second exposure to capture the lights and movement surrounding Niagara Falls at night. "I knew that the falls were beautifully illuminated and would present a great opportunity for this shot."
Richard Wile captured this lovely perspective of the Sun Voyager sculpture, modeled after a Viking ship and crafted by artist Jon Gunnar Arnason.
Stephan Ferry shared this photo of a lovely fall day on Whitefish Lake. "Month after month, the ever-changing landscapes of Montana have stolen my heart over and over. I have found my paradise. "
Pandios Manias took this beautiful night shot . "Gyeongbok Palace was open to the public at night for a limited time," he said. "The palace was absolutely beautiful. I plan to return when the first snowfall arrives."
Udayan Mishra captured trekkers as they walked their final steps to reach the Annapurna base camp in Nepal.
Brandon Harris of Chicago managed to get a shot of the elusive leopard while on safari. "An hour into the game drive, we found this leopard resting in his tree, scanning the Mara for his next meal," he said.
Xynn Tii took this photo of a sunrise over Gulf Breeze. "As a fisherman approached the boardwalk, he put down his gear and enjoyed the sunrise for a couple minutes. His solitude really complemented the scene as he and I witnessed a glorious daybreak."
"The Kathmandu that I encountered was not far off from what I thought it would be like," Thomas Cox said of this photo of prayer wheels. "The city was rich in the mixture of many different cultures and religions. Shrines to both Buddhism and Hinduism were at almost every corner."
Steven Schrier shared this photo of Neuschwanstein Castle. "The beautiful Bavarian mountains are a short train ride southeast of Munich and include the astounding fairy-tale Neuschwanstein Castle built by King Ludwig in the late 19th century."
Natasha Taratuta took this photo during a glacier hike. "We went to the Perito Moreno Glacier and did the big ice trek, where you hike next to the glacier and then on it for about six hours. It was breathtaking."
Robert Ondrovic took this photo of gorgeous fall foliage during a drive between Harriman State Park and Bear Mountain State Park in New York.
Marc Burba snapped a shot of shoes for sale in a leather shop. Leather tanneries are a common sight throughout Morocco.
Zan Zahidah Zainal captured this "indescribably amazing view, 400 meters above sea level" of Te Mata Peak, located in Hawkes Bay, Napier, in the North Island. "The panoramic views are simply breathtaking."
"The Red Barn just caught my eye as I was driving by," Glenn Barclay said about this photo. "Drive by it all the time, but that autumn day it just hit me. It's an accident 'Kodak moment.' It felt like that last warm autumn afternoon before a cold front blows in, a calm before the winter."
Craig Smith snapped this shot of clear, starry skies on a cold winter's night. "Lake Tahoe is a special place. The mountains and lake are spectacular."
Galapagos Islands
Chicago, Illinois
Calgary, Alberta
Manila, Philippines
Niagara Falls, New York
Reykjavik, Iceland
Whitefish Lake, Montana
Seoul, South Korea
Trekking in Nepal
Masai Mara, Kenya
Gulf Breeze, Florida
Kathmandu, Nepal
Neuschwanstein Castle, Germany
Perito Moreno Glacier, Argentina
Bear Mountain State Park, New York
Fez, Morocco
Te Mata Peak, New Zealand
Kalispell, Montana
Lake Tahoe, Nevada