STORY HIGHLIGHTS
NEW: Hundreds injured in attacks on demonstrators, medic says
NEW: At least 96 in critical condition, medic says
NEW: Machine guns, tear gas used, eyewitnesses say
Protesters are calling for the ouster of longtime Yemeni President Ali Abdullah Saleh
Sanaa, Yemen (CNN) -- At least 26 protesters were killed and more than 550 were injured, hundreds by gunshot, when security forces fired live bullets and tear gas at a massive demonstration in Yemen's capital Sanaa on Sunday, a medic said.
The death toll is expected to rise because some of those injured were in critical condition, eyewitnesses said.
Dozens of troops were seen at the area of the attack shooting directly at protesters.
At least 96 of the injured are in critical condition, a medic at Change Square confirmed.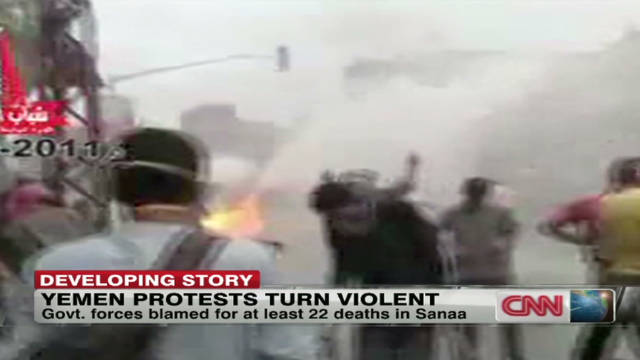 Deadly clashes in Yemen
"Central security forces brutally attacked tens of thousands of protesters who walked" from Change Square outside Sanaa University to call for the ouster of the regime, said Ali Kuraimi, a protester who was at the scene.
All roads leading to Change Square, where thousands have been conducting a seven-month sit-in to call for the resignation of President Ali Abdullah Saleh, were closed. Saleh, who is recuperating in Saudi Arabia from a June attack on his palace, has vowed to return to Yemen to finish his term.
Other witnesses said they had seen .50-caliber machine guns being used against the tribesmen.
Protesters told CNN that Central Security Forces were hurling gas canisters at them, suffocating them.
"Protesters were intercepted while on Zubairy Street and in Al-Qa'a district where the forces showed no mercy," said Saleem Munassar, an eyewitness.
Video posted on YouTube purported to show the protest. In it, what appears to be water and tear gas are shot to disperse the crowd. Gunshots can be heard, as well as someone shouting: "This revolution is peaceful, peaceful. We are here for our beloved martyrs. We will not back down!"
Protesters can be seen in the video throwing what appear to be bottles or rocks.
CNN could not independently confirm the authenticity of the video.
Yemen's state-run news agency reported that "militias of the Islah opposition party and 1st armoured division" staged an unauthorized protest Sunday. A security source from the interior ministry told the Saba news agency that the militias threw Molotov cocktails at a power station, causing generators to burn.
They also attacked anti-riot forces, wounding four soldiers, Saba reported, according to the ministry source.
The opposition National Council condemned the attack and called on the international community to take action against Saleh's regime.
"These crimes will not be forgotten and the regime will stand trial and in front of international questioning," said a statement from the council.
The Interior Ministry denied that it was behind the attacks and blamed militias of Muslim brotherhood and the first armored division forces, who defected from the government in March.
"The opposition forces are using these youth for their own benefits," said a senior interior ministry official, who is not authorized to talk to media.
Hasaba zone, in the northwestern part of the capital, was the scene of violent clashes between tribesmen loyal to the revolution and the Republican Guards for a fourth consecutive day Sunday night.
Hasaba is the area of residence of Sheikh Sadeq al-Ahmar, head of the Hashed tribal confederation, whose tribes clashed with government troops in May.
Ahmar issued a statement saying he had not yet broken the truce agreed on with the government in June and that despite the government shelling his stronghold he did not yet allow his men to retaliate.
He warned, however, that such provocations against his men would not go unpunished.
Residents in Hasaba reported a "rain of bullets," adding that what sounded like mortar bombs was being launched Sunday evening at al-Ahmar property.
FOLLOW THIS TOPIC