State media: Arab League chief, al-Assad meet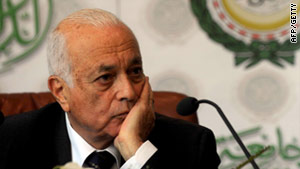 Nabil Al Araby, pictured above in Egypt in July, has met with Syrian President Bashar al-Assad, reports say.
STORY HIGHLIGHTS
Arab League chief, al-Assad tackle reforms
Eight deaths reported in Homs, two in Idlib
State-run media reports visit by Arab League chief
(CNN) -- The head of the Arab League and Syria's embattled president focused on forging reforms in the strife-torn nation Saturday amid worldwide ire over the country's brutal crackdown on protesters.
President Bashar al-Assad huddled with Secretary-General Nabil Al Araby in Damascus as more deaths were reported there on Saturday.
As activists press for more political democracy and free expression in Syria, the state-run Syrian Arab News Agency said both men agreed on "practical steps" to speed up the reform process.
Speaking to reporters at Egypt's airport on Saturday after the meeting, Al Araby said he called on Syria to issue "on-the-ground" reforms and a timeline for elections. He said al-Assad discussed the steps Syria is taking toward "actual reforms."
Al Araby also said he espoused open dialogue, urged Syria to release political detainees, and called for a national resolution to the six-month long conflict there.


Syria: Demonstrations during crackdown
SANA said Al Araby underscored the Arab League's commitment to Syria's "security and stability" and "rejected of all forms of foreign interference in Syrian internal affairs."
Al-Assad urged Al Araby not to be misled that false news reporting which he says is designed to hurt Syria's image and foster instability, SANA said.
Activists have blamed Syrian forces for brutally clamping down on peaceful protests and killing demonstrators. The Syrian government, however, blames "armed gangs" for the bloodshed in the country over the last six months.
More than 2,200 people have died and thousands have been arrested since mid-March, and human rights abuses have been reported.
The United States and the European Union have imposed sanctions against the regime, widely denounced for its behavior. Other countries have urged Syria to end its crackdown. Syria has said it has made efforts to generate reforms.
Human Rights Watch reported Thursday that Syrian security forces barged into a hospital and snatched 18 wounded patients, including five from an operating room.
The Syrian Observatory for Human Rights, an activist group that tracks the violence in the country, said eight civilians were killed on Saturday during a security sweep in the western city of Homs.
It also said two brothers -- a military defector and an activist -- arrested on Friday in Idlib province have died. Their bodies were returned to their families Saturday.
The Local Coordination Committees of Syria, an opposition group that documents and organizes protests, put the number of dead in Homs higher at 12. Elsewhere, three people were killed in Idlib, three in Daraa and two from the Damascus area, the group said.
CNN cannot independently confirm these reports. The Syrian government has repeatedly refused international journalists permission to report inside the country.
CNN's Salma Abdelaziz and Mohamed Fadel Fahmy contributed to this report
FOLLOW THIS TOPIC