STORY HIGHLIGHTS
NEW: The Arab League says Syria would welcome a visit from its leader
The government and opposition both say people died in violence Sunday but describe different incidents
ICRC president Jakob Kellenberger is seeking access to detainees held by the Ministry of the Interior
Protests have been going on across the country for nearly six months
(CNN) -- The president of the International Committee of the Red Cross is pressing Syria's leaders for access to detainees held by the government, the agency said, as both the government and opposition said there had been deadly violence in the conflict-wracked nation Sunday.
Jakob Kellenberger is due to meet Prime Minister Adel Safar and Foreign Minister Walid Muallem on Sunday, and President Bashar al-Assad on Monday, the ICRC said.
Separately, the Arab League said Syria would welcome a visit from the secretary general of the Arab League "any time," a spokeswoman for the organization said Sunday, quoting a Syrian government minister.
No date for a trip has been set, Arab League spokesman Dina Ismael said, but said Secretary General Nabil al-Araby expected it to be this week.
The Arab League last week publicly called for restraint and an end to the violence in Syria, while also requesting that al-Araby depart on an urgent mission to Damascus.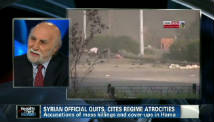 Syrian official quits, claims atrocities
Syria's ambassador to the League, Youssef Ahmad, rejected criticism of the Syrian armed forces, according to SANA, Syria's state news agency.
Syria has been engulfed in public protest for nearly six months, and the regime has been reviled internationally for its crackdown on peaceful demonstrators.
On Sunday, the Syrian Observatory for Human Rights said four people were killed in the province of Adlib and three others were killed in the village of Tahtaiya by security forces pursuing wanted activists.
The opposition group also a person from city of Suraqib who was detained for 20 days died in detention after being tortured.
And it claimed that at least 15 people were wounded in the city of Homs due to heavy gunfire by security forces who started a security and military operation on Saturday evening.
Another opposition group, the Local Coordination Committees of Syria, said eight were killed in Adlib, four in Hama province, and one each in the provinces of Homs and Damascus.
There was no immediate official comment on the opposition claims.
Meanwhile, the Syrian state news agency SANA reported that six troops and three civilians were killed near the city of Muhardeh in Hama province.
SANA said a "terrorist group" ambushed a bus carrying troops and civilians, spraying it with bullets, injuring 17 in addition to the nine killed.
A security patrol pursued the attackers and killed three of them, wounding a fourth and seizing explosives, guns and medical supplies from their stolen pickup truck, SANA said.
There was no independent confirmation of that report.
Syria has made it difficult for foreign journalists to work in the country since the unrest started, restricting their entry. Officials do not normally comment on opposition claims of the killing or wounding of protesters.
The United Nations has reported more than 2,200 people killed in Syria since February, with more than 350 people killed since security forces stepped up their operations against demonstrators during the Muslim holy month of Ramadan.
When Kellenberger visited Syrian officials in June, he reached an understanding that would give the ICRC and the Syrian Arab Red Crescent "enhanced access to areas of unrest, and negotiations would take place concerning ICRC visits to detainees."
He aims to "review progress made in both these areas," the ICRC said, including "an opportunity to discuss the impending start of ICRC visits to persons detained by the Ministry of the Interior."
The agency "visits detainees in order to assess the conditions in which they are being held and the treatment they receive," it said.
The current visit comes on the heels of an Amnesty International report detailing the deaths of at least 88 people in detention and describing widespread abuse of prisoners.
The ICRC's Kellenberger is planning to discuss access to medical care for the sick and wounded during his meetings with officials, the agency said. There have been reports of people not being able to access medical care during security operations.
Elsewhere in Syria, two people were killed on Saturday in Habash, a village in northwestern Idlib province, said the Syrian Observatory for Human Rights, an activist group. The two were killed as security and military personnel stormed the city in search of wanted militants, the group said.
On Friday, the European Union banned the import of Syrian oil and added four more Syrians and three entities to a list of those targeted by an asset freeze and a travel ban.
Russia's foreign minister slammed the EU sanctions against Syria, Russian news agency RIA Novosti reported Saturday.
"We've always said that unilateral sanctions will bring no good. It destroys the partnership approach to any crisis," Sergei Lavrov said.
CNN's Yousuf Basil, Mohamed Fadel Fahmy and Ivan Watson contributed to this report.
FOLLOW THIS TOPIC