STORY HIGHLIGHTS
"No change" in lockdown status of chemical weapons, State Department says
U.S. Treasury imposes sanctions on three senior Syrian officials
Al-Assad hears a political message at prayers marking Eid al-Fitr in Damascus
Prayers for Eid al-Fitr turn into anti-government protests in several cities, sources say
(CNN) -- Syrian security forces cracked down on anti-government demonstrations in cities around the country Tuesday, as prayers marking the Muslim festival of Eid al-Fitr turned into protests, opposition sources said.
The opposition Local Coordination Committees of Syria said six people were killed in the city of Daraa, where a demonstration began at the Omari Mosque. One person died in Homs, said the LCC, which organizes and documents protests.
The anti-government activist group also reported hearing gunshots in the suburbs of the capital, Damascus, and said protests were broken up violently in Latakia, a center of the unrest that began in the spring.
The Syrian Observatory for Human Rights, a London-based opposition activist group, said a demonstration in Banias was met with intense gunfire from security forces. At least 30 people were detained, the observatory said.

Syrian activists killed in crackdown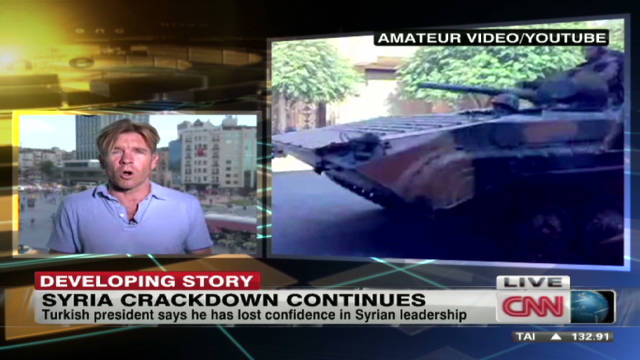 Syrian crackdown on press freedoms

Human rights abuses in Syria?
Video appeared to show protesters in the western city of Homs mounting anti-government demonstrations after morning prayers, with large crowds denouncing Syrian President Bashar al-Assad.
CNN could not independently confirm the reports, and the Syrian government did not immediately comment.
Meanwhile, a Damascus resident who goes by the pseudonym Alexander Page said he saw no sign of the traditional Eid festivities in the city. "No one's actually celebrating Eid. People are annoyed with people who celebrate Eid."
The shops that typically would stock up on sweets and Eid gifts were "totally dead," he said.
Al-Assad attended Eid al-Fitr morning prayers in the capital, where the grand mufti of Damascus, a religious leader, gave a political sermon denouncing the "enemies of Syria, who started to hatch unjust plots ... seditions, lies and fabrications," the government-run Syrian Arab News Agency, or SANA, reported.
Unrest has plagued Syria for more than five months, as protesters demanding more freedom, democratic elections and an end to al-Assad's regime have been met by brute force.
The government has maintained a consistent narrative: It is going after armed terrorists. But opposition activists say the regime is behind a systematic, sustained slaughter.
SANA reported Tuesday that "an armed group" kidnapped Attorney General Adnan Bakkour, his bodyguard and his driver Monday in Hama. Citing Hama police, SANA said the three were intercepted by seven gunmen armed with rifles and machine guns.
The U.S. Treasury extended sanctions Tuesday against three senior members of al-Assad's government -- Foreign Minister Walid Moallem, presidential adviser Bouthaina Shaaban, and Syria's ambassador to Lebanon, Ali Abdul Karim Ali.
The move -- the third round of U.S. sanctions against the al-Assad regime -- freezes any assets they may have in the United States and bars U.S. citizens from doing business with them.
"Building on our sanctions targeting the entire government of Syria, we are bringing additional pressure to bear today directly on three senior Assad regime officials who are principal defenders of the regime's activities," said Under Secretary for Terrorism and Financial Intelligence David Cohen.
State Department spokeswoman Victoria Nuland called Moallem "a guy who we consider has been spreading untruth about the opposition in Syria, untruth about the security situation, untruth about the regime's activity and as such, has been misleading in his role as foreign minister."
She noted that the United States has long called on Damascus to give up its arsenal of chemical weapons, but said there was no indication that it posed an immediate threat. "We do believe that Syria's chemical stockpile remains under government control and that there is no change in the lockdown status of those weapons," she told reporters. "Syria has a stockpile of nerve agent and some mustard gas and we will continue to work closely with like-minded countries to ensure that there is no proliferation of that material, as well."
Meanwhile, the European Union's preparations for an embargo on imports of oil from Syria were being finalized and a ban could be implemented within days, an EU representative said.
EU foreign policy chief Catherine Ashton issued a statement Tuesday expressing her "continued deep concern about the violence perpetrated by the Syrian regime against peaceful demonstrators, human rights activists, and the Syrian people."
She urged government security forces to stop their "brutal repression" of the Syrian people.
The Syrian Observatory for Human Rights has said more than 2,000 people -- mostly demonstrators -- have died since the uprising began in mid-March.
CNN is unable to independently confirm death tolls in Syria, which has restricted access to many parts of the country by international journalists.
CNN's Yasmin Amer, Ivan Watson, Kamal Ghattas, Joe Sterling and Nada Husseini contributed to this report.
FOLLOW THIS TOPIC