Four Italian journalists kidnapped in Libya, official in Rome confirms
STORY HIGHLIGHTS
The four are reporters from prominent Italian daily newspapers
An Italian foreign ministry official says the kidnappers are believed to be pro-Gadhafi
One of the journalists called his newspaper and reported that the four were beaten
The four were taken at a roadblock about 50 miles from Tripoli
(CNN) -- Four Italian journalists were kidnapped Wednesday in Libya by unknown assailants, a spokesman for the Italian foreign ministry confirmed to CNN.
One of the journalists was able to call his newspaper, and according to his editor he reported that he and his colleagues had been beaten when they were taken, and one of their drivers had been killed.
The foreign ministry spokesman, Maurizio Massari, said the four reporters were kidnapped on a road about 80 kilometers (about 50 miles) from Tripoli. Massari said while it was unclear who captured the journalists, the ministry assumed it was pro-Gadhafi forces. He also said it was unclear what demands, if any, the kidnappers had.
Massari said that the journalists, all from prominent Italian daily newspapers, were well. He did not elaborate.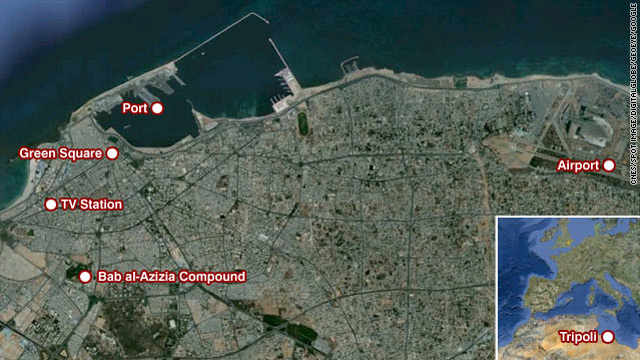 Map: Tripoli hotspots

Opposition controls airport in Tripoli

Scramble for Libya's oil

Libya: Urban warfare?
Paolo Alfieri, foreign editor of the newspaper Avvenire, identified the four as Elisabetta Rosaspina and Giuseppe Sarcina from the newspaper Corriere della Sera, Sono Domenico Quirico from La Stampa, and Claudio Monici from Avvenire.
Alfieri told CNN that those holding the journalists allowed Monici to make a call to his newsroom, and Monici told his colleagues that he had been traveling with the others from the town of Zawiya toward Tripoli when they were stopped at a roadblock. Monici said he and the other journalists were beaten, and one of the drivers was killed.
Alfieri said Monici's voice was "calm" during the call to his newsroom, and Monici reported that at the time he and the others were "well."
The call lasted about five to six minutes, Alfieri said, and Monici asked him to alert the Italian foreign ministry and the other newspapers. Monici did not say anything about what the kidnappers were demanding.
Alfieri said that Monici had been in Zawiya since Sunday night and had arrived there from Tunis. Monici and the other journalists are all experienced war reporters Alfieri said.
Monici also told his colleagues there was a lot of shooting in Zawiya, and it was more than "festivities shooting" that has occurred as rebel forces have advanced, according to Alfieri.
Massari said late Wednesday that the Italian consul in Benghazi, Guido De Sanctis, had reached one of the four reporters by phone. De Sanctis said the journalists were well, and were in Tripoli, according to Massari.
It was not clear which of the four reporters De Sanctis spoke with.
FOLLOW THIS TOPIC


Part of complete coverage on

CNN's Ben Wedeman offers a rare view of fighters, proud to be Libyan, new to warfare yet willing to fight
Moammar Gadhafi no longer has his Tripoli compound or his power apparatus. He is a fallen leader and a fugitive

The Gadhafi family -- a large, at times quarrelsome clan that helped the embattled strongman hold onto power

Seized documents revealed a close relationship between the CIA and counterparts in the Gadhafi regime

Oksana Balinskaya served as one of Gadhafi's five Ukrainian nurses for nearly two years

Archaeological treasures can be found all over the country, and UNESCO is worried

Abdul Hakeem Belhaj, who once fought with al Qaeda, is now commander of anti-Gadhafi forces in Tripoli

Former CIA director Michael Hayden says building a stable new regime could be as difficult as ousting Gadhafi


Most popular stories right now