U.N. humanitarian mission going to Syria this weekend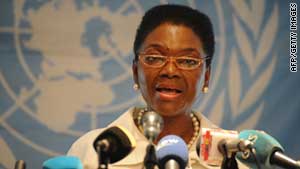 U.N.'s Valerie Amos said there is continued concern about the humanitarian situation in Syria (file photo).
STORY HIGHLIGHTS
"We have been guaranteed that we will have full access," Valerie Amos says
The mission is to last three or four days
(CNN) -- A humanitarian mission from the United Nations will travel this weekend to Syria to look for effects of President Bashar al-Assad's protest crackdown, Under-Secretary-General for Humanitarian Affairs Valerie Amos told reporters Thursday.
"We have been guaranteed that we will have full access to anywhere we would wish to go," Amos said. "We will want to concentrate on those places where there have been reports of fighting so that we can see for ourselves exactly what is going on."
The mission will last three or four days, during which the group anticipates being accompanied by a representative of the Syrian Red Crescent, she said. "It's an initial mission and we would hope to go back in to do detailed assessments."
She added, "There is continued concern about the humanitarian situation."
FOLLOW THIS TOPIC


Part of complete coverage on

Syria's ambassador to the United States says reports of a crackdown are false and the result of a conspiracy

Click on countries in CNN's interactive map to see the roots of their unrest and where things stand today.

He grew up as the second son of late Syrian President Hafez al-Assad, deep in the shadow of his father.

CNN's Arwa Damon reports on two Hama, Syria, residents who saw a military assault in the embattled town.

Are you in Syria? Send iReport your images, videos, and stories -- but don't do anything that could put you at risk.

Recent deadly violence the Syrian city of Hama has revived memories of its history as a hotbed of unrest and brutal government crackdown.

A graphic YouTube video purportedly shows men hurling bodies off of a bridge into a river below in conflict-torn Hama.

For full coverage in Arabic of events in North Africa and the Middle East, head to CNN Arabic.


Most popular stories right now