STORY HIGHLIGHTS
The Muslim Sisterhood is the female division of the Muslim Brotherhood
Traditionally the sisters have carried out the organisations charity and relief work
Since the revolution, the sisterhood has ventured into political activism
They may provide the change of image the organization is looking for
Editor's note: Shahira Amin was deputy head of Egyptian state-run Nile TV -- and one of its senior anchors. After 22 years with the network, angered by its censorship of the Egyptian revolution, she quit on February 3 2011.
Cairo, Egypt (CNN) -- When Iman Abdella steps out of a black-and-white Cairo taxi in Haggana, residents of the impoverished quarter rush to greet her with jubilant cries and trilling zaghareet.
"Alf marhaba (welcome a thousand times)," cries Soad Bekheit, a shabbily dressed mother of four, opening her arms to embrace the familiar visitor. "It's as if the Prophet himself has visited us today."
For the families in this desolate ghetto, one of Cairo's poorest, a visit from this chubby woman in a traditional Islamic head scarf means they will not have to go to sleep on an empty stomach -- at least, not tonight.
Abdella is on one of her charity missions -- part of her work as a devoted member of the Muslim Sisterhood, the female division of the Muslim Brotherhood, Egypt's oldest and largest opposition group.
She visits Haggana at least twice a month to distribute relief bags among the needy families: "I have been doing charity work ever since I joined the group 17 years ago as a student at Al Azhar University," she says.
Each bag contains a frozen chicken, a kilo of sugar, a bag of rice, flour and a pack of lentils.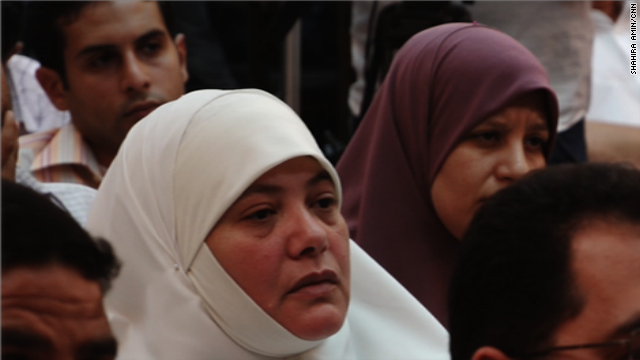 Gallery: The sisters of the Muslim Brotherhood
"It's not much," she says. "But I hope to be back with more before Ramadan."
The Muslim fasting month -- just round the corner -- is traditionally a time of "zakat" or alms-giving.
"People in this neighborhood need basic necessities," Abdella says. "Residents in slum areas like Haggana have long been forgotten ... that is why we had a revolution.
"The mass uprising in January was about social justice and giving people back their dignity."
For years, the Islamist Muslim Brotherhood movement has won over Egypt's poor and working classes with charity work -- stepping in to provide many of the services that the former government did not provide, like subsidized healthcare.
And the women of the Sisterhood (the name for female members of the Brotherhood) have traditionally been more involved in welfare activities than their male counterparts.
These range from small-scale social work like organizing the collection and distribution of alms to building mosques and schools. The Islamists have also established numerous benevolent institutions such as hospitals, pharmacies and clinics targeting Egypt's downtrodden and forgotten.
The Sisterhood's charity work has, for years continued to attract new recruits from across the country -- particularly vulnerable unemployed youths -- allowing the movement to steadily gain strength despite long years of suppression under former President Hosni Mubarak's regime.
Residents in slum areas like Haggana have long been forgotten ... that is why we had a revolution
--Imam Abdella, Muslim Sisterhood
"We look for assertiveness and leadership skills in our new members," says Abdella. New recruits commonly hail from university campuses, mosques and trade unions.
Originally founded in 1928 as an Islamic charitable social movement, the Muslim Brotherhood or "Ikhwan" became politicized some years later.
The organization sought to rid Egypt of British rule after World War I and rejected Western influence. The group, which has strong links to Hamas in Gaza and offshoots in many Muslim countries, has worked largely through peaceful methods to attain the long-desired goal of creating a state ruled by Islamic law or Sharia.
More radical members of the Ikhwan, who often take their lead from Sayed Kotb, a leading member of the Brotherhood in the 1950s have in the past advocated jihad against what Kotb described as "ignorant societies in need of transformation."
Despite renouncing violence in the 1970s, the movement was banned from politics under Mubarak. Its members could only run in previous parliamentary elections as independent candidates, and is the only opposition that did well.
In recent years -- and increasingly so since the January mass uprisings -- the Ikhwan have tried to shake off their past fundamentalist image and sell themselves as moderates and reformists.
But some Egyptians aren't buying it.
"The Muslim Brotherhood are not to be trusted. They are just after a power grab," says Ramadan Ismail, a mechanic in the working-class district of Imbaba.
That is a view that is shared by laymen and analysts alike in Egypt -- and this is not a surprise after the massive show of support by the Brotherhood for radical Brotherhood ideologue Sheikh Qaradawi when he addressed tens of thousands of opposition activists in Tahrir Square during the February uprisings.
Qaradawi has a long record of inciting violence against Jews and Israel. During a sermon aired on the Arabic satellite channel Al-Jazeera in January 2009, Qaradawi told his audience, "I will shoot Allah's enemies, the Jews, and they will throw a bomb at me, and thus I will seal my life with martyrdom."
Meanwhile the Brotherhood continues to attract new recruits with its slogan: "Islam is the solution" -- among other incentives.
Women who attend the Brotherhood's Quran recitation and interpretation classes receive between 40 and 100 Egyptian pounds ($7 - $17) a month. The money, according to Abdella, comes from "an Islamic Association outside the country," but wouldn't say which one.
Justice, freedom and equality for all are the principles advocated by Sharia
--Manal Ismail, Justice and Freedom Party
There have been unconfirmed reports of Gulf non-profit organizations pouring enormous amounts of cash into spreading Wahhabi influence in Egypt and other Arab countries. Wahabbism or Salafism is an ultra-conservative form of Islam that is the dominant faith in Saudi Arabia. It has been linked to extremism.
It's a long-standing source of concern for secular Egyptians.
Emad Gad, a researcher at Al-Ahram Center for Political and Strategic Studies says: "Egypt has been Saudised for decades. This revolution was about claiming Egypt back from the grip of the Wahhabists."
It may, in the end, be the Sisterhood who provide the change of image the organization is looking for.
After rubbing shoulders with their male counterparts in the January revolution, women of the Sisterhood are venturing into political activism -- an area previously considered off-limits in the male-dominated political arena.
At the recent launch of the Muslim Brotherhood's newly formed Islamist Justice and Freedom Party, female members of the movement joined their male counterparts in celebration -- although they were seated at separate tables.
"This is a new dawn," says female party member Manal Ismail. "We have been waiting so long for this day. Today we are celebrating the end of tyranny and our new-found freedom."
Ismail ran as an independent candidate in the November 2010 election, as part of a quota system introduced under the former regime that reserved 64 of the lower parliament's 454 seats for women.
She claims to have won more votes than any other female candidate in 2010 and says she is hoping to repeat her success in the next parliamentary election, slated for November.
Yet, the female activists of the Brotherhood insist that implementing Sharia is the only way of guaranteeing that women's rights are respected.
"Justice, freedom and equality for all are the principles advocated by Sharia," Ismail says. But she says she would like to see what she calls a "moderate interpretation."
"There is no room for old penalty laws in our modern societies," she says. "Laws ruling that women who commit adultery must be stoned or that those who steal must lose their hands cannot be enforced in this day and age."
Everything must evolve with time ... that is the movement's motto," Ismail says, flashing a bright smile. "Those who don't reform get left behind."
While Egyptians welcome the transformation the women of the Muslim Sisterhood have undergone in recent months, positioning themselves as moderate reformists, there are still the skeptics. They wonder if the changes are genuine and will last.
To what extent the sisters of the Muslim Brotherhood will practice what they preach remains to be seen.
FOLLOW THIS TOPIC