U.S. hands over Saddam-era officials to Iraqis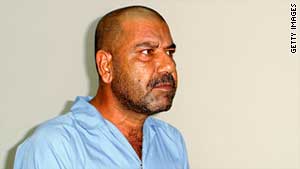 (file photo) Watban Ibrahim Hassan, half brother of ex- Iraqi dictator Saddam Hussein, is questioned by the Iraqi Special Tribunal on July 25, 2005.
STORY HIGHLIGHTS
The detainees include two of Saddam Hussein's half-brothers
They were all tried and condemned to die
The transfer is the last step in the United States relinquishing control of Camp Cropper
Baghdad (CNN) -- The U.S. military has handed over five condemned members of Saddam Hussein's regime, including two of the former dictator's half-brothers, to Iraqi authorities, a Justice Ministry spokesman said Friday.
All five members were tried and sentenced to death and are expected to be executed within a month, said the spokesman, Haider al-Saadi.
The United States handed over Watban Ibrahim Hassan and Sabawi Ibrahim al-Tikriti, Hussein's half-brothers, as well as former Defense Minister Sultan Hashem Ahmad and former Gens. Hussein Rashid and Aziz Saleh al-Tuman, al-Saadi said.
The five were among the last 206 Iraqis the United States was holding at Camp Cropper, a detention facility near the Baghdad airport that was transferred to the Iraqis in July, 2010. Saddam Hussein spent three years jailed at Camp Cropper before his execution in December 2006.
The transfer of the detainees represents the final steps of the U.S. military relinquishing control of Camp Cropper, part of the drawdown in Iraq.
"As the Iraqi government gains the ability to hold prisoners requiring higher security standards, they are taking physical custody," said U.S. military spokesman Col. Barry Johnson.
CNN's Mohammed Tawfeeq contributed to this report.
FOLLOW THIS TOPIC